AVALANCHE AND CLIMBING EDUCATION - Winter 2014/15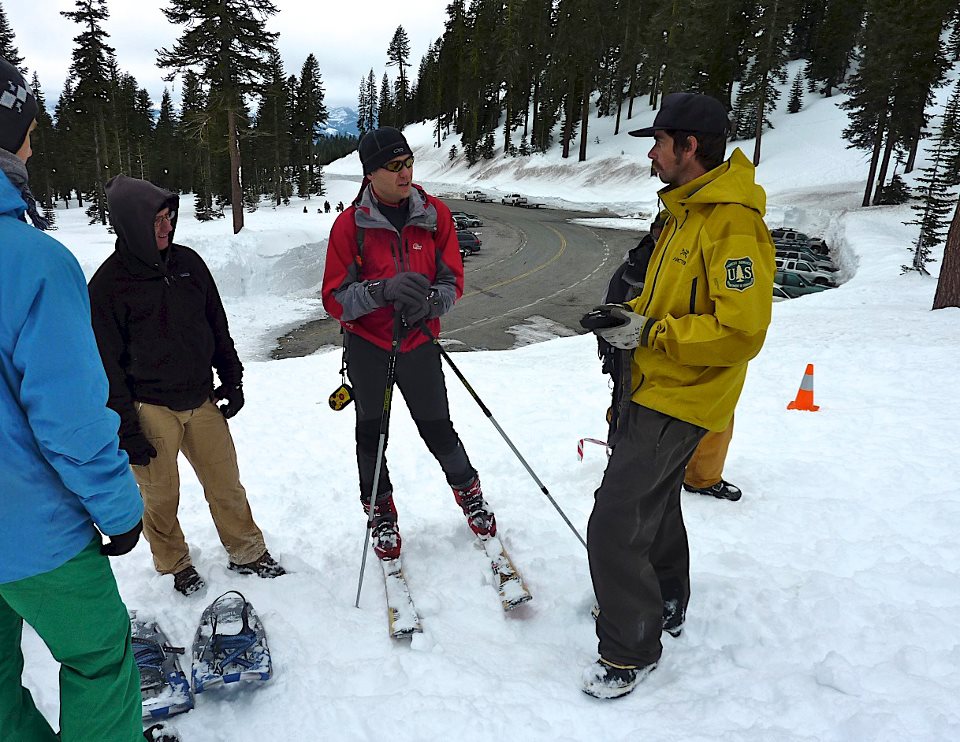 Nick Meyers, Director of the Mt. Shasta Avalanche Center, gives instruction to winter recreationalists at one of four of the MSAC's FREE Companion Rescue Clinics held throughout the winter season.
Educational Links:
Westwide Avalanche Network Education Page
Mount Shasta Information
Avalanche Statistics/
The USDA Forest Service Mt. Shasta Avalanche Center and Wilderness department makes a commitment to providing avalanche and climbing
education to the public for safe recreation in the mountains!!
Winter 2014/2015 Avalanche Awareness & Nat'l Weather Service "Weather & Climate Outlook"
These 1.5 hour presentations discuss the key factors leading to avalanche formation and avalanche accidents. Also, we'll have a NWS meteorologist start us off with a short, 1/2 hour presentation on the weather and climate outlook for this year! Join us at 7 pm and learn how to recognize the clues to avalanche danger along with some basics on safe travel in the backcountry. Location in Mt Shasta TBA.
December 5th, 2014
January - 2nd, 2015
February - 6th, 2015
March - 6th, 2015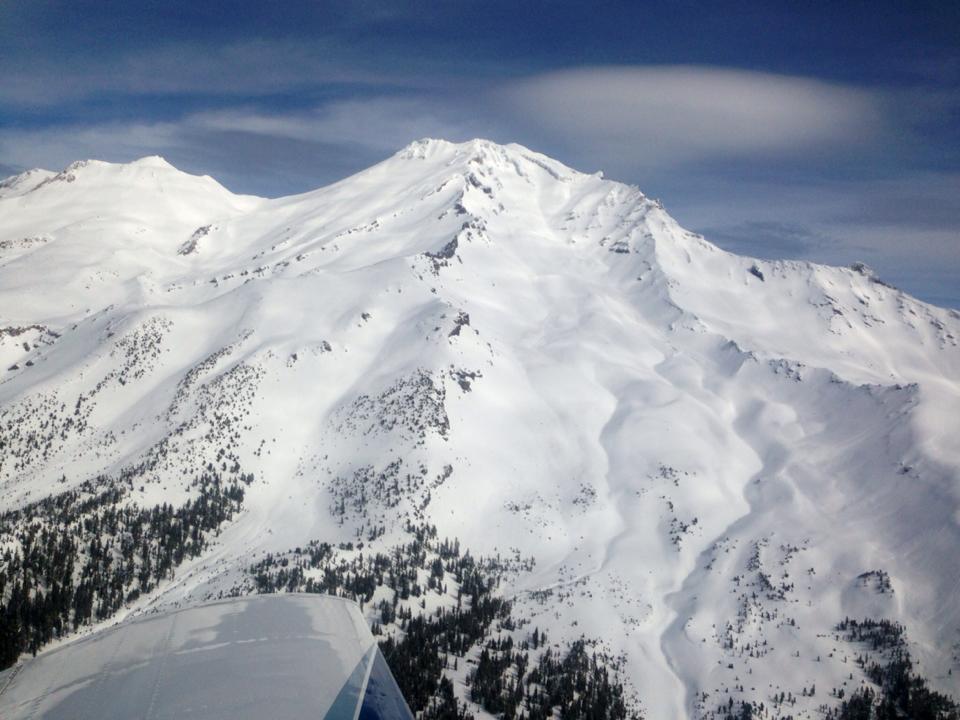 Winter 2014/2015 Avalanche Companion Rescue Field Course
Avalanche transceivers, or beacons, are the best tools we have to find someone buried in an avalanche.  Join us and learn how to use one. This course is for beginners to expert, so don't hesitate to come and train with us. You can never have enough practice saving someones life!  Demos of several different types (BCA, Ortovox, Pieps, Mammut/Barryvox) will be available.  Dress to be outside on the snow.  All of these meet at The Fifth Season at 9 am, 300 N. Mt. Shasta Blvd, Mt. Shasta City, then travel to a training site. For more information contact Nick Meyers at 530-926-9617 or email at nimeyers@fs.fed.us
December - 6th, 2013
January - 3rd, 2015
February - 7th, 2015
March - 7th, 2015

Nick teaches avalanche probing skills to a group at Bunny Flat.
 
SNOWMOBILERS: Introduction to Avalanches with Field Course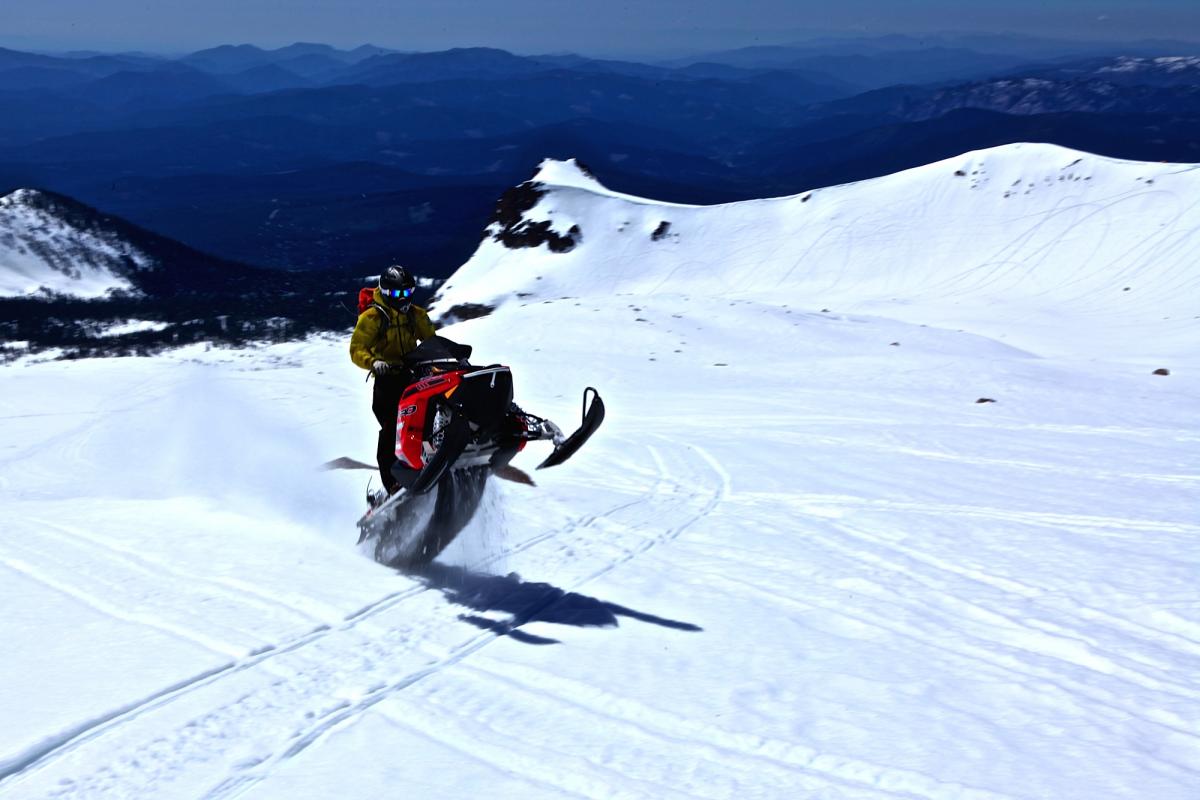 The Mt Shasta Avalanche Center is proud to announce its continued avalanche awareness and companion rescue workshops specifically for snowmobilers! Snowmobile avalanche fatalities have been on the rise in the last decade. As riders ourselves, we look forward to putting on these day long, free classes for you. We are stoked and ready to ride!
Come spend the day with the MSAC professionals as we provide you with avalanche and rescue information specifically catered toward the snomobilers mind. The day will start at 9am at the US Forest Service conference room (204 W Alma Street). We will provide a multimedia presentation with industry leading information that will get your juices flowing. Following, all riders will meet up in the Old Ski Bowl on the south side of Mt Shasta. The rest of the day will be spent practicing beacon, shovel and probe skills, terrain identification and management as well as scenarios. This course is not to be missed! Please email Nick Meyers at nimeyers@fs.fed.us to register. Arrive at 9am at the Forest Service with your sled and be ready to go!
We will host four of these days this season:
December 27th, 2014
January 17th, 2015
February 21st, 2015
March 14th, 2015
You must have a beacon, shovel and probe to participate. (The MSAC has a few extra on a first come, first serve basis) You will also need a snowmobile (or ride double) with a helmet on all riders.
Don't miss out! For more information call 530-926-9617 or email: nimeyers@fs.fed.us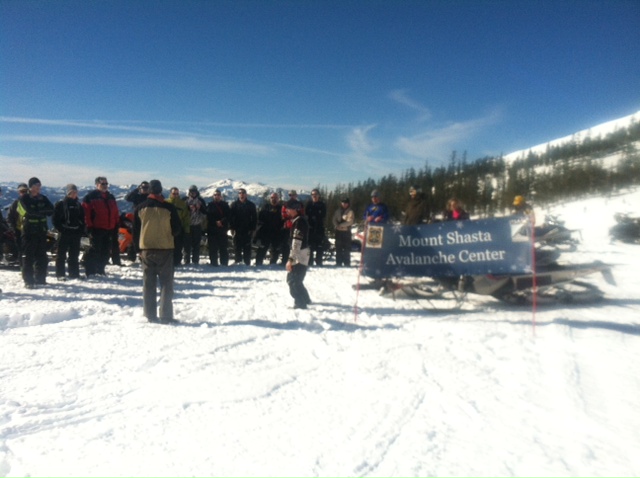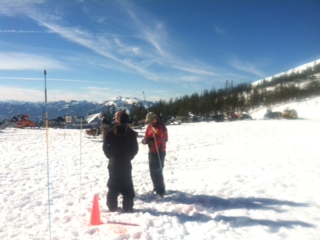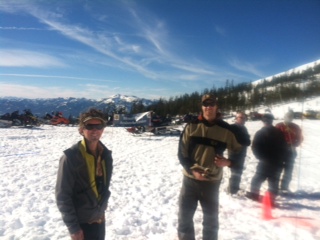 Snowmobilers enjoy a beautiful day of companion rescue skills training, terrain navigation, and scenario's up in the Old Ski Bowl on Mt. Shasta!
Mt. Shasta Beacon Basin  
This 3-way partnership between BackCountry Access, the US Forest Service, and the Mt. Shasta Ski Park provides an on hill avalanche transceiver (beacon) training site.  Bring your transceiver and check in with the Ski Patrol get oriented with the training area. In the past, Beacon Basin has been located up near the top of the Douglas lift...the location of beacon basin this year is TBA.  Additionally, the Mt. Shasta Avalanche Center and Mt. Shasta ski park will collaborate and provide a few days of instruction and demos.  Beacon Basin is currently CLOSED as is the Mt. Shasta Ski Park. Stay tuned!



Level I & II Avalanche Courses 2014/15
These 3-day courses get into the details of avalanches, snow science, safe travel and rescue.  The 3 permitted outfitters on Mt. Shasta offer these courses.  Shasta Mountain Guidesand Sierra Wilderness Seminars offer these on Mt. Shasta, while Alpine Skills International offers these in the Tahoe area.  Similar courses are offered by some Universities, Colleges and outfitters elsewhere. Ski/climb/board/ride SAFE - get educated!

 
College of the Siskiyous* will offer two avalanche courses this winter season!!

Avalanche Level I - TBA
Avalanche Level II - TBA

*Contact the college for enrollment information...http://www.siskiyous.edu/


Spring 2015 Mt Shasta Climbing Presentations at REI:
These 1.5 hours presentations discuss some of the history and background on Mt. Shasta, then focus on the weather, skills and equipment, for all ability levels, that one will need to safely climb Mt. Shasta.




Join us at the following locations in 2015:
Dates, locations and times TBA...Stay tuned!
The 3 permitted outfitters on Mt. Shasta offer 2-4 day guided climbs, 4 day glacier workshops, and 1 day ice axe/crampon clinics.  For inexperienced climbers, either a guided climb or an ice axe clinic is the best way to start.   Learn how to use these mountaineering tools from the experts and prevent injuries!  Contact Alpine Skills International, Shasta Mountain Guides, Sierra Wilderness Seminars for details.