You are here
Mount Shasta Avalanche Forecast
Published on February 19, 2019 @ 6:00 am

This Avalanche Forecast expires in 19 hours, 37 minutes

This forecast is valid for 24 hours


Issued by Ryan Sorenson - Mount Shasta Avalanche Center
Wind slab avalanches are possible near and above treeline today. Low temperatures and continued winds have allowed wind slabs to linger and grow in isolated areas. Evaluate terrain carefully before travelling near or on steep slopes.
Avalanche Problem 1: Wind Slab
Certain

Very Likely

Likely

Possible

Unlikely

Historic

Very Large

Large

Small
Wind slabs that formed over last weekend have remained reactive and are the primary concern today. Isolated wind slab avalanches could be large enough to bury a person. Easterly facing aspects are most suspect, though, wind slabs could be found on NW-N-NE-E-SE aspects. Use caution when approaching these slopes if they are greater than 32 degrees. Look for signs of the wind slab problem. Smoothly rounded wind pillows, hollow sounding snow, harder snow atop softer snow and shooting cracks are all common signs of wind slabs. 
Forecast Discussion
February is currently running 4.7 degrees below normal and 8th coldest on record with 11 days still to go. We are also at 171 percent of normal for seasonal precipitation this month.
Recent Observations
Over the last 24 hours, temperatures on Mount Shasta have ranged from 7 to 30 degrees and averaging 14 degrees near treeline. The wind has been shifting around the compass. Six hours of nearly 20 mi/hr wind from variable directions was recorded at 8,000 feet last night.  
Some notable observations from Castle lake yesterday:
Wind slab instabilities are still being seen in isolated leeward terrain.
The aftermath of many D2 avalanches from the February 13th cycle was observed throughout the Castle lake area.
A skier triggered D1.5 avalanche was observed on a northeast aspect above Heart lake yesterday. See today's observation for details.
Very large overhanging wind drifts are present on the Middle Peak ridgeline. 
Variable wind affected snow textures ranged from hard pack, sastrugi, and soft powder in protected areas. 
Solar aspects were beginning to warm up yesterday. Small rollerballs and heavier snow were seen on Right Peak.
Moderate to strong winds were transporting snow on the ridgeline throughout the day. 
Castle Lake Road is closed.  Rumour is that it should get plowed today. 
View of Middle Peak yesterday: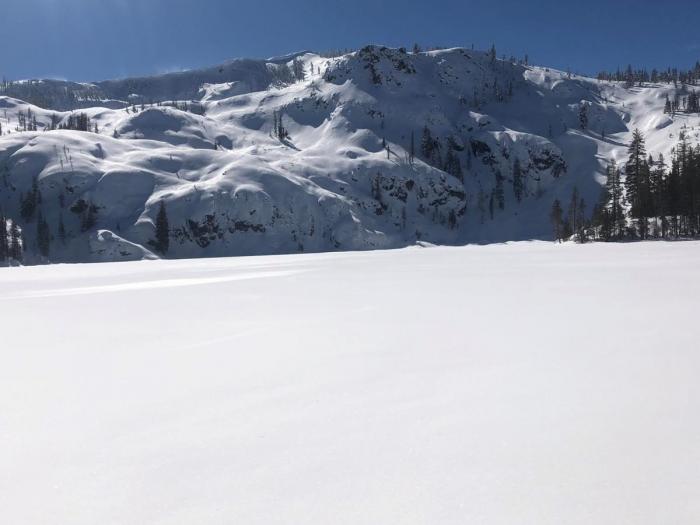 Weather and Current Conditions
Weather Summary
Sunny conditions and cold temperatures are expected today. North winds will be light to moderate below and near treeline. Expect breezy conditions with strong gusts as high as 35 mi/hr above treeline.
There is a small system moving to the north of the area tonight. A 60 percent chance of snow tonight should turn into light snow showers tomorrow morning. Expect 1-3 inches of new snow by Thursday.  
High pressure out in the Pacific will continue to move cold air from the north, keeping the snow levels low. Snow showers are expected down as low as 2,000 feet tomorrow. 
Mostly sunny conditions will return to the area on Thursday. The next system could arrive as early as Saturday this weekend, however, the models are still in disagreement with exactly how this storm system will evolve. A general warming trend is expected for the rest of February. 
24 Hour Weather Station Data @ 5:00 AM
Two Day Mountain Weather Forecast
Produced in partnership with the Medford NWS
For 7000 ft to 9000 ft
Today
Tonight
Wednesday
Weather
Mostly Sunny.
Mostly cloudy, 60 percent chance of snow showers.
Snow showers. Chance of snow 80 percent.
Temperature (°F)
25
10
25
Wind Direction
North
Northwest
Northwest
Wind Speed (mi/hr)
5-10
5-10
10-15
Expected Snowfall (in)
0
0-1
0-2
For 9000 ft to 11000 ft
Today
Tonight
Wednesday
Weather
Sunny. Wind chill values as low as 1. Breezy.
Breezy. 60 percent chance of snow.
Snow showers. Chance of snow 80 percent. Breezy
Temperature (°F)
20
5
5
Wind Direction
North
Northwest
Northwest
Wind Speed (mi/hr)
20-25
20-25
25-30
Expected Snowfall (in)
0
0-1
0-2
Season Precipitation for Mount Shasta City
Period
Measured (in)
Normal (in)
Percent of Normal (%)
From Oct 1, 2018 (the wet season)
21.61
26.77
81
Month to Date (since Feb 1, 2019)
7.68
4.50
171
Year to Date (since Jan 1, 2019)
13.20
11.56
114
Disclaimer
This forecast does not apply to Ski Areas or Highways and is for the Mt. Shasta, Castle Lake and Mt. Eddy backcountry. Use this information for guidance only. You may find different conditions in the backcountry and should travel accordingly. This forecast expires on midnight of the date it was posted unless otherwise noted.