Mount Shasta Avalanche and Climbing Information
Welcome the Mt. Shasta avalanche and climbing information website.
June 8, 2023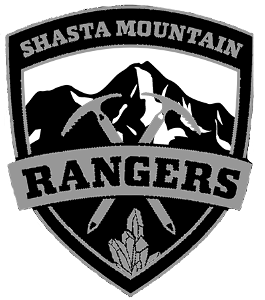 Greetings CLIMBERS! Congrats... You have landed at the best place on the internet for Mount Shasta adventure information. We want to help plan safe and enjoyable adventures. 

Showers, thunderstorms and rockfall has been at the top of the watch out list. Spring climb and ski season has made the transition to early summer conditions.  A bountiful winter has brought excellent snow coverage to the lower half of the mountain, but it is getting thin on the upper mountain. Early summer conditions means a little bit of everything. Windless, perfect blue skies can be followed by clouds, thunder and lightning, and strong wind in the same day. Whiteout conditions can wrap the mountain very quickly. Don't get caught above Redbanks in a whiteout. Every year, climbers become lost on the upper mountain. Furthermore, being on a 14,000-foot peak in electrical activity is flipping frightening. Climb early and set yourself a turnaround time of about noon or earlier. Check the weather and keep an eye to the sky! Carry navigation tools. 

Snow surfaces are variable with small sun cups and old boot, ski and loose wet avalanche tracks. Smooth, buttery turns are still happening in select areas on select days. Sniff it out. 

Rockfall. Keep your head up and wear a helmet, properly. With thin conditions in the Redbanks area, climbers accidentally knocking rocks down onto fellow climbers below is a highly likely occurrence on busy weekends. Stay on snow as best you can and be very mindful of feet placement in steep, rocky areas.

Check out our recent trailhead access update from June 3. Bunny Flat is the only accessible trailhead at this time. Do not park in the middle of the lot. Motorized use is still possible in the Old Ski Bowl.

As we roll into June, Mount Shasta is measuring ~90 inches of snow near treeline at Horse Camp. Snow still exists all the way down to Bunny Flat, but it's melting quickly. Water and bathrooms are available at Horse Camp, but everywhere else, melt snow for water. Do not forget your wag bags. It's required to pack out your poopie in the MS Wilderness. Free wag bags are provided at all trailheads.

A decent bootpack exists on many routes and most have been leaving snowshoes behind. Thin snow in rocky terrain can be a post hole nightmare, with many hollow pockets. Misery Hill is melted out. Plan to leave your skis secured here if continuing on to the summit. Ridge routes are thin and/or melted out. You can still climb them, but expect loose rock scrambling or dropping low along the ridge to maintain snow travel. Inevitably, loose scree slopes will have to be navigated in select areas.

REDBANKS: Through the right side chutes is no longer the best route due to lack of consistent snow coverage. Abundant loose rock exists above the chutes. See this observation for most up-to-date climbing recommendations. Redbanks, 12,500 feet, is not "almost the top". Use Redbanks as a good check in: How am I feeling, how is the group feeling, what time is it and what is the weather doing?". Do not glissade through Redbanks. The majority of accidents on the Avalanche Gulch route occur between Helen Lake and Redbanks. A healthy dose of mountaineering mindfulness will get you through this zone safely. This is the steepest portion of the climb.

Glissading Safety TIps: 1) Check surface conditions and make sure the snow is SOFT 2) Remove your crampons 3) Start slow, stay in control, and if it's your first time glissading, check out this video for proper technique.

Sun exposure has been for real lately. Mount Shasta is a giant solar oven. Snow blindness is a thing. Keep your skin covered and apply sunscreen liberally and often to any exposed skin. Wear DARK sunglasses and a hat. There is no tanning on Shasta, just burning.

Wind on the mountain can be legit. Anchor your tent well. Check the weather before you climb. If camping at Helen Lake, remember to pee and/or use your wag bag on the far east side of the Helen Lake moraine. A small privacy pit exists to use your wag bag. Collect snow for water uphill, to the north of camp. Thousands of climbers camp here; keep it pro by keeping it clean! Wag bags are mandatory on Mount Shasta (and free at the trailhead). If we catch you leaving human waste behind, you will receive a federal citation. A wilderness permit and summit pass (above 10,000 feet) are also required.  All items available for self-issue at the trailhead. Before heading down the mountain, walk through your camp and collect any micro trash left behind. We all must strive to leave our beloved areas better than we found it.

To climb Mount Shasta safely and efficiently, you need to have an ice axe, 12-point crampons (NOT micro-spikes) and helmet. In addition, always carry a means of navigation. Expect the unexpected. Increase your chances of survival in the event of an emergency by carrying a bivy bag, extra food, water, and layers. Always check the weather before you climb and monitor along the way. One of the best skills you can have in the mountains is to be flexible. Check summit fever at the door. Be humble, respect the mountains. Your margin for error becomes less as you push the envelope.
View Full Report
News & Announcements

Upcoming Events
Support the Mount Shasta Avalanche Center