November 21, 2021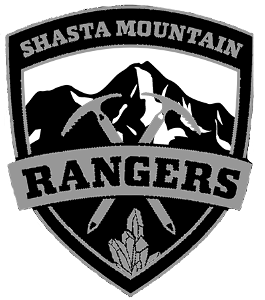 It's been warm on the mountain over the past week, with temperatures in the 40's and 50's F.  Much of the snow from our early season storms has melted below treeline, but it's holding on above.  Temperatures have started to cool over the last few days, finally freezing overnight on the mountain.  Surface snow conditions are variable.  There is still some decent skiing to be found if you know where to look.  It's still possible to ski up and down from just above the parking lot up the Avalanche Gulch route.  The snow coverage for skiing and riding is great for this time of year, but it's still thin, so beware of hidden rocks, logs, and other obstacles that could bring a premature end to your winter recreational season.  Be especially cautious skiing downhill near and below treeline. 
As for climbing, people have been getting up high on the mountain, even to the summit.  Surface conditions on the upper Avalanche Gulch route look firm and icy, so crampons and ice axes are mandatory.  Icefall is constant once the sun hits the upper mountain.  A summit attempt this time of year is a more serious undertaking.  Weather on the mountain can change rapidly and days are short.  Be prepared for cold temperatures, high winds, icy slopes, icefall, avalanche hazard, and changing weather conditions.  Be self-sufficient and understand that you might be the only party on the upper mountain and that rescue may not be possible.  
Remember, if climbing above 10,000' you need to purchase a summit pass.  These are available at Bunny Flat trailhead, and at the Mt. Shasta or McCloud ranger stations.  Please do your part to keep the mountain clean, and pack out all waste.  Also, please help keep Bunny Flat clean.  Don't leave litter in the parking lot.  Consider packing your garbage all the way to town instead of depositing large quantities of trash into the small trash receptacle at Bunny Flat.  And please do your part to keep the bathrooms clean!  
The Mount Shasta Avalanche Center will not be issuing daily avalanche forecasts until December 1st.  We will continue to update the climbing advisory weekly with general conditions info, as well as update our Instagram and Facebook pages with relevant observations and news.  With this much snow on the mountain, avalanches are possible.  It is up to you to assess avalanche hazard and be prepared with avalanche rescue gear if you're venturing into avalanche terrain.   
The gate at Bunny Flat is closed for the season.  All wilderness trailheads accessing Mount Shasta, except for Bunny Flat, are also closed for the season. One can still access trailheads, but all permits and passes must be acquired at the Mt. Shasta or McCloud ranger stations. Expect snow to limit access to most trailheads from here on out.  The road to Brewer Creek TH washed out again during the recent atmospheric river event and is impassable to vehicles.  There is no timeline on when this will be repaired.  The Everitt Memorial Highway is plowed to Bunny Flat, but not always the first priority during big storms.  
It's time to start thinking about your winter game. Click HERE for a list of regional avalanche workshops or visit avalanche.org's education section for continued snow, weather and avalanche knowledge.
View Full Report