You are here
Avalanche Advisory for 2013-02-23 07:03:36
EXPIRED ON February 24, 2013 @ 7:03 am

Published on February 23, 2013 @ 7:03 am
Issued by Nick Meyers - Shasta-Trinity National Forest
A variety of snow conditions exist today in the forecast area. Overall low with pockets of moderate avalanche danger. We received 4-6 inches of new snow over the week with strong winds from various directions.We received up to an inch in the last 24 hours. While some areas have been scoured down to old snow surface by winds in the past several days, instabilities will be found in isolated wind loaded areas near ridgetops, bowls, rock outcrops, chutes and gullies.
Avalanche Problem 1: Wind Slab
Certain

Very Likely

Likely

Possible

Unlikely

Historic

Very Large

Large

Small
Isolated pockets of wind deposited snow on all aspects, especially near and above treeline. Easy failures were found within wind slab layers in the past couple days. Slabs could be shallow to up to 2 feet thick. Failures propagated on layers of facets, below and above a buried pencil crust layer, about 30-40 cm deep. Stability tests have shown easy failures with full propagation in wind loaded areas on these layers, but natural avalanches and/or human triggered avalanches have not been obeserved other than the Spring Hill slide in Avalanche Gulch on 2/20.
Recent Observations
2-22-13  Mt Eddy area, NW aspect, 35 degree slope... ECTP 2 / Q1 - Failures on same layers as seen at Castle Lake...small, faceted snow crystals above and below buried crust layer, 30-40 cm deep in wind loaded area. Weakest layer has been below this crust layer.
2-21-13 - Castle Lake area, NW aspect, 30 degree slope on Middle Peak... CT-6 / ECT - 4 - Q1/2 -   Failures near buried crust on layer of facets, above old snow, about 30-40 cm down from surface, wind deposited snow, full propagation hard slab
2-20/2-21 - Numerous reports of "whoomfing" and shooting cracks near and above treeline on Mt. Shasta: Giddy Giddy gulch, Anaconda, The Promise Land areas.
2-20-13 - Avalanche Gulch, Spring Hill area, small wind slab avalanche (R1-D2), unknown trigger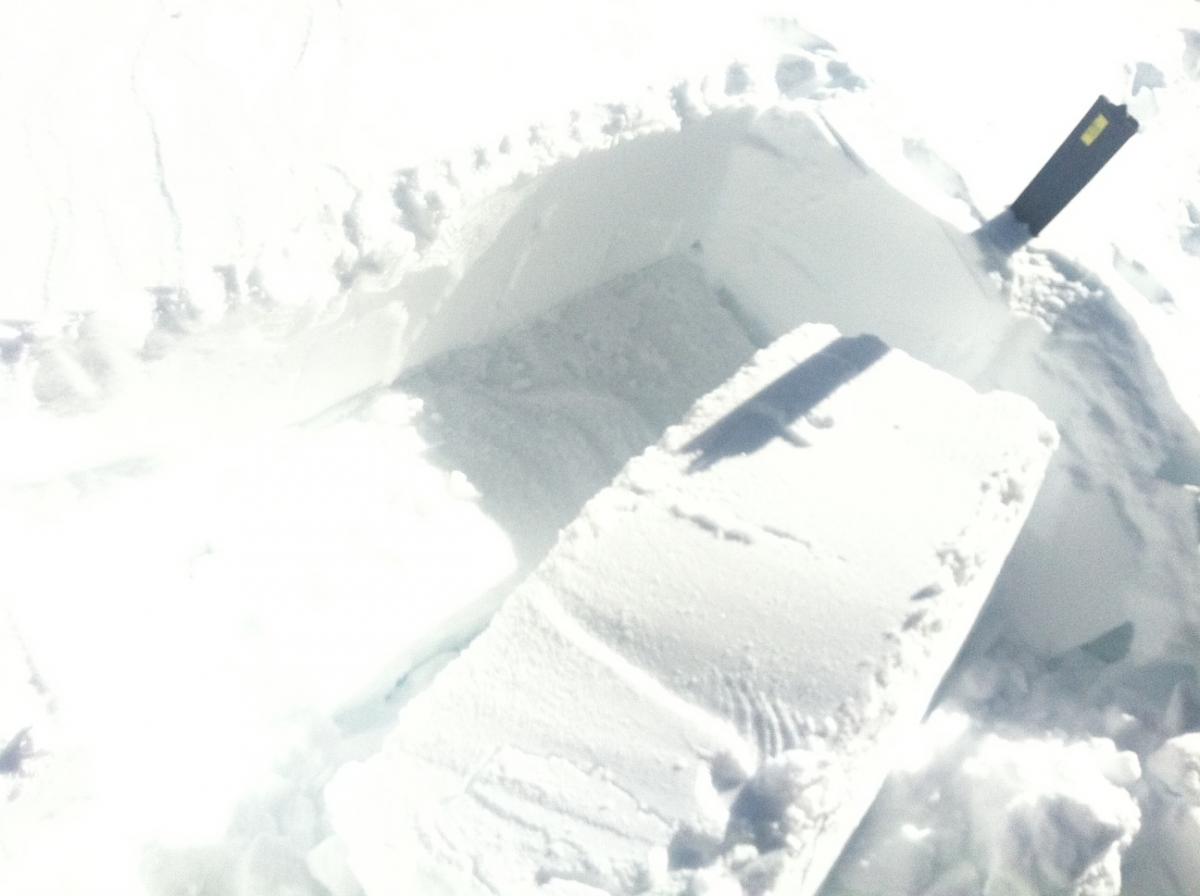 Weather and Current Conditions
Weather Summary
Not to many surprises with the storm that gave us a jab late yesterday and last night.The area received a trace to up to an inch of snow with moderate to strong winds at the mid and upper mountain levels Lingering snow flurries persist this fine morning and should shut off by daybreak. Cool air will stay in the area today and northwest winds will howl above treeline with mostly clear skies. A warming trend will begin Sunday with a chance of snow into Monday, but that storm looks even weaker than the current one we just had. All in all, high pressure builds into next week.
WEATHER STATIONS - (last 24 hours):
In Mt. Shasta City at 0500, we have light snow and a current temperature of 33 F.
On Mt. Shasta:  In the Old Ski Bowl (7,600') on the south side of Mt. Shasta, we have a current temperature of 12 F. Snow on the ground totals 100"  inches with 1" new snow and 1" settlement. Temperatures have ranged from 12 F to 39F.  At Grey Butte (8,000') on the south side of Mt. Shasta winds averaged 20 mph from the NW with a max gust of 64 from the NW. The current temperature is 10 F and temps have ranged 10 F to 36 F.
Castle/Mt. Eddy:   Castle Lake - Castle Lake is hosting a current temp of 20 F. In the last 24 hours temperatures have ranged from 20 F to 45 F. Snow depth measures 47" inches with a trace of new snow and 1" settlement.  On Mt Eddy, we have 66" inches of snow on the ground with a trace of new snow and 1" settlement. The current temperature reads 17 F with temps ranging from 17 F to 41 F. Winds have been SE, averaging 2 mph and gusting to 15 mph from the SE.
THIS SEASON:    A brief re-cap of the snow season thus far in Mt. Shasta... Leading up until now, September and October were warm and dry with September recording exactly zero precipitation. November remained warmer than normal with precipitation almost double normal values, 9.16" vs. 5.08". A local weather COOP observed the 2nd wettest November on record. December started out wet and warm, but temperatures cooled and brought snow to very low elevations. Since our avalanche cycle near Christmas, we've had a few small storms that brought some amounts of snow to the area, but did not produced any notable avalanches. January was below normal for precipitation with a long period of high pressure and sun that kept skiing conditions somewhat meager. We've had a few storms lately that has brought a pittance of wintery weather, but nothing to write home about!  The area has been under siege by high pressure overall giving us blue bird days for the most part. Feb 7/8 gave us up to 11" of new snow followed by moderate NE winds. Most recently, on 2-22 a trace to and inch of snow fell in the area. High and dry weather is expected for the next week and potentially the rest of the month. We currently have 6-10 feet of snow above 6,500 ft. Since September 1st, Mt Shasta sits at 79% of normal, 22.55" recorded; normal 28.54". For 2013, we sit at 15% of normal with 1.85" recorded and 12.66" normal.
CURRENT CONDITIONS
at Bunny Flat (6950 ft)
| | |
| --- | --- |
| 0600 temperature: | 18 |
| Max. temperature in the last 24 hours: | 39 |
| Average wind direction during the last 24 hours: | NW |
| Average wind speed during the last 24 hours: | 10 mi/hr |
| Maximum wind gust in the last 24 hours: | 25 mi/hr |
| New snowfall in the last 24 hours: | 1 inches |
| Total snow depth: | 100 inches |
Two Day Mountain Weather Forecast
Produced in partnership with the Medford NWS
For 7000 ft to 9000 ft
Saturday
(4 a.m. to 10 p.m.)
Saturday Night
(10 p.m. to 4 a.m.)
Sunday
(4 a.m. to 10 p.m.)
Weather
Mostly clear, cold, and windy.
Clear and cool.
Mostly clear with warming temps through the day
Temperature (°F)
Low 20's
Mid teens
High 20's
Wind (mi/hr)
Northwest 10-15 mph
Northwest 5-15 mph
Northwest 5-15 mph
Precipitation SWE / Snowfall (in)
/ 0
/ 0
/ 0
For 9000 ft to 11000 ft
Saturday
Saturday Night
Sunday
Weather
Mostly clear with strong winds
Mostly clear, windy
Mostly clear with strong winds
Temperature (°F)
Low teens
10
Mid 30's
Wind (mi/hr)
Northwest 35-45 mph with gusts higher
Northwest 0
Northwest 35-45 mph with gusts higher
Precipitation SWE / Snowfall (in)
/ 0
/ 0
/ 0
Disclaimer
This advisory does not apply to Ski Areas or Highways and is for the Mt. Shasta, Castle Lake and Mt. Eddy back country. Use this information for guidance only. You may find different conditions in the back country and should travel accordingly. This advisory expires on midnight of the date it was posted unless otherwise noted.