You are here
Avalanche Advisory for 2014-01-26 06:31:12
EXPIRED ON January 27, 2014 @ 6:31 am

Published on January 26, 2014 @ 6:31 am
Issued by Nick Meyers - Shasta-Trinity National Forest
The avalanche danger is LOW and normal caution is advised for all areas hosting snow on Mt Shasta. Lack of snow on other aspects/elevations make the avalanche danger absent.
Rockfall is still a hazard on Mt. Shasta until we receive significant snow. Climbing is not recommended on select routes. Be sure to check the climbing advisory if you still choose to climb.
Thanks to everyone who came out for the Snow Ball last night. What a blast and your support is appreciated so much. It takes a village!
Avalanche Problem 1: Normal Caution
Certain

Very Likely

Likely

Possible

Unlikely

Historic

Very Large

Large

Small
The avalanche danger on Mt Shasta's glaciers and all other areas hosting snow is LOW. Normal caution advised. Skiing on the glaciers at this time is rough and icy. Be cautious of open bergshrunds, crevasses, ice patches, and rock/ice fall. Self arrest may be difficult with current conditions. Always keep an eye and ear out for rock fall.
Other skiable areas host variable snow textures. Normal caution advised. If you find yourself climbing or skiing one of the many skinny, snow-filled gullies...keep in mind that these gullies can host much more rockfall than open slopes as they act like a funnel for any loose rocks descending the mountain. Such was the case with our New Years Day accident in Avalanche Gulch, right of The Heart. We don't call it the "bowling alley" just because.... WEAR A HELMET PROPERLY - That is, fit snugly to your head with the front of the helmet directly over your eyebrow line.
---
Recent Observations
Another beautful week in Northern California with no new snow, or no snow at all for that matter. This has kept all hoping and praying for winter in these desperate times. Hopes are high for a change in the weather for the coming week.

Sometimes humor can help such desperate times.
Bill Cosby...."Through humor, you can soften some of the worst blows that life delivers. And once you find laughter, no matter how painful your situation might be, you can survive it."
The best chance of skiing at this point remains in Cascade Gulch. Check out the pictures below. The Glaciers are always an option. Sharpen your edges and mental toughness.
------------------------------
A couple local boys got after it on [1-16] and were able to find some turns in Cascade Gulch! They quoted the adventure as, "Fairly smooth, chalky snow..." and, "Pretty fun day actually..."! They proved that skiing is not just limited to the glaciers, but possible in a few of Shasta's gullies that are filled in. They began their ski from the Shasta/Shastina saddle and were able to ski to Hidden Valley. The two had to de-ski only a few times for short rock sections. One must walk from Bunny Flat to Hidden Valley.
Otherwise, sunny skies and high pressure continues, a bit of a broken record these days! The area received no new snow over the week and recreation without snow is still the soup de jour.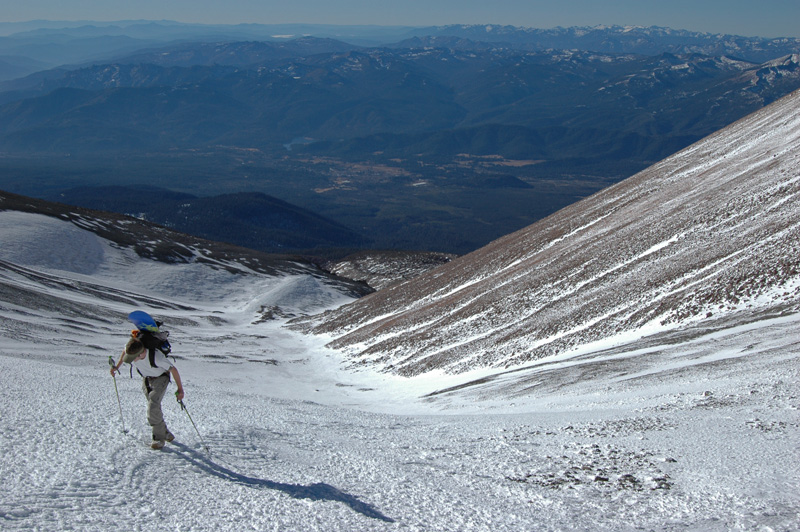 Photo: Chris Carr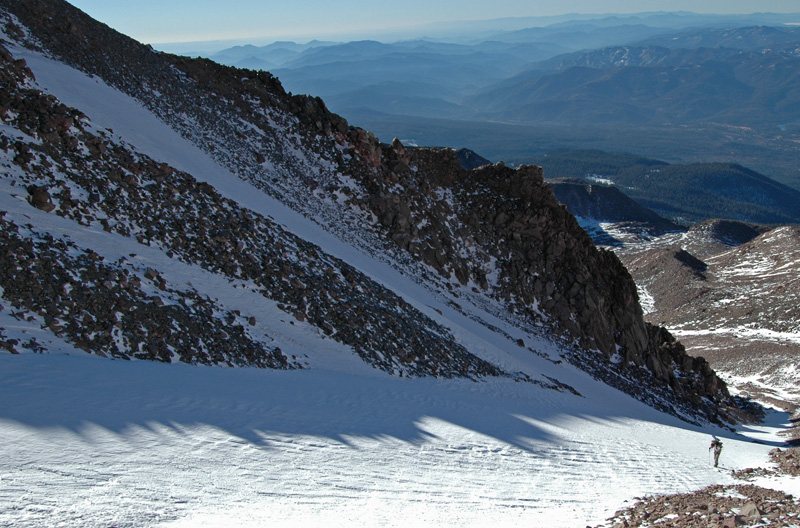 Photo: Chris Carr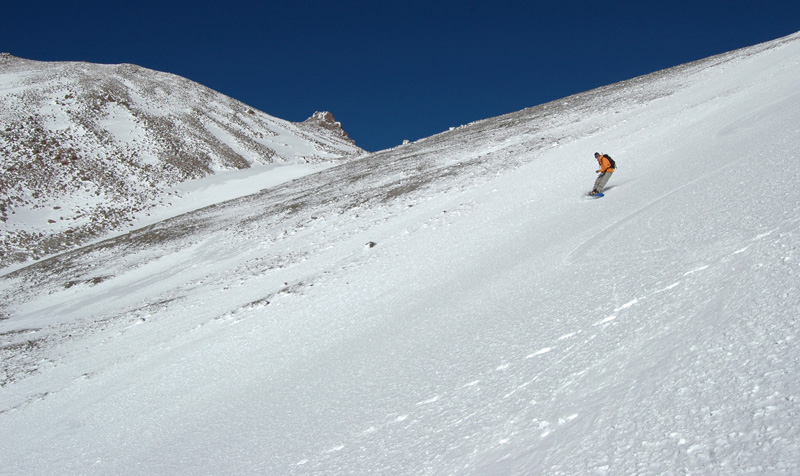 Photo: Chris Carr
---------------------------------------------------------------------------------------------------------------------------------------------------------------
All trailheads are still accessible by vehicle. Be cautious of any overnight trips on the mountain with snow involved. Storms can easily dump large amounts of snow to the area and make it difficult to drive off the mountain! While Northgate, Brewer Ck and Clear Ck trailheads are officially closed, the bathrooms are still open with packout bags inside, and one can still access the Mt Shasta Wilderness. However, your summit pass and wilderness permits must be purchased at McCloud or Mt Shasta Ranger Stations. NO DOGS are allowed in the Mt Shasta Wilderness OR Sierra Club Property. Thanks!
---------------------------------------------------------------------------------------------------------------------------------------------------------------
Below are a few aerial pictures taken during the middle of December. Conditions look much the same currently, if not less snow.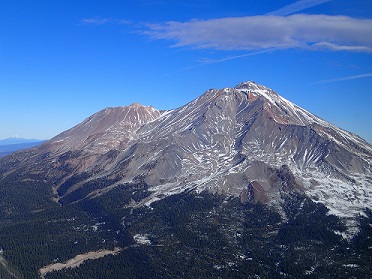 Aerial photo of the South side of Mt. Shasta, taken 12-18-13. (Photo: H Meyers)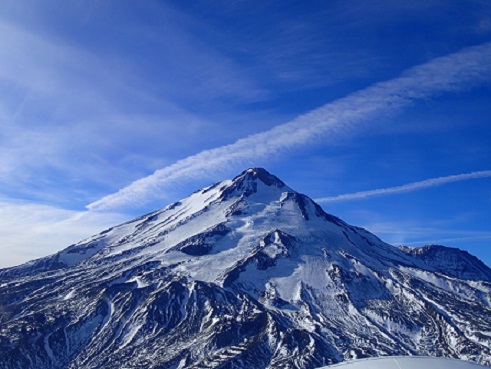 The North Side of Mt. Shasta with the Hotlam Glacier in center, Hotlam/Wintun ridge left, Shastina to the far right. Taken 12-18-13. (Photo: H Meyers)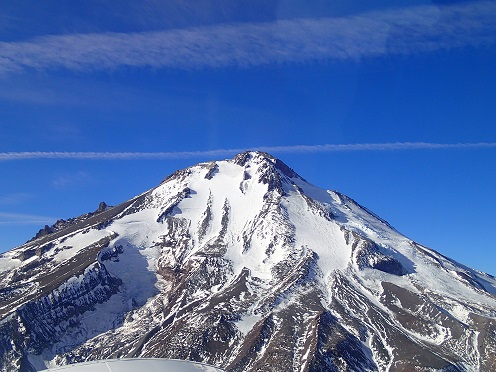 The East side of Mt. Shasta, taken 12-18-13 (Photo: H Meyers)
---------------------------------------------------------------------------------------------------------------------------------------------------------------
Terrain:  Remember most of the terrain that we like to play on is greater than 30 degrees.  Avalanches are possible on anything steeper than 30 degrees.  Avoid cornices, rock bands, terrain traps and runout zones of avalanche paths.

Weather:  Most of our areas avalanche danger will occur 24-48 hours after a storm. We still can see persistent weak layers from time to time and we always will be sure to let you know about that!  Heed the basic signs: Wind (significant snow transport and depositions), Temperature (rain/snow/rain/snow, which in turn weakens the snowpack), and Precipitation (Snow or rain add weight and stress to the current snowpack).

Snowpack:  If snow accumulates, give the snowpack a chance to adjust to the new snow load before you play on or near steep slopes (greater than 30 degrees).  Most direct action avalanches occur within 24-48 hours of recent snowfall.  Watch for obvious signs of snowpack instability such as recent natural avalanche activity, collapsing of the snowpack (often associated with a "whumphing" sound), and shooting cracks. If you see these signs of instability, limit your recreation to lower angle slopes.

Human Factor: Don't forget to carry and know how to use avalanche rescue gear. You should NOT be skiing or climbing potential avalanche slopes without having beacons, shovels, and probes.  Only one person in a group should be exposed to potential avalanche danger at a time.  Remember, climbing, skiing, and riding down the edge of slopes is safer than being in the center.  Just because another person is on a slope doesn't mean that it is safe.  Be an individual!  Make your own decisions.  Heed the signs of instability: rapid warming, "whumphing" noises, shooting cracks, snowing an inch an hour or more, rain, roller balls, wind loading, recent avalanche activity.
---
Weather and Current Conditions
Weather Summary
In Mt Shasta City this morning at 0500, we have clear skies and a current temperature of 30 F.
On Mt Shasta (South Side) in the last 24 hours...
Old Ski Bowl - 7,600 feet, we have no new snow with a snow depth total of up to 5 inches at best in shaded pockets. The current temperature is 40F with a low of 37F and a high of 50F.
Gray Butte - 8,000 feet, the current temperature is 41F. Temps have ranged from a low of 36F to a high 47F. Winds averaged 5-10mph and easterly with gusts to 28mph from the east also.
Castle Lake and Mt Eddy (West side of I-5)... 
Castle Lake - 5,600 feet, the current temperature is 44F with a low of 40F and a high of 51F. Castle Lake has no new snow with a current snowpack of 0-5 inches in more shaded areas.
Mt Eddy - 6,500 feet, the current temperature is 36F with a low of 35F and a high of 48F. Mt Eddy received no of new snow and the snow depth total is 0-5 inches. Winds have averaged 2 mph with gusts to 7 mph, southwest.
THIS SEASON: Since September 1st (the wet season), we have received 2.97 inches of water, normal is 21.67 inches, putting us at 13% of normal. For the month of January and 2014, Mt Shasta has received 0.15 inches of water with normal being 5.79 inches which puts us at 2% of normal.
Mt Shasta finished off 2013 with exactly 10.00 inches of water, normal is 43.21", putting us at a meager 23% of normal. Let it be known that a DESERT is classified as an area that receives 10 inches of water or less per year.

December 2012 had more precipitation than the entire 2013 calendar year (10.43"). WOW!
WEATHER SYNOPSIS:
While some uncertainty remains for when and how much winter weather we will get over the week, confidence is high for a pattern change and a few storms. The first of several waves of low pressure will arrive late Monday. Cooler temps move into the area near Thursday with more moisture. It doesn't appear to me that this is our whopper of a storm, but a little bit here and there is a welcomed reprieve from what we've been getting....nothing!
CURRENT CONDITIONS
at Bunny Flat (6950 ft)
| | |
| --- | --- |
| 0600 temperature: | 36 |
| Max. temperature in the last 24 hours: | 50 |
| Average wind direction during the last 24 hours: | Easterly |
| Average wind speed during the last 24 hours: | 10 mi/hr |
| Maximum wind gust in the last 24 hours: | 28 mi/hr |
| New snowfall in the last 24 hours: | 0 inches |
| Total snow depth: | 0-5 inches |
Two Day Mountain Weather Forecast
Produced in partnership with the Medford NWS
For 7000 ft to 9000 ft
Sunday
(4 a.m. to 10 p.m.)
Sunday Night
(10 p.m. to 4 a.m.)
Monday
(4 a.m. to 10 p.m.)
Weather
Sunny
Clear
Increasing clouds
Temperature (°F)
49
30
50
Wind (mi/hr)
Variable Light
Variable Light
West 5-10mph
Precipitation SWE / Snowfall (in)
/ 0
/ 0
/ 0
For 9000 ft to 11000 ft
Sunday
Sunday Night
Monday
Weather
Sunny
Clear
Increasing Clouds
Temperature (°F)
40
32
41
Wind (mi/hr)
Southwest 5mph
Variable, becoming west/southwest 0
West 15-20mph
Precipitation SWE / Snowfall (in)
/ 0
/ 0
/ 0
Disclaimer
This advisory does not apply to Ski Areas or Highways and is for the Mt. Shasta, Castle Lake and Mt. Eddy back country. Use this information for guidance only. You may find different conditions in the back country and should travel accordingly. This advisory expires on midnight of the date it was posted unless otherwise noted.