You are here
Avalanche Advisory for 2014-02-08 06:21:09
EXPIRED ON February 9, 2014 @ 6:21 am

Published on February 8, 2014 @ 6:21 am
Issued by Nick Meyers - Shasta-Trinity National Forest
Areas above 6,000 feet on Mt Shasta have received about 8 inches of new snow in the last 24 hours with strong westerly winds. Another foot or more of snow with continued west winds is expected through Sunday. It will still take more snow to cover up avalanche terrain and warrant any further avalanche danger. Currently, the avalanche danger is LOW for all aspects and elevations. Be careful of shallow buried objects!
Rockfall is still a hazard on Mt. Shasta until we receive significant snow. Climbing is not recommended on select routes. Be sure to check the climbing advisory if you still choose to climb.
Avalanche Problem 1: Normal Caution
Certain

Very Likely

Likely

Possible

Unlikely

Historic

Very Large

Large

Small
The avalanche danger on Mt Shasta's glaciers and all other areas hosting snow is LOW. Normal caution advised. Skiing on the glaciers at this time is rough and icy. Be cautious of open bergshrunds, crevasses, ice patches, and rock/ice fall. Self arrest may be difficult with current conditions. Always keep an eye and ear out for rock fall.
Other areas are working on becoming covered in snow! If you choose to ski, be careful of shallow buried objects. If you find yourself climbing or skiing one of the many skinny, snow-filled gullies...keep in mind that these gullies can host much more rockfall than open slopes as they act like a funnel for any loose rocks descending the mountain. IF you choose to climb, WEAR A HELMET PROPERLY - That is, fit snugly to your head with the front of the helmet directly over your eyebrow line. Further, know how to use your ice axe and crampons!
---
Recent Observations
Mt Shasta City received .61 inches of water yesterday and the Old Ski Bowl weather station recorded .73 inches water. Warm temperatures have kept snow levels above city limits, but near and above treeline on Shasta has received 8 inches of new snow and about 10-12 inches total in most areas. Snow levels are expected to rise today to as high as 7 to 8,000 feet which could mean some rain on snow at times. More weather through the end of this weekend will continue to bring mixed snow and rain.
Our terrain is becoming covered in snow finally! It will still take more snow to warrant any avalanche danger.
Westerly winds near and above treeline will continue through the weekend. Our Gray Butte anemometer has stopped working and we apologize. It has likely either rimed up or broken from recent winds...at least that's my guess. We are working on fixing this problem ASAP. Thanks!
As always when our snowpack is shallow, watch out for objects that can cause injury near the surface of the snow!
Avalanche Awareness at Casa Ramos Mexican Restaurant last night went great! Snow is on on the ground, folks are stoked and avalanche aware! We will host one more of our standard FREE Avalanche Awareness presentations next month, March 7th, and Companion Rescue Clinic March 8th. We also will host two more snowmobile specific avalanche awareness courses, February 15th and March 15th.
TODAY, February 8th, our Companion Rescue clinic will meet at 9am at The Fifth Season in Mt Shasta and actually have SNOW to search for beacons! See you there!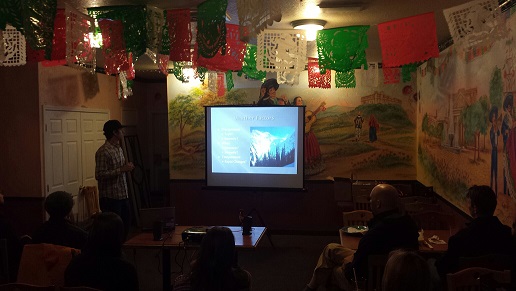 ---------------------------------------------------------------------------------------------------------------------------------------------------------------
Some trailheads are still accessible by 4 x 4 vehicle. Be cautious of any overnight trips on the mountain with snow involved. Storms can easily dump large amounts of snow to the area and make it difficult to drive off the mountain! While Northgate, Brewer Ck and Clear Ck trailheads are officially closed, the bathrooms are still open with packout bags inside, and one can still access the Mt Shasta Wilderness. However, your summit pass and wilderness permits must be purchased at McCloud or Mt Shasta Ranger Stations. NO DOGS are allowed in the Mt Shasta Wilderness OR Sierra Club Property. Thanks!
---------------------------------------------------------------------------------------------------------------------------------------------------------------
Terrain:  Remember most of the terrain that we like to play on is greater than 30 degrees.  Avalanches are possible on anything steeper than 30 degrees.  Avoid cornices, rock bands, terrain traps and runout zones of avalanche paths.

Weather:  Most of our areas avalanche danger will occur 24-48 hours after a storm. We still can see persistent weak layers from time to time and we always will be sure to let you know about that!  Heed the basic signs: Wind (significant snow transport and depositions), Temperature (rain/snow/rain/snow, which in turn weakens the snowpack), and Precipitation (Snow or rain add weight and stress to the current snowpack).

Snowpack:  If snow accumulates, give the snowpack a chance to adjust to the new snow load before you play on or near steep slopes (greater than 30 degrees).  Most direct action avalanches occur within 24-48 hours of recent snowfall.  Watch for obvious signs of snowpack instability such as recent natural avalanche activity, collapsing of the snowpack (often associated with a "whumphing" sound), and shooting cracks. If you see these signs of instability, limit your recreation to lower angle slopes.

Human Factor: Don't forget to carry and know how to use avalanche rescue gear. You should NOT be skiing or climbing potential avalanche slopes without having beacons, shovels, and probes.  Only one person in a group should be exposed to potential avalanche danger at a time.  Remember, climbing, skiing, and riding down the edge of slopes is safer than being in the center.  Just because another person is on a slope doesn't mean that it is safe.  Be an individual!  Make your own decisions.  Heed the signs of instability: rapid warming, "whumphing" noises, shooting cracks, snowing an inch an hour or more, rain, roller balls, wind loading, recent avalanche activity.
---
Weather and Current Conditions
Weather Summary
In Mt Shasta City this morning at 0500, we have some light rain falling and a current temperature of 41 F.
On Mt Shasta (South Side) in the last 24 hours...
Old Ski Bowl - 7,600 feet, we've had 8 inches new snow over the last 24 hours. Our current snow depth total at the Old Ski Bowl is 10-12 inches and growing we hope! The current temperature is 26F with a low of 20F and a high of 26F.
Gray Butte - 8,000 feet, the current temperature is 26F. Temps have ranged from a low of 20F to a high 26F. Our winds at Gray Butte are unknown at this time. The anemometer at this station appears to be rimed up and frozen or broken and not working. Winds were expected to be cranking from the west this weekend, 40-50mph with gusts higher. We are working on fixing this problem ASAP. Thanks for understanding.
Castle Lake and Mt Eddy (West side of I-5)... 
Castle Lake - 5,600 feet, the current temperature is 31F with a low of 26F and a high of 31F. Castle Lake has received 4 inches of new snow with a current snowpack of 5-6 inches at best.
Mt Eddy - 6,500 feet, the current temperature is 29F with a low of 23F and a high of 30F. Mt Eddy has 4 inches new snow and a current snow depth total of 5-6 inches. Winds have averaged 3 mph with gusts to 15 mph, southeast in nature.
THIS SEASON: Since September 1st (the wet season), we have received 3.68 inches of water, normal is 24.64 inches, putting us at 14% of normal. For the year of 2014, Mt Shasta has received 0.86 inches of water with normal being 8.76 inches which puts us at 9% of normal. And lastly, for February we are 38% of normal, receiving 0.65 inches of water, normal is 1.70 inches.
Mt Shasta finished off 2013 with exactly 10.00 inches of water, normal is 43.21", putting us at 23% of normal. A DESERT is classified as an area that receives 10 inches of water or less per year. Yikes!

December 2012 had more precipitation than the entire 2013 calendar year (10.43"). WOW!
WEATHER SYNOPSIS:
Two more waves of precipitation will plow through the area this morning and tonight into Sunday. Unfortunately, temperatures are warm with this and will stay warm, and the majority of snow will fall above 6,000 feet. Strong westerly winds will prevail, 30-40 mph with gusts higher. The satellite image below shows a nice plume of moisture still extending out towards Hawaii and we will continue to get some of this. And I like this from the NWS for next week, "ANOTHER SERIES OF STORMS OR ATMOSPHERIC RIVER EVENT WILL TAKE AIM AT THE PACIFIC NORTHWEST FOR THE MIDDLE TO LATTER PART OF NEXT WEEK, THE FIRST OF WHICH WILL LIKELY ARRIVE TUESDAY."
Atmospheric river event.......LOVE the sound of that. Hopefully we don't lie to far south for this series of storms.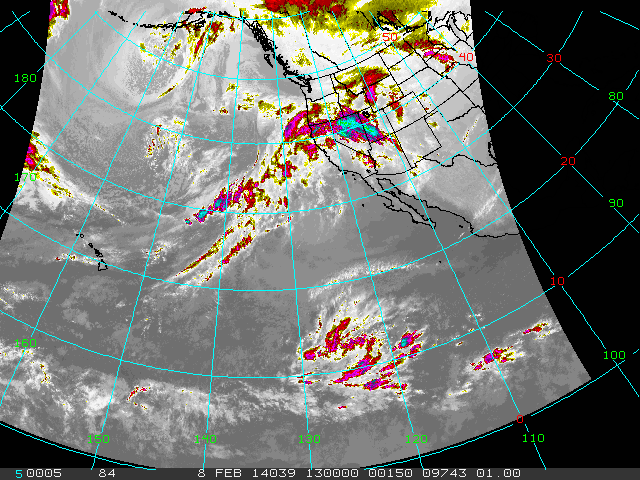 CURRENT CONDITIONS
at Bunny Flat (6950 ft)
| | |
| --- | --- |
| 0600 temperature: | 28 |
| Max. temperature in the last 24 hours: | 29 |
| Average wind direction during the last 24 hours: | Westerly |
| Average wind speed during the last 24 hours: | unknown mi/hr |
| Maximum wind gust in the last 24 hours: | unknown mi/hr |
| New snowfall in the last 24 hours: | 8" inches |
| Total snow depth: | 10-12" inches |
Two Day Mountain Weather Forecast
Produced in partnership with the Medford NWS
For 7000 ft to 9000 ft
Saturday
(4 a.m. to 10 p.m.)
Saturday Night
(10 p.m. to 4 a.m.)
Sunday
(4 a.m. to 10 p.m.)
Weather
Snow
Snow
Snow
Temperature (°F)
37
30
39
Wind (mi/hr)
South/southwest 15-20mph, gusts to 30mph
Southwest 10-15mph
South 15-20mph
Precipitation SWE / Snowfall (in)
/ 2-4
/ 2-4
/ 1-3
For 9000 ft to 11000 ft
Saturday
Saturday Night
Sunday
Weather
Snow
Snow
Snow
Temperature (°F)
31
25
28
Wind (mi/hr)
West 45-55mph with gusts higher, decreasing.
West 5-9
West 35-45mph with gusts higher
Precipitation SWE / Snowfall (in)
/ 5-9
/ 2-4
/ 2-4
Disclaimer
This advisory does not apply to Ski Areas or Highways and is for the Mt. Shasta, Castle Lake and Mt. Eddy back country. Use this information for guidance only. You may find different conditions in the back country and should travel accordingly. This advisory expires on midnight of the date it was posted unless otherwise noted.