You are here
Avalanche Advisory for 2014-03-21 07:06:56
EXPIRED ON March 22, 2014 @ 7:06 am

Published on March 21, 2014 @ 7:06 am
Issued by Adam Teel - Mt. Shasta Avalanche Center
The avalanche danger is LOW for all elevations and aspects. Normal caution is advised.
ALWAYS carry a beacon, shovel, probe and know how to use them...and wear a helmet!
Avalanche Problem 1: Normal Caution
Certain

Very Likely

Likely

Possible

Unlikely

Historic

Very Large

Large

Small
Overall, LOW avalanche danger exists for all elevations and aspects on Mt Shasta. Remember, LOW avalanche danger means natural and human triggered avalanches are unlikely, but not impossible. One could see small avalanches in isolated areas or extreme terrain.
---
Recent Observations
Temperatures cooled some during the week providing great ski and climbing conditions. The spring 'corn' skiing conditions were excellent from bunny flat with  consistent snow where the  surface is visibly flat. Surprisingly the lower slopes were not too soft or punchy providing good exits from the upper slopes which have been thawing nicely if your timing is right. No need to be skiing too early as the slopes are softening  a little later in the afternoon, yesterday the skiers who started around lunch time were rewarded with excellent skinning conditions for ascending and very controllable turning conditions all the way back to bunny flat. The coverage in the runnout zones is good considering the below average snowfall, the most sun exposed areas are melting out a little but navigation and travel conditions are in general good right now on the mountain. Self arrest skills are neccessary for early birds or people climbing high up on the mountain.
------------------------------------------------------------------------------------------
From Saturday, 3-15-14
Concern for lingering wind slabs is falling and we are moving into a good melt/freeze cycle on southerly aspects. Mt Shasta is the only option for skiing in the area as Mt Eddy and Caslte Lake still have shallow snowpacks. Shasta's snowpack is typified by generally smooth snow with patches of wind erosional features dotting the landscape. Up higher on the mountain, expect a mix of wind features, icy patches and smooth snow. As we move into the climbing season, make sure to know how to use your ice axe and crampons and have self arrest skills. Further, wear a helmet, AND carry a beacon, shovel and probe.
Primary concerns will be rime icefall, rockfall, and failing to self-arrest on firm snow during early morning hours.
-----------------------------------------------------------------------------------------
From Friday, 3-14-14:
 On Monday (3-10-14), the MSAC got the report of a skier triggered (ascending) wind slab avalanche in the Anaconda drainage of Mt Shasta, approx. 9,200 feet. The avalanche was approx. 400' wide and ran 250' vertical feet. (HS-ASu-R2-D2-I) 3 people caught, partially buried, no injuries. (See photos below)
Another group of backcounytry skiers report seeing evidence of wind slab avalanches (debris) in the Hidden Valley area later in the week. It is likely that the mountain saw somewhat widespread avalanche activity early in the week during the wind event. Most of the slides were small to medium in size and the debris was subsequently eroded away by the wind after slides occured.
The best skiing has ended up being the old snow that is beginning to turn to "corn snow" in the afternoon hours.  For climbers, conditions are getting good on all routes. However that being said, this is the time of year when the snow is smooth and firm, especially in the AM hours. A slip and fall on smooth, firm and sometimes icy snow can result in a slide for life. Self arrest skills with an ice axe and proper crampon use are essential for a safe climb. Further, a beacon/shovel/probe are absolutely recommended for any climbers attempting Shasta currently. Lastly, while the rockfall danger is low currently, rime ice can plaster exposed rocks on Shasta this time of year. As the days warm, the rime ice will flake off and fall onto climbers below, especially on the Avalanche Gulch route. Ice is like a rock and a HELMET should always be worn.
 
Photos below: Skier triggered wind slab avalanche on Mt Shasta, 3-10-14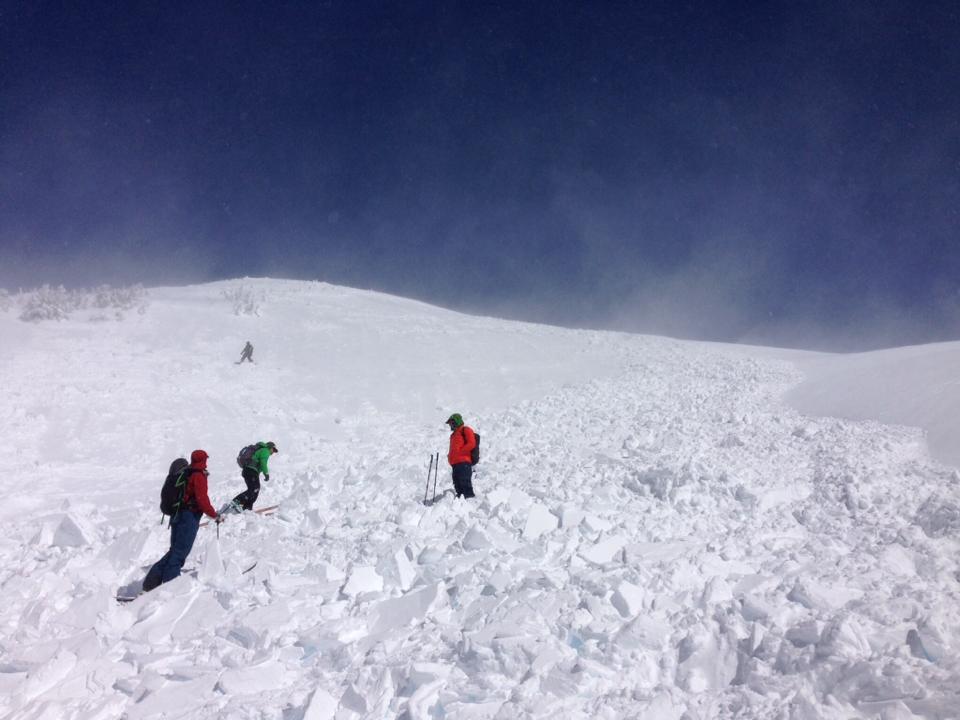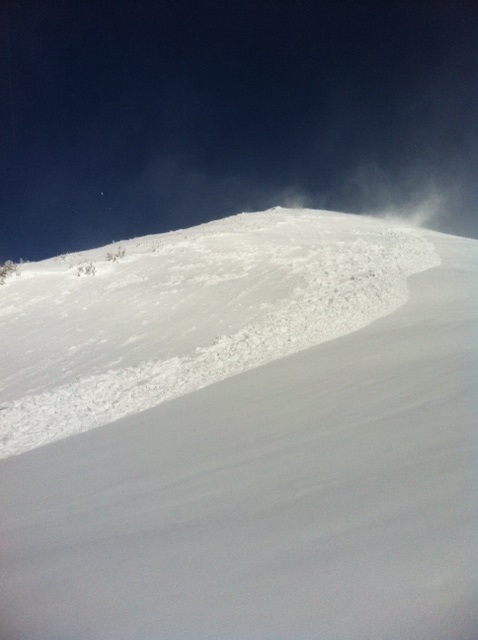 Wind erosional feature in the Old Ski Bowl, 3-12-14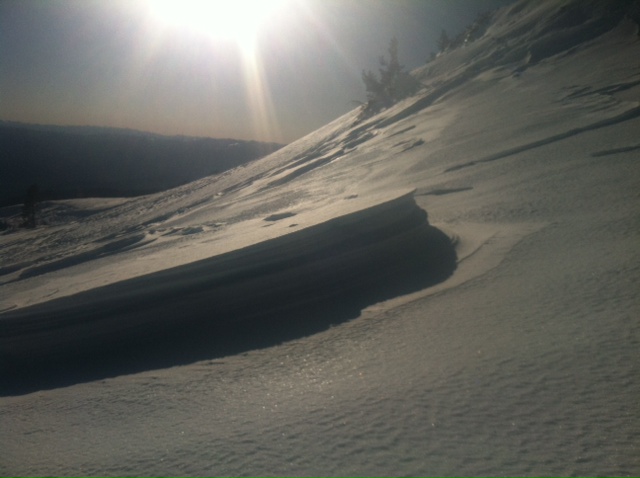 Aerial photo of the South side of Mt Shasta, taken by local pilot Troy Bainbridge just a few days ago.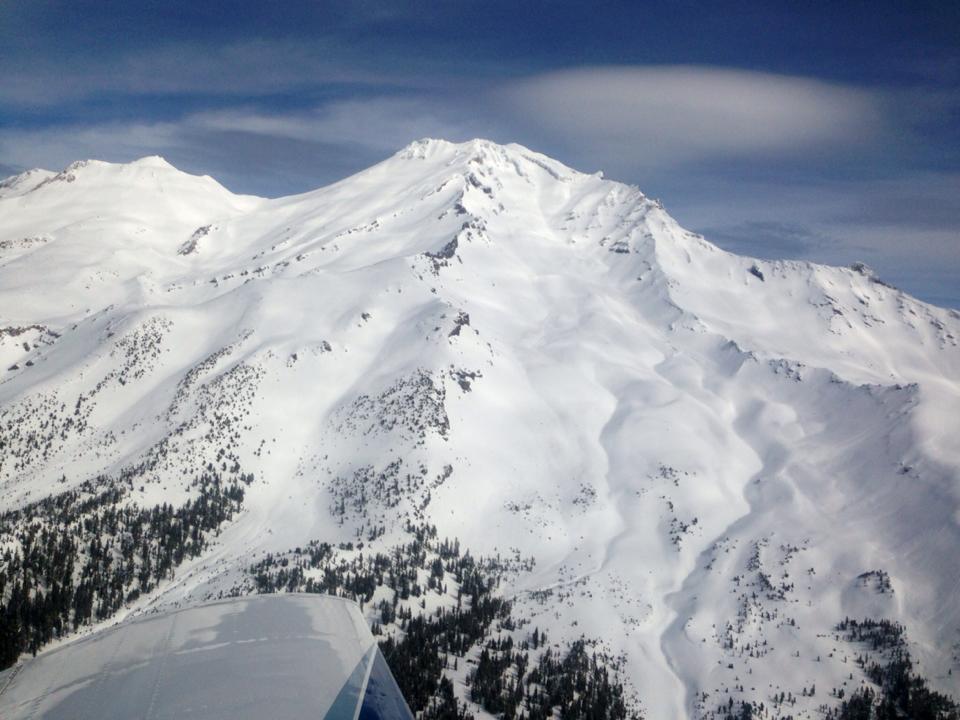 ---------------------------------------------------------------------------------------------------------------------------------------------------------------
While Northgate, Brewer Ck and Clear Ck trailheads are officially closed, the bathrooms are still open with packout bags inside, and one can still access the Mt Shasta Wilderness. However, your summit pass and wilderness permits must be purchased at McCloud or Mt Shasta Ranger Stations. NO DOGS are allowed in the Mt Shasta Wilderness OR Sierra Club Property. Thanks!
---------------------------------------------------------------------------------------------------------------------------------------------------------------
Terrain:  Remember most of the terrain that we like to play on is greater than 30 degrees.  Avalanches are possible on anything steeper than 30 degrees.  Avoid cornices, rock bands, terrain traps and runout zones of avalanche paths.

Weather:  Most of our areas avalanche danger will occur 24-48 hours after a storm. We still can see persistent weak layers from time to time and we always will be sure to let you know about that!  Heed the basic signs: Wind (significant snow transport and depositions), Temperature (rain/snow/rain/snow, which in turn weakens the snowpack), and Precipitation (Snow or rain add weight and stress to the current snowpack).

Snowpack:  If snow accumulates, give the snowpack a chance to adjust to the new snow load before you play on or near steep slopes (greater than 30 degrees).  Most direct action avalanches occur within 24-48 hours of recent snowfall.  Watch for obvious signs of snowpack instability such as recent natural avalanche activity, collapsing of the snowpack (often associated with a "whumphing" sound), and shooting cracks. If you see these signs of instability, limit your recreation to lower angle slopes.

Human Factor: Don't forget to carry and know how to use avalanche rescue gear. You should NOT be skiing or climbing potential avalanche slopes without having beacons, shovels, and probes.  Only one person in a group should be exposed to potential avalanche danger at a time.  Remember, climbing, skiing, and riding down the edge of slopes is safer than being in the center.  Just because another person is on a slope doesn't mean that it is safe.  Be an individual!  Make your own decisions.  Heed the signs of instability: rapid warming, "whumphing" noises, shooting cracks, snowing an inch an hour or more, rain, roller balls, wind loading, recent avalanche activity.
---
Weather and Current Conditions
Weather Summary
In Mt Shasta City this morning at 0500, we have mostly clear skies with a current temperature of 36 F.
On Mt Shasta (South Side) in the last 24 hours...
Old Ski Bowl - 7,600 feet. The Old Ski Bowl weather station has received no new snow in the last 24 hours. The current temperature is 31F with a low of 30F and a high of 46F. Total snow depth is 52 inches with little settlement.
Gray Butte - 8,000 feet - The current temperature is 33F. Temps have ranged from a low of 31F to a high 44F.  Winds have averaged has averaged 5 mph from the NW since last night at 9pm, yesterday they had more of a Southerly direction through the day.  Gusts early yesterday morning were 21 MPH  from the WNW then lessened to 14 MPH through this morning from the NW.
Castle Lake and Mt Eddy (West side of I-5)... 
Castle Lake - 5,600 feet, the current temperature is 35F with a low of 35F and a high of 47F. Castle Lake has received no new snow and has a current snowpack of 0-3 inches with little settlement.
Mt Eddy - 6,500 feet, the current temperature is 28F with a low of 27F and a high of 46F. Mt Eddy has received no new snow and hosts a current snow depth of 17 inches with 1 inch settlement in the last several days. Winds have averaged 3 mph and southerly in nature, with gusts to 7 mph, SE.
THIS SEASON: Since September 1st , we have received 11.33 inches of water, normal is 34.55 inches, putting us at 33% of normal. For the year of 2014, Mt Shasta has received 8.51 inches of water with normal being 18.67 inches which puts us at 46% of normal. And lastly, for March we sit at 56% of normal, receiving 2.47 inches of water, normal is 4.38 inches.
WEATHER SYNOPSIS:
The few clouds this morning should clear up for another sunny day. The daytime highs at bunny flat will be 47 degrees and increasing a couple degrees daily through Monday when a moist, cool pattern should develop in the area. Today winds will start out light from the NE and strengthen a little and coming from the NW by late afternoon.
CURRENT CONDITIONS
at Bunny Flat (6950 ft)
| | |
| --- | --- |
| 0600 temperature: | 31 |
| Max. temperature in the last 24 hours: | 48 |
| Average wind direction during the last 24 hours: | WNW |
| Average wind speed during the last 24 hours: | 4-8 mi/hr |
| Maximum wind gust in the last 24 hours: | 21 mi/hr |
| New snowfall in the last 24 hours: | 0 inches |
| Total snow depth: | 52" inches |
Two Day Mountain Weather Forecast
Produced in partnership with the Medford NWS
For 7000 ft to 9000 ft
Friday
(4 a.m. to 10 p.m.)
Friday Night
(10 p.m. to 4 a.m.)
Saturday
(4 a.m. to 10 p.m.)
Weather
Sunny
Clear
Sunny
Temperature (°F)
47
24
49
Wind (mi/hr)
Northeast 5-10 mph, increasing in the afternoon
Northwest 10-15 mph
Northeast 10-15 mph
Precipitation SWE / Snowfall (in)
/ 0
/ 0
/ 0
For 9000 ft to 11000 ft
Friday
Friday Night
Saturday
Weather
Sunny
Clear
Sunny
Temperature (°F)
35
14
32
Wind (mi/hr)
West 10-20 mph with gusts higher
Northwest 0
North/northeast 10-20 mph
Precipitation SWE / Snowfall (in)
/ 0
/ 0
/ 0
Disclaimer
This advisory does not apply to Ski Areas or Highways and is for the Mt. Shasta, Castle Lake and Mt. Eddy back country. Use this information for guidance only. You may find different conditions in the back country and should travel accordingly. This advisory expires on midnight of the date it was posted unless otherwise noted.