You are here
Avalanche Advisory for 2015-01-25 06:40:31
EXPIRED ON January 26, 2015 @ 6:40 am

Published on January 25, 2015 @ 6:40 am
Issued by Nick Meyers - Shasta-Trinity National Forest
The avalanche danger is LOW for wet/loose snow instabilities on Mt Shasta.
Sunny, E-SE-S facing slopes steeper than 35 degrees and up to 10,000 feet could see roller balls, pinwheels, and small point releases/surface sluffs.
Other hazards include: Icefall off exposed rocks onto climbers/skiers below, and smooth, firm snow on the upper mountain creating 'slide-for-life' conditions. Immediate self-arrest skills are mandatory should one slip and fall. Know how to use your equipment!
Avalanche Problem 1: Wet Slab
Certain

Very Likely

Likely

Possible

Unlikely

Historic

Very Large

Large

Small
In the last 24 hours at the Old Ski Bowl weather station (7,600 feet), we saw temperatures rise to 53 F degrees at 1500 yesterday afternoon. Since then, temperatures have not dropped below 40 F degrees.
Rising night and daytime temperatures and freezing levels over 10,000 feet could create wet/loose snow instabilities in the form of roller balls, pinwheels, point releases and/or small surface sluffs.
Slopes steeper than 35 degrees and E-SE-S facing up to 10,000 feet will be the most likely areas to encounter wet/loose instabilities.
While most of the time these types of slides are of little consequence, they always have the chance to build as they entrain more snow as they move down a slope and potentially sweep a rider off their feet and into undesireable locations like trees, over a cliff or into a terrain trap.
Conditions can be affected by sun, rain and warm tempertures. Timing before the onset of significant sun/warmth is key.
Avalanche Problem 2: Normal Caution
Certain

Very Likely

Likely

Possible

Unlikely

Historic

Very Large

Large

Small
                  Overall, LOW avalanche danger will persist through this week (1/26/15). Carry a beacon, shovel and probe and know how to use this equipment. 
Recent Observations
Thanks to all who came out to the Mt Shasta Ascension Backcountry Ski Race and the annual Snow Ball yesterday/last night. It wouldn't happen with out you! Great conditions, sun, and a whole lot of fun was had. Also, thanks to the Friends of the Mt Shasta Avalanche Center and numerous volunteers who made those MSAC fundraisers happen.
Inversions and Juneuary conditions continue as high pressure remains parked overhead today through Monday. This morning (1/25) temperatures in Mt Shasta City read 34 F and at the Old Ski Bowl weather station it's 50 F! On Tuesday, a weak low will bring us a brief break from sunny skies.  Sunshine will return by Thursday, and mild temperatures will maintain melt/freeze cycles producing great corn snow at many elevations. Naturally - aspect, time of day and elevation are dictating ideal corn harvest times. Mt Shasta is one of the few areas in the state that has reasonable snow coverage and the sliding and riding conditions as of this weekend were... amazing. As much as we would like to keep this a secret, well - we already blew it.  Temperatures continue to stay warm today and into Monday.  Good, no...amazing corn conditions may push higher in elevation today, but temps will drop considerably tomorrow. Time it right on warm, sunny aspects and you will not be dissapointed.
Observations made over this weekend personally and by local skiers and riders resulted in no instabilities. Most South Side aspects above treeline have reported smooth snow and good corn skiing/snowmobiling. Slopes E-SE-S will soften the most during warm days. Wet/loose instabilities are possible today in the form of loose snow sluffs, roller balls and pinwheels, but likely small and of little consequence. This avalanche problem will decrease as temps cool this week. Climbers headed onto the upper mountain will find smooth and firm snow surface conditions presenting the possibility for "slide for life" incidents... probably goes without saying, but bring your crampons, helmet, and ice axe.  Rock and ice fall were observed and heard off Sargents Ridge and the upper mountain in the past few days. WEAR A HELMET! No instabilities have been observed or recorded on the upper mountain.
To summarize, concerns for skiing and climbing on Shasta this weekend will be: 1) Wet/loose snow instabilities in the form of roller balls, pinwheels, small point releases and surface sluffs on sun warmed slopes steeper than 35 degrees, low to mid mountain levels. As stated, these instabilities will likely be small in size and of little consequence, but as always, use caution on steeper slopes in extreme terrain where even a small slide could sweep one off their feet into undesireable locations 2) Rime and water ice melting/flaking off exposed rocks and falling onto one below 3) Smooth and firm upper mountain conditions posing the threat for a slide for life should one slip and fall. 
Photos below: A few samples from Mt Shasta's South Side over the past week. Photos by: Shane Rathbun and Nick Meyers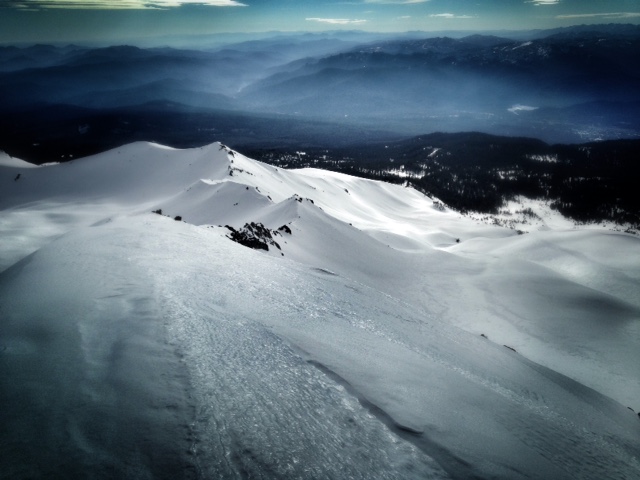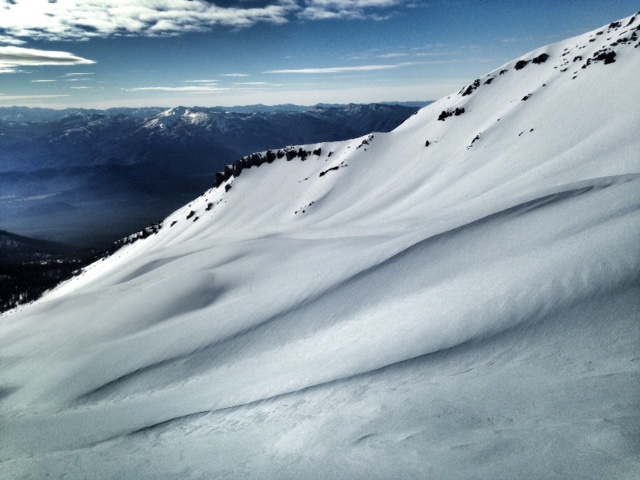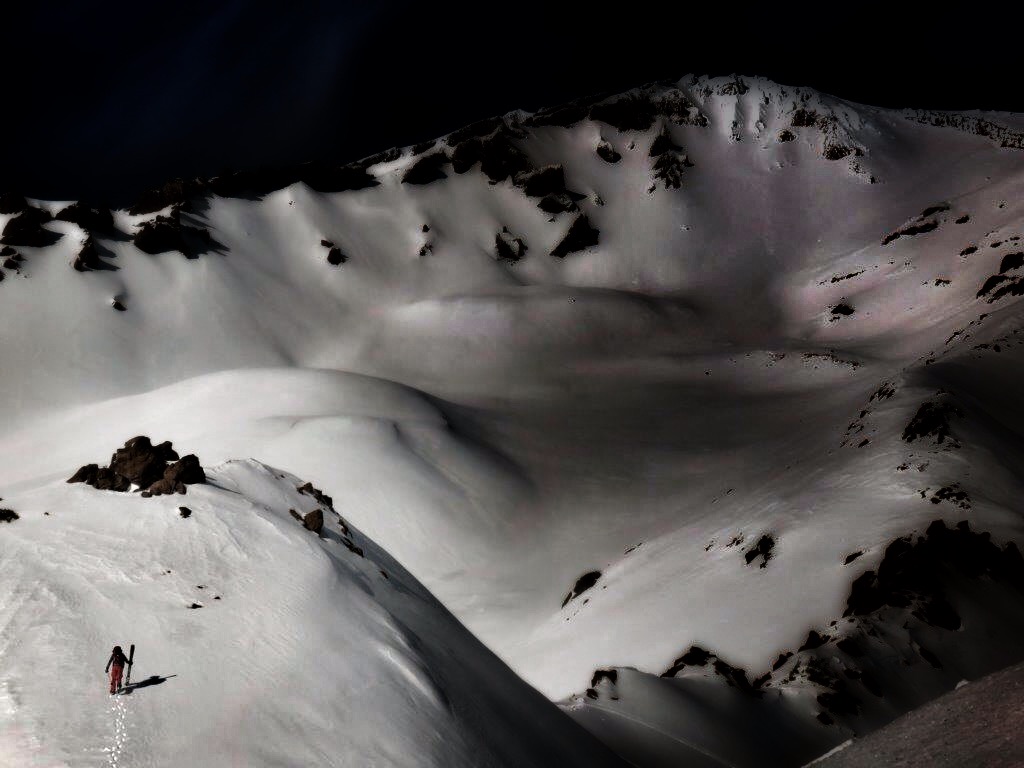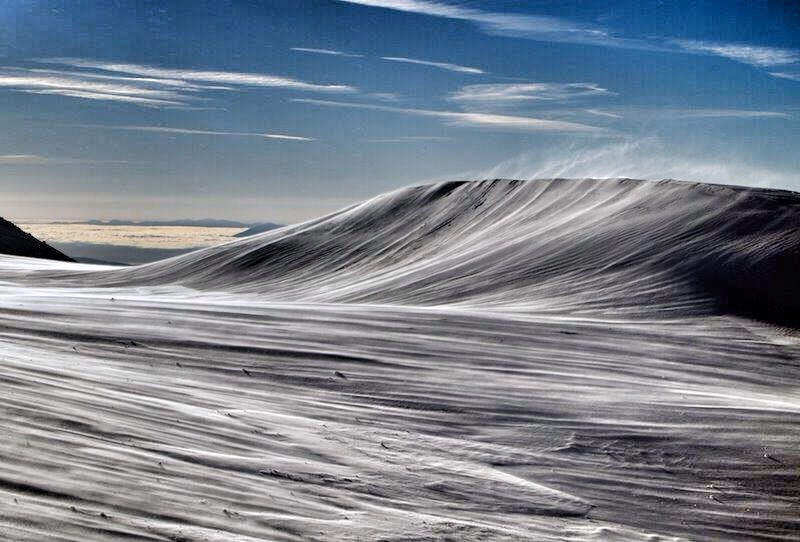 Report your observations to the MSAC! A photo, a few words... send them in! (nimeyers@fs.fed.us or 530-926-9614)
Castle Lake area has a shallow snowpack. Be careful of shallow buried objects. Skiing has been reported as poor to non-existent.
Sand Flat Winter Trails: OPEN
Pilgrim Creek Snowmobile Park: OPEN, however due to lack of low elevation snow, one must drive up the road several miles before enough snow is encountered. One CANNOT DRIVE over Military Pass.
-------------------------------------------------------------------------------------------------------------------------------
Terrain:  Remember most of the terrain that we like to play on is greater than 30 degrees.  Avalanches are possible on anything steeper than 30 degrees.  Avoid cornices, rock bands, terrain traps and runout zones of avalanche paths.

Weather:  Most of our areas avalanche danger will occur 24-48 hours after a storm. We still can see persistent weak layers from time to time and we always will be sure to let you know about that!  Heed the basic signs: Wind (significant snow transport and depositions), Temperature (rain/snow/rain/snow, which in turn weakens the snowpack), and Precipitation (Snow or rain add weight and stress to the current snowpack).

Snowpack:  If snow accumulates, give the snowpack a chance to adjust to the new snow load before you play on or near steep slopes (greater than 30 degrees).  Most direct action avalanches occur within 24-48 hours of recent snowfall.  Watch for obvious signs of snowpack instability such as recent natural avalanche activity, collapsing of the snowpack (often associated with a "whumphing" sound), and shooting cracks. If you see these signs of instability, limit your recreation to lower angle slopes.

Human Factor: Don't forget to carry and know how to use avalanche rescue gear. You should NOT be skiing or climbing potential avalanche slopes without having beacons, shovels, and probes.  Only one person in a group should be exposed to potential avalanche danger at a time.  Remember, climbing, skiing, and riding down the edge of slopes is safer than being in the center.  Just because another person is on a slope doesn't mean that it is safe.  Be an individual!  Make your own decisions.  Heed the signs of instability: rapid warming, "whumphing" noises, shooting cracks, snowing an inch an hour or more, rain, roller balls, wind loading, recent avalanche activity.
The Five Red Flags of Avalanche Danger any time of year include:  1) Recent/current avalanche activity  2) Whumpfing sounds or shooting cracks  3) Recent/current heavy snowfall  4) Strong winds transporting snow  5) Rapid warming or rain on snow.
---
Weather and Current Conditions
Weather Summary
In Mt Shasta City this morning at 0500, inversions are showing with a current temperature of 33 degrees witw clear skies.
WEATHER STATION INFORMATION (0500hrs):
On Mt Shasta (South Side) in the last 24 hours...
Old Ski Bowl - 7,600 feet, the current temperature is 50 F. Snow on the ground totals 68 inches with no settlement and no new snow. Temperatures have ranged from 40 F to 53 F. 
Gray Butte - 8,000 feet, winds have averaged 15 mph and variable in direction, with a max gust to 42 mph from the East. The current temperature is 49 F and temps have ranged from 45 F to 55 F in the last 24 hours.  
Castle Lake and Mt Eddy (West side of Interstate-5)... 
Castle Lake - 5,600 feet, the current temperature is 50 F. Temps have ranged from 42 F to 53 F in the last 24 hours. The Castle Lake area has up to 1.5 feet of snow on the ground and no new snow over the past week.
Mt Eddy - 6,500 feet, the current temperature is 45 F. Temps have ranged from 41 F to 57 F in the last 24 hours. Current snow depth is 20 inches with no new snow over the past week and no settlement. Winds have averaged 2 mph and SW in direction, with gusts to 10 mph from the SW.
WEATHER SYNOPSIS: There will be little change in the weather for today and into Monday.  A very strong high pressre ridge stays parked over the region with persistant temperature inversions keep air stagnation present with cool air settling in valley bottoms and fog.  On Tuesday an off shore low pressure system off the Baja peninsula will push the ridge east allowing moisture to track north flowing mostly through Oregon and Washington.  We will only see the southern edge of this system leaving us with only the crumbs.
THIS SEASON: Since October 1st (the wet season) , we have received 20.00 inches of water, normal is 20.57 inches, putting us at 97% of normal. For January/2015, we've received 0.48 inches of water, normal is 5.36, putting us at 8% of normal.  
Looking back into 2014, Mt Shasta finished off with 34.36 inches of water with normal being 43.21 inches, leaving us at 79% of normal for the year. For the month of December, Mt Shasta finished at 163% of normal, receiving 12.83 inches of water, normal is 7.85 inches. 
Always check the weather before you attempt to climb Mt Shasta. Further, monitor the weather as you climb. Becoming caught on the mountain in any type of weather can compromise life and limb. Be prepared.
CURRENT CONDITIONS
at Bunny Flat (6950 ft)
| | |
| --- | --- |
| 0600 temperature: | 50 |
| Max. temperature in the last 24 hours: | 53 |
| Average wind direction during the last 24 hours: | Easterly |
| Average wind speed during the last 24 hours: | 15 mi/hr |
| Maximum wind gust in the last 24 hours: | 42 mi/hr |
| New snowfall in the last 24 hours: | 0 inches |
| Total snow depth: | 68 inches |
Two Day Mountain Weather Forecast
Produced in partnership with the Medford NWS
For 7000 ft to 9000 ft
Sunday
(4 a.m. to 10 p.m.)
Sunday Night
(10 p.m. to 4 a.m.)
Monday
(4 a.m. to 10 p.m.)
Weather
Sunny
Mostly clear
Sunny
Temperature (°F)
59
37
52
Wind (mi/hr)
East Ligh, 5-10 mph
East/Southeast 10-20 mph
East 5-10 mph
Precipitation SWE / Snowfall (in)
/ 0
/ 0
/ 0
For 9000 ft to 11000 ft
Sunday
Sunday Night
Monday
Weather
Sunny
Mostly clear
Sunny
Temperature (°F)
60
38
53
Wind (mi/hr)
South/Southeast 10-20 mph, increasing this afternoon
South 0
South/Southwest 10-20 mph
Precipitation SWE / Snowfall (in)
/ 0
/ 0
/ 0
Disclaimer
This advisory does not apply to Ski Areas or Highways and is for the Mt. Shasta, Castle Lake and Mt. Eddy back country. Use this information for guidance only. You may find different conditions in the back country and should travel accordingly. This advisory expires on midnight of the date it was posted unless otherwise noted.