You are here
Avalanche Advisory for 2015-01-30 07:02:10
EXPIRED ON January 31, 2015 @ 7:02 am

Published on January 30, 2015 @ 7:02 am
Issued by Nick Meyers - Shasta-Trinity National Forest
The overall avalanche danger is LOW for the forecast area. Carry a beacon, shovel and probe.
Other hazards include: Icefall off exposed rocks onto climbers/skiers below, and smooth, firm snow on the upper mountain creating 'slide-for-life' conditions. Immediate self-arrest skills are mandatory should one slip and fall.
Know how to use all your equipment!
Avalanche Problem 1: Normal Caution
Certain

Very Likely

Likely

Possible

Unlikely

Historic

Very Large

Large

Small
                  Overall, LOW avalanche danger exists in the forecast area. Carry a beacon, shovel and probe and know how to use this equipment. 
Recent Observations
The skiing and riding have been excellent over the last week as sunny skies, and relatively warm daytime temperatures have kept the melt/freeze cycle rolling right along.  With the current temperatures, snow has been softening up at elevations from 9000-10,800 feet at 12:30-1:30 p.m.  Sun Bowl, Powder Bowl, Giddy-Giddy, and South aspects of Casaval Ridge have been providing the most desirable conditions.  At elevations above 11,000 feet the window for corn snow is much smaller or non-existent as daytime temperatures haven't been high enough to soften up the snow surface.  Saturday's slight warming will provide the best opportunity for corn skiing at those higher elevations.  No signs of snow instability were observed yesterday (Thursday) or over the week in the form of wet/loose slides or roller balls/pinwheels.  Wet/loose instabilities are unlikely today. 
Climbers headed onto the upper mountain will find smooth and firm snow surface conditions presenting the possibility for "slide for life" incidents... probably goes without saying, but bring your crampons, helmet, and ice axe. WEAR A HELMET! No instabilities have been observed or recorded on the upper mountain.
To summarize, concerns for skiing and climbing on Shasta will be: 1) While unlikely today, remember that wet/loose snow instabilities can form on warm days with high overnight temperatures in the form of roller balls, pinwheels, small point releases and surface sluffs on sun warmed slopes steeper than 35 degrees. 2) Rime and water ice melting/flaking off exposed rocks and falling onto one below 3) Smooth and firm upper mountain conditions posing the threat for a slide for life should one slip and fall. 

Below: A few photos from the Powder Bowl area on the south side of Mt Shasta, 1.29.15 Photos: J Dove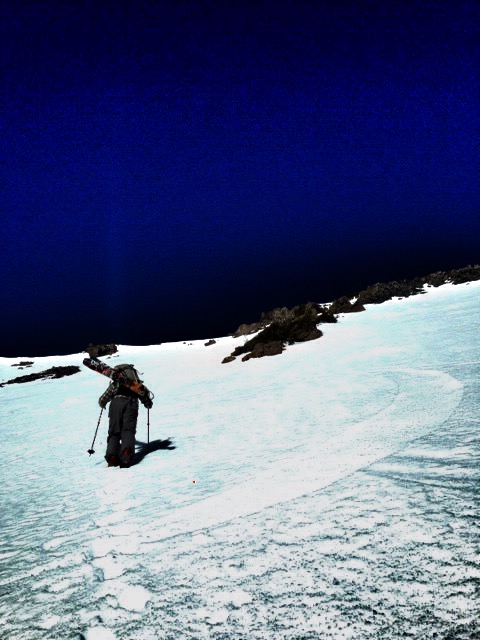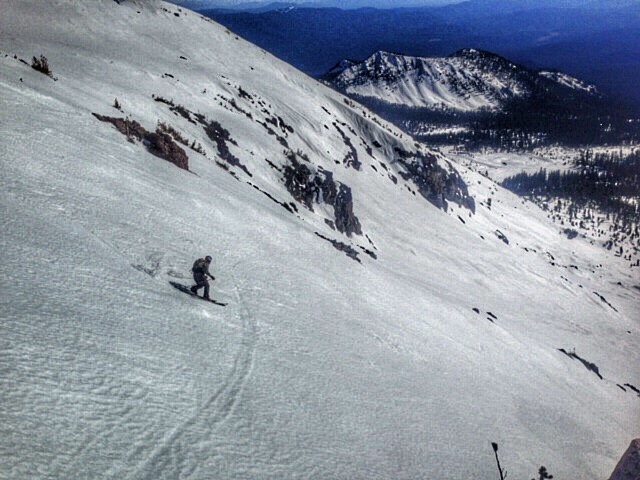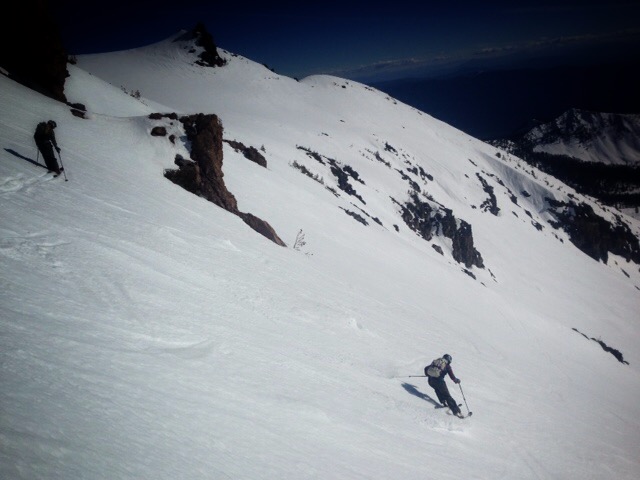 Report your observations to the MSAC! A photo, a few words... send them in! (nimeyers@fs.fed.us or 530-926-9614)
Castle Lake area has a shallow snowpack. Be careful of shallow buried objects. Skiing has been reported as poor to non-existent.
Sand Flat Winter Trails: OPEN
Pilgrim Creek Snowmobile Park: OPEN, however due to lack of low elevation snow, one must drive up the road several miles before enough snow is encountered. One CANNOT DRIVE over Military Pass.
-------------------------------------------------------------------------------------------------------------------------------
Terrain:  Remember most of the terrain that we like to play on is greater than 30 degrees.  Avalanches are possible on anything steeper than 30 degrees.  Avoid cornices, rock bands, terrain traps and runout zones of avalanche paths.

Weather:  Most of our areas avalanche danger will occur 24-48 hours after a storm. We still can see persistent weak layers from time to time and we always will be sure to let you know about that!  Heed the basic signs: Wind (significant snow transport and depositions), Temperature (rain/snow/rain/snow, which in turn weakens the snowpack), and Precipitation (Snow or rain add weight and stress to the current snowpack).

Snowpack:  If snow accumulates, give the snowpack a chance to adjust to the new snow load before you play on or near steep slopes (greater than 30 degrees).  Most direct action avalanches occur within 24-48 hours of recent snowfall.  Watch for obvious signs of snowpack instability such as recent natural avalanche activity, collapsing of the snowpack (often associated with a "whumphing" sound), and shooting cracks. If you see these signs of instability, limit your recreation to lower angle slopes.

Human Factor: Don't forget to carry and know how to use avalanche rescue gear. You should NOT be skiing or climbing potential avalanche slopes without having beacons, shovels, and probes.  Only one person in a group should be exposed to potential avalanche danger at a time.  Remember, climbing, skiing, and riding down the edge of slopes is safer than being in the center.  Just because another person is on a slope doesn't mean that it is safe.  Be an individual!  Make your own decisions.  Heed the signs of instability: rapid warming, "whumphing" noises, shooting cracks, snowing an inch an hour or more, rain, roller balls, wind loading, recent avalanche activity.
The Five Red Flags of Avalanche Danger any time of year include:  1) Recent/current avalanche activity  2) Whumpfing sounds or shooting cracks  3) Recent/current heavy snowfall  4) Strong winds transporting snow  5) Rapid warming or rain on snow.
---
Weather and Current Conditions
Weather Summary
In Mt Shasta City this morning at 0500, we have a current temperature of 40 degrees with clear skies.
WEATHER STATION INFORMATION (0500hrs):
On Mt Shasta (South Side) in the last 24 hours...
Old Ski Bowl - 7,600 feet, the current temperature is 32 F. Snow on the ground totals 67 inches with 1 inch settlement and no new snow. Temperatures have ranged from 32 F to 40 F. 
Gray Butte - 8,000 feet, winds have averaged 12 mph and E direction, with a max gust to 35 mph from the ENE. The current temperature is 33 F and temps have ranged from 33 F to 39 F in the last 24 hours.  
Castle Lake and Mt Eddy (West side of Interstate-5)... 
Castle Lake - 5,600 feet, the current temperature is 37 F. Temps have ranged from 37 F to 45 F in the last 24 hours. The Castle Lake area has up to 1.5 feet of snow on the ground and no new snow over the past week.
Mt Eddy - 6,500 feet, the current temperature is 37 F. Temps have ranged from 33 F to 42 F in the last 24 hours. Current snow depth is 20 inches with no new snow over the past week and little settlement. Winds have averaged 3 mph and WSW in direction, with gusts to 8 mph from the WSW.
WEATHER SYNOPSIS: Upper level ridging will build over the area the next couple of days and the air mass will warm on Saturday.  Air stagnation and temperature inversions will still be present , but to a lesser degree than previous days.  Winds will be coming out of the NNE.  They will be light at elevations below 11,000 feet, but will pick up briefly tonight and into Saturday morning reaching speeds of up to 35 mph at upper elevations.  On Sunday the weather pattern changes as the first of what will hopefully be several fronts begin streaming into the region.  We will be at the southern edge of the distubance and will only see a slight chance of some preciptiation.  Further out, towards the end of next week, an atmospheric "river" event looks more likely to bring much needed rain, and higher elevation snow.  We'll keep our fingers crossed. 
THIS SEASON: Since October 1st (the wet season) , we have received 20.00 inches of water, normal is 21.85 inches, putting us at 91% of normal. For January/2015, we've received 0.48 inches of water, normal is 6.64, putting us at 7% of normal.  
Looking back into 2014, Mt Shasta finished off with 34.36 inches of water with normal being 43.21 inches, leaving us at 79% of normal for the year. For the month of December, Mt Shasta finished at 163% of normal, receiving 12.83 inches of water, normal is 7.85 inches. 
Always check the weather before you attempt to climb Mt Shasta. Further, monitor the weather as you climb. Becoming caught on the mountain in any type of weather can compromise life and limb. Be prepared.
CURRENT CONDITIONS
at Bunny Flat (6950 ft)
| | |
| --- | --- |
| 0600 temperature: | 32 |
| Max. temperature in the last 24 hours: | 40 |
| Average wind direction during the last 24 hours: | Northeast |
| Average wind speed during the last 24 hours: | 12 mi/hr |
| Maximum wind gust in the last 24 hours: | 35 mi/hr |
| New snowfall in the last 24 hours: | 0 inches |
| Total snow depth: | 68 inches |
Two Day Mountain Weather Forecast
Produced in partnership with the Medford NWS
For 7000 ft to 9000 ft
Friday
(4 a.m. to 10 p.m.)
Friday Night
(10 p.m. to 4 a.m.)
Saturday
(4 a.m. to 10 p.m.)
Weather
Sunny
Mostly clear
Sunny
Temperature (°F)
44
29
49
Wind (mi/hr)
North 5-10 mph
North 10-20 mph
Northeast 5-10 mph
Precipitation SWE / Snowfall (in)
/ 0
/ 0
/ 0
For 9000 ft to 11000 ft
Friday
Friday Night
Saturday
Weather
Sunny
Mostly clear
Sunny
Temperature (°F)
46
32
52
Wind (mi/hr)
North/Northeast 10-20 mph, increasing
Northeast 0
North/Northeast 25-35 mph
Precipitation SWE / Snowfall (in)
/ 0
/ 0
/ 0
Disclaimer
This advisory does not apply to Ski Areas or Highways and is for the Mt. Shasta, Castle Lake and Mt. Eddy back country. Use this information for guidance only. You may find different conditions in the back country and should travel accordingly. This advisory expires on midnight of the date it was posted unless otherwise noted.