You are here
Avalanche Advisory for 2015-02-07 07:05:07
EXPIRED ON February 8, 2015 @ 7:05 am

Published on February 7, 2015 @ 7:05 am
Issued by Nick Meyers - Shasta-Trinity National Forest
Dangerous avalanche conditions exist on wind loaded slopes above treeline on Mt Shasta.
Expect HIGH avalanche danger, above treeline, for wind and storm slabs on slopes steeper than 30 degrees, especially in drifted and wind loaded terrain SW-W-NW and N aspects.
Careful snowpack evaluation, cautious route finding and conservative decision making are essential today. Do not let your guard down even in below and near treeline areas.
Avalanche Problem 1: Wind Slab
Certain

Very Likely

Likely

Possible

Unlikely

Historic

Very Large

Large

Small
High intensity snow over the past 36 hours has created HIGH avalanche danger for areas above treeline on Mt Shasta. Sustained southerly winds are drifting snow into lee slope starting zones at mid and upper elevations. Triggering wind slab avalanches 3-6 feet deep are possible today and most likely on south, west and northerly facing slopes steeper than 30 degrees. 
Do not forget about the terrain above you. Lower angle runout zones could be impacted by large and unusual slides caused by such conditions as we are seeing. 
Avalanche Problem 2: Storm Slab
Certain

Very Likely

Likely

Possible

Unlikely

Historic

Very Large

Large

Small
Two to four feet of new storm snow on top of our old snow surface has been recorded in the forecast area with more on tap. Rising snow levels will create the potential for sensitive storm slabs. Human triggered avalanches are possible today.
The new storm snow is dense and unconsolidated. Storm slabs involve the release of a cohesive layer of new snow that breaks within the storm snow or on the old snow surface.
Give runout zones a wide berth when natural avalanches are expected. 
Avalanche Problem 3: Cornice
Certain

Very Likely

Likely

Possible

Unlikely

Historic

Very Large

Large

Small
Avoid recently built ridge-top cornices, which might break further back than you expect and could trigger avalanches on steep slopes below. Natural cornice fall avalanches are possible in some areas as drifting continues with strong winds today.
Recent Observations
Locals were getting uncomfortably comfortable with the easy, post ski boot-to-flip flop transition at trailheads over the month of January, soon followed by the familiar sounds of "thwack" (lawn chair unfolding) and "ka-boosh" (beverage of choice) in the Bunny Flat parking lot. My, how this has changed... one has to actually wear snow boots and use 4wd to the trailhead now!
Enough tongue and cheek. Beginning Thursday (2.5.15) evening, a very impressive wet and windy storm fell upon the Mt Shasta area. This first wave of this weekends storm series dropped 33.5 inches of snow (5.38 inches water) over 36 hours, recorded at 7,600 feet on the south side of Mt Shasta (Old Ski Bowl weather station). Winds have averaged 20-30 mph, southeast to southwest with gusts into the 40's and 50's, recorded at the Gray Butte weather station, 8,000 feet, also on the south side of Shasta. Snow levels fell as low as 5,000 feet during the beginning of the storm, but most of the snow was above 6,000 and snow levels rose to near 7,000 feet by yesterday afternoon.
My partner and I choose a safe route up Green Butte Ridge yesterday and took our time digging several hand pits along the way, skinning across many small test slopes and stomping on small corniced areas. Immediately we were able to get easy triggered wind slabs and cornice drops. This was not all that surprising given the conditions, however eye brow raising since we've had such a lack of avalance activity for over a month! We ended our ascent at 8,200 feet on GB Ridge (treeline) due to lack of visibility and honking winds. Wind loading was obvious on southwest, west, northwest and northerly aspects. A full pit was dug on a west/southwest aspect below the ridge top and multiple stability tests resulted in easy to moderate failures within the new storm snow. A total of 85cm of new snow was recorded on top of the old snow surface. A couple extended column and compression tests gave us an ECTP16@20cm from bottom, ECTN17@35cm, and CT12@40cm. The jist of our tests found easy to moderate failures in new storm snow at a density change within snow layers at 20 to 40 cm up from old/new snow interface. Another group of local observers recorded almost exactly the same results on a similar elevation, south/southwest facing slope. This denisty change in the snow was likely due to a brief decrease in wind during the storm. 
With the given conditions that have been observed since the onset of this storm, temperatures warming yesterday afternoon/this morning, high intensity snow accumulation, wind... potentially dangerous avalanche conditions will exist today near and above treeline on Mt Shasta. Further, slopes steeper than 35 degrees below treeline could also host pockets of dangerous avalanche conditions. Play it safe today and for that matter, for the next several days as more rain, snow and wind persist. Terrain selection is paramount. We are expected to get more snow and more wind this weekend, all lending toward increased load on the already stressed snowpack. If small to large slides have not already occured, they could be ripe for triggering by a skier or snowmobiler in the next couple days.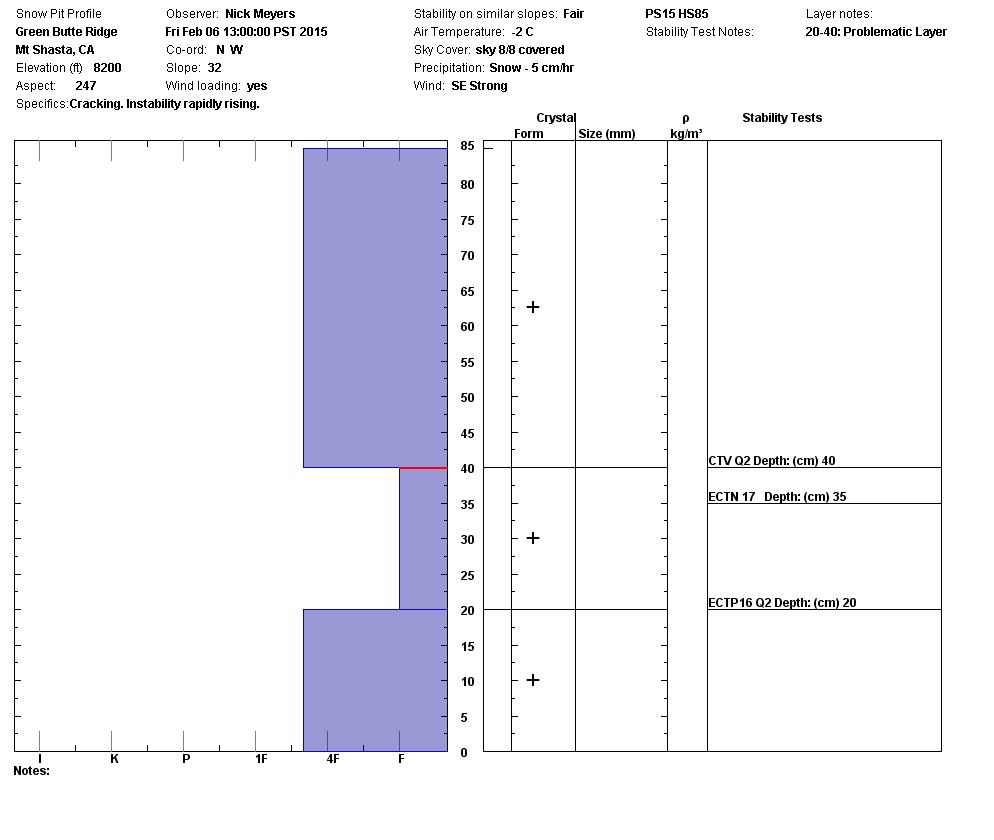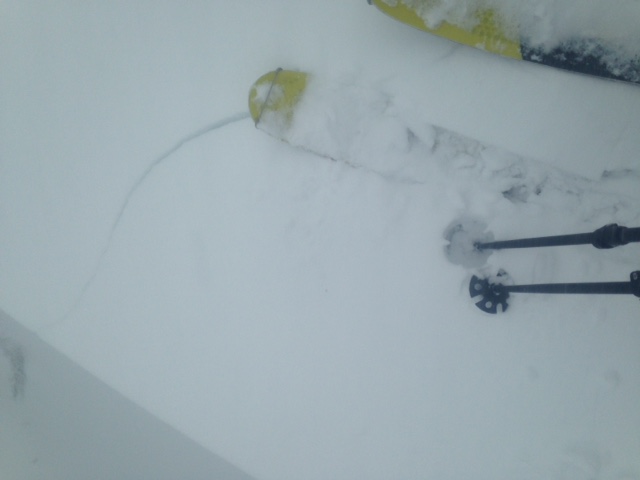 =======================================================================================================
The Mt Shasta Avalanche Center has issued an AVALANCHE WATCH for the forecast area, in effect Friday 8am PDT through Saturday 8pm PDT.
The Mt Shasta area is forecasted to receive between 6 to 10 inches of water by Monday evening, which could mean 6-8 feet of snow near and above treeline on Mt Shasta. Snow levels will fluctuate between 6,000 and 8,000 feet. Extremely strong, south/southwest winds will accompany this storm which will predominantly load north and east slopes with deep snow. Concerns for small to increasingly large wind and storm slab avalanches exists for all aspects, near and above treeline on Mt Shasta this weekend. 
Avalanches from the upper mountain may become large enough to impact lower elevation avalanche runout zones. Avoid travel in low angle runout zones below treeline.
Those traveling on Mt Shasta this weekend should have extensive avalanche knowledge and use careful route selection. Always travel with a partner and carry an avalanche beacon, shovel and probe... and know how to use them.
=========================================================================================================
Report your observations to the MSAC! A photo, a few words... send them in! (nimeyers@fs.fed.us or 530-926-9614)
Castle Lake area has a shallow snowpack. Be careful of shallow buried objects. Skiing has been reported as poor to non-existent.
Sand Flat Winter Trails: OPEN, trail conditions are firm and getting thin with some tree debris on snow surface. 
Pilgrim Creek Snowmobile Park: OPEN, however due to lack of low elevation snow, one must drive up the road several miles before enough snow is encountered. One CANNOT DRIVE over Military Pass.
-------------------------------------------------------------------------------------------------------------------------------
Terrain:  Remember most of the terrain that we like to play on is greater than 30 degrees.  Avalanches are possible on anything steeper than 30 degrees.  Avoid cornices, rock bands, terrain traps and runout zones of avalanche paths.

Weather:  Most of our areas avalanche danger will occur 24-48 hours after a storm. We still can see persistent weak layers from time to time and we always will be sure to let you know about that!  Heed the basic signs: Wind (significant snow transport and depositions), Temperature (rain/snow/rain/snow, which in turn weakens the snowpack), and Precipitation (Snow or rain add weight and stress to the current snowpack).

Snowpack:  If snow accumulates, give the snowpack a chance to adjust to the new snow load before you play on or near steep slopes (greater than 30 degrees).  Most direct action avalanches occur within 24-48 hours of recent snowfall.  Watch for obvious signs of snowpack instability such as recent natural avalanche activity, collapsing of the snowpack (often associated with a "whumphing" sound), and shooting cracks. If you see these signs of instability, limit your recreation to lower angle slopes.

Human Factor: Don't forget to carry and know how to use avalanche rescue gear. You should NOT be skiing or climbing potential avalanche slopes without having beacons, shovels, and probes.  Only one person in a group should be exposed to potential avalanche danger at a time.  Remember, climbing, skiing, and riding down the edge of slopes is safer than being in the center.  Just because another person is on a slope doesn't mean that it is safe.  Be an individual!  Make your own decisions.  Heed the signs of instability: rapid warming, "whumphing" noises, shooting cracks, snowing an inch an hour or more, rain, roller balls, wind loading, recent avalanche activity.
The Five Red Flags of Avalanche Danger any time of year include:  1) Recent/current avalanche activity  2) Whumpfing sounds or shooting cracks  3) Recent/current heavy snowfall  4) Strong winds transporting snow  5) Rapid warming or rain on snow.
---
Weather and Current Conditions
Weather Summary
In Mt Shasta City this morning at 0500, we have a current temperature of 46 F degrees, 4 degrees warmer than yesterday with light rain.
WEATHER STATION INFORMATION (0500hrs):
On Mt Shasta (South Side) in the last 24 hours...
Old Ski Bowl - 7,600 feet, the current temperature is 31 F, 3 degrees warmer than yesterday at this time. Snow on the ground totals 98 inches with 26 inches new snow in the last 24 hours and a storm total since Thursday evening of 33.5 inches. Temperatures in the last 24 hours have ranged from 27 F to 31 F.   
Gray Butte - 8,000 feet, The current temperature is 31 F and temps have ranged from 26 F to 31 F in the last 24 hours. Winds have been blowing consistently out of the southeast to southwest over the past 24 hours, averaging 15-20 mph with gusts to 42 mph.   
Castle Lake and Mt Eddy (West side of Interstate-5)... 
Castle Lake - 5,600 feet, the current temperature is 35 F. Temps have ranged from 32 F to 38 F in the last 24 hours. The Castle Lake area has some snow on the ground though has been receiving mostly rain. The snow depth sensor has been in for repairs and will be installed soon. Thanks for you patience.
Mt Eddy - 6,500 feet, the current temperature is 32 F. Temps have ranged from 30 F to 35 F in the last 24 hours. Current snow depth is 40 inches with approximately 12 inches new snow over the last 24 hours and a storm total of 25 inches. Winds have averaged 3-5 mph and SW in direction, with gusts to 22 mph from the SW.
WEATHER SYNOPSIS:  The first wave of this weekends storm series has passed and it was an impressive one! Sheets of rain in Mt Shasta City and white-out conditions on the mountain, both with very strong wind occured for most of the morning hours. We saw precipitation and wind lighten up in the afternoon... all said and done, yesterdays precip amounts set a record for Mt Shasta City at 4.87 inches of water recorded. The previous record was 2.87 set in 1908. On the mountain, the Old Ski Bowl weather station has recorded a storm total of 5.38 inches of water and about 33 inches of new snow in the last 36 hours.
Today, rain, snow and wind will continue, but not nearly with the force that we just experienced yesterday. We could see a slight break in the sky cover, but mostly cloudy, obscured skies are probably the best bet. Forecast models predict another .69 inches of water for the area today with snow levels near 7,000 feet. Southerly wind, 20-30 mph near and above treeline will persist. Temperatures have risen a few degrees since yesterday, though we'll see a gradual cooling into Sunday/Monday and snow levels will lower down to 5,000 to 6,000 feet for the next storm wave set to arrive later Sunday/Monday. This next wave is predicted to bring upwards of 2 more inches of water, which could mean several more feet of snow. Did I mention wind? Oh yes, once again... southerly winds will increase and crank for this last wave of weather, 40-50 mph with gusts certain to be higher! 
THIS SEASON: Since October 1st (the wet season) , we have received 26.33 inches of water, normal is 23.73 inches, putting us at 111% of normal. For the month of February, we sit at 6.37 inches of water, normal is 1.46, putting us at 436% of normal. For the year of 2015, we've received 6.85 inches water, normal is 8.52, equalling 80% of normal. 
Looking back into 2014, Mt Shasta finished off with 34.36 inches of water with normal being 43.21 inches, leaving us at 79% of normal for the year. For the month of December, Mt Shasta finished at 163% of normal, receiving 12.83 inches of water, normal is 7.85 inches. 
Always check the weather before you attempt to climb Mt Shasta. Further, monitor the weather as you climb. Becoming caught on the mountain in any type of weather can compromise life and limb. Be prepared.
CURRENT CONDITIONS
at Bunny Flat (6950 ft)
| | |
| --- | --- |
| 0600 temperature: | 31 |
| Max. temperature in the last 24 hours: | 31 |
| Average wind direction during the last 24 hours: | Southeast/Southwest |
| Average wind speed during the last 24 hours: | 15-20 mi/hr |
| Maximum wind gust in the last 24 hours: | 42 mi/hr |
| New snowfall in the last 24 hours: | 26 inches |
| Total snow depth: | 98 inches |
Two Day Mountain Weather Forecast
Produced in partnership with the Medford NWS
For 7000 ft to 9000 ft
Saturday
(4 a.m. to 10 p.m.)
Saturday Night
(10 p.m. to 4 a.m.)
Sunday
(4 a.m. to 10 p.m.)
Weather
Rain and snow
Rain and snow
Rain and snow
Temperature (°F)
37
34
42
Wind (mi/hr)
South 25-35 mph
South 20-30 mph with gusts higher
South 20-30 mph
Precipitation SWE / Snowfall (in)
/ 3-7
/ 1-3
/ 1-2
For 9000 ft to 11000 ft
Saturday
Saturday Night
Sunday
Weather
Snow
Snow
Snow
Temperature (°F)
25
23
31
Wind (mi/hr)
Southwest 25-35 mph
Southwest 4-8
Southwest 45-55 mph with gusts higher
Precipitation SWE / Snowfall (in)
/ 4-8
/ 3-7
/ 7-11
Disclaimer
This advisory does not apply to Ski Areas or Highways and is for the Mt. Shasta, Castle Lake and Mt. Eddy back country. Use this information for guidance only. You may find different conditions in the back country and should travel accordingly. This advisory expires on midnight of the date it was posted unless otherwise noted.