You are here
Avalanche Advisory for 2017-12-28 06:44:59
EXPIRED ON December 29, 2017 @ 6:44 am

Published on December 28, 2017 @ 6:44 am
Issued by Nick Meyers - Shasta-Trinity National Forest
LOW avalanche danger and normal caution continue. Generally safe avalanche conditions exist. Sparse coverage and firm and icy slopes present significant travel hazards on Mt Shasta.
Avalanche Problem 1: Normal Caution
Certain

Very Likely

Likely

Possible

Unlikely

Historic

Very Large

Large

Small
Normal caution is advised. The firm, icy, and thin snowpack continues to create backcountry travel hazards. Moving through steep terrain above treeline is challenging and dangerous. Arresting a fall in these conditions would be difficult. Watch out for rocks. Low angle slopes with smooth ground cover offer the best skiing and riding conditions.
Ski and ride one at a time in avalanche terrain.
Don't regroup in run-out zones.
Avalanche rescue skills are always essential when you travel in avalanche terrain.
Advisory Discussion
October and November storms laid a shallow snowpack at high elevations on Mount Shasta. During Thanksgiving week, it rained up to 10,000ft. This rain event was followed by cold and clear weather which capped the snow surface at 7,000ft and above with a crust, while below, it eliminated any existing snow on the ground. We have had two small storm events this December totaling 10 inches of snow and less than 1 inch of water. Otherwise, high pressure has dominated our weather pattern. Precipitation is well below average, and a large portion of our advisory area is free of snow.  Mt Shasta and Ash Creek Butte are the only areas with a (barely) usable snowpack. Significant precipitation is not expected until January 5th or 6th.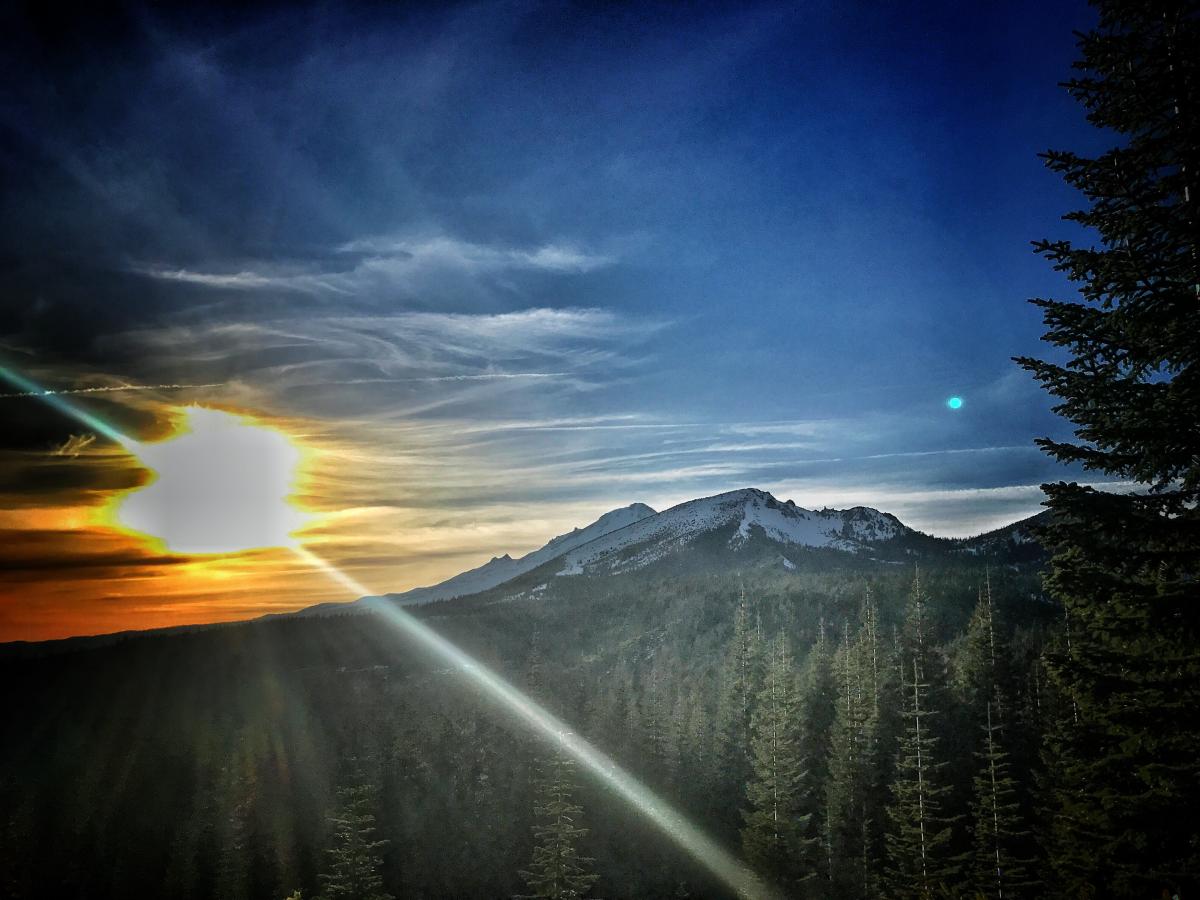 Ash Creek Butte with Mt Shasta in background, 12.27.17 / Photo: Meyers
Recent Observations
The snowline slowly creeps upward. Very little coverage exists below 6,500ft. The height of snow ranges from 30-100cm between 6,500-9,500ft. The rain crust that formed on Thanksgiving continues to lock up the lower snowpack. This slick, icy layer is the primary snow surface near and above treeline. North and east aspects below treeline, 20-25cm of recycled powder (the December 3rd and December 20th storms) exists at the snow surface. Snowpack stability is very good throughout the advisory area. Rocks, down trees, small tree tops and bushes are widespread.
Weather and Current Conditions
Weather Summary
Short lived high pressure has built over Southern Oregon and Northern California. This has lead to areas of low fog and cloud cover in the valleys. An active pattern returns today to the Pacific Northwest. Unfortunately, this dog is being left on the porch. The Mt Shasta area can expect mostly sunny days and clear nights for the near future.

Perhaps you've been thinking, "Why so much high pressure?" According to AER's Arctic Oscillation Blog, the author indicates the prolonged high pressure ridging is very likely related to far below normal sea ice in the Bering Sea between Alaska and Russia. This is the reasoning one expert is pointing out.
-------------------------

THIS SEASON PRECIPITATION for MT SHASTA CITY: Since October 1st (the wet season), we have received 5.83 inches of water, normal is 14.19 inches, putting us at 41% of normal. For the month of December, we have received .29 inches of water, normal is 6.83 inches, which is 4% of normal. And finally for the year of 2017, we received 44.82 inches of water, normal is 42.19 inches, putting us at 106% of normal.
Always check the weather before you attempt to climb Mt Shasta. Further, monitor the weather as you climb. Becoming caught on the mountain in any type of weather can compromise life and limb. Be prepared.
24 Hour Weather Station Data @ 5:00 AM
Two Day Mountain Weather Forecast
Produced in partnership with the Medford NWS
For 7000 ft to 9000 ft
Thursday
Thursday Night
Friday
Weather
Mostly sunny
Partly cloudy
Mostly Sunny
Temperature (°F)
45
41
43
Wind Direction
Southwest
Southwest
Southwest
Wind Speed (mi/hr)
5-10 mph
5-10 mph
5-10 mph
Expected Snowfall (in)
0
0
0
For 9000 ft to 11000 ft
Thursday
Thursday Night
Friday
Weather
Mostly sunny, windy
Partly cloudy, windy
Partly cloudy
Temperature (°F)
36
36
36
Wind Direction
West/Southwest
West/Southwest
West/Southwest
Wind Speed (mi/hr)
20-30 mph
20-30 mph
20-30 mph
Expected Snowfall (in)
0
0
0
Disclaimer
This advisory does not apply to Ski Areas or Highways and is for the Mount Shasta, Castle Lake and Mount Eddy backcountry. Use this information for guidance only. You may find different conditions in the backcountry and should travel accordingly. This advisory expires on midnight of the date it was posted unless otherwise noted.