You are here
Avalanche Near Parks Creek Summit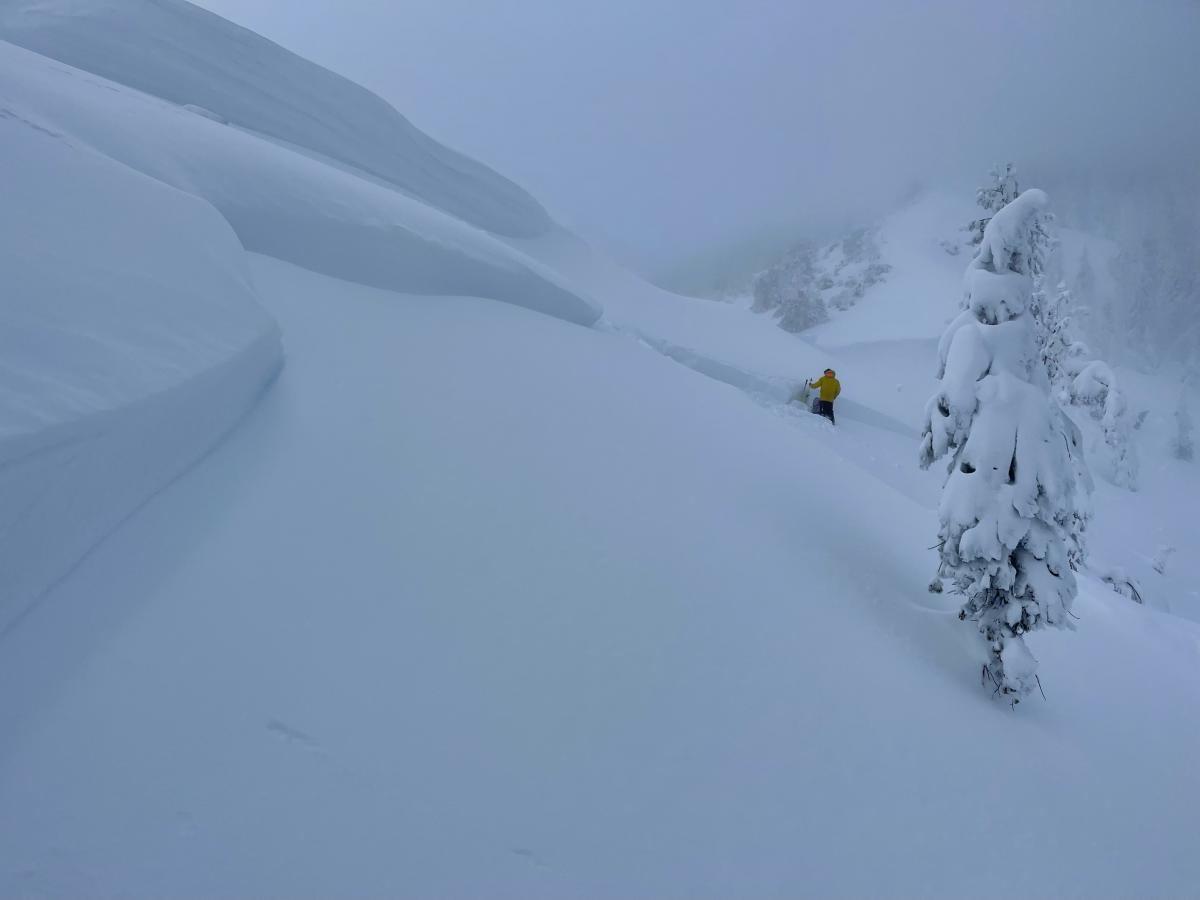 Date and time of avalanche (best estimate if unknown):
Sat, 01/07/2023 - 7:00am
Observation made by:
Forecaster
Red Flags:
Recent avalanche activity
Recent loading by new snow, wind, or rain
Obvious avalanche path
Location Map
96067
Mount Shasta
,
CA
United States
41° 21' 45.7272" N, 122° 33' 5.8752" W
California US
Avalanche Observations
Details
Today's objective was to evaluate the snowpack in the Eddy Mountains for signs of instability. Snow was met around 5,000 feet on Parks Creek road. We traveled up the road on snow machines and parked near the Sweetwater snow survey course. We began our ascent up a north facing ridge, providing a safe low-angle route to see the upper terrain. 

While skinning up, this crown was spotted in a bowl feature lined with terrain in the 35-40 degree range. This avalanche appears to have happened within the last 24 to 36 hours. The failure plane was a thin layer of stellar dendrites that likely fell during the intermittent storm period yesterday (1/6/23 to 1/7/23) and then buried by 3 feet of wind loaded storm snow.  This was a fairly widespread avalanche, releasing from nearly all aspects greater than 35 degrees in the surrounding terrain. The avalanche had a crown approximately 3 feet tall, was 400 feet wide and ran 300 vertical feet into trees.

Our party stayed clear of avalanche terrain throughout the day. 
Date: 01-08-2023
Time: 1400  

3. Observer: S. Clairmont and N. Meyers

4. Path Characteristics:

a. Observation Location: Eddy Mountains, near Parks Creek summit
b. Aspect: N
c. Slope Angle in Starting Zone: 38 degrees
d. Elevation: 7000 ft
5. Event Characteristics

a. Type: Hard Slab
b. Trigger: Natural
c. Size: HS-N-R3-D2.5-I
d. Snow Properties

i. Bed Surface: Well consolidated slightly older storm snow deposited during Jan 5-6 storm system
ii. Weak Layer: Thin layer stellar dendrites 
iii. Slab: 4-finger hardness new snow

e. Dimensions

i. Slab Thickness:  3 ft (90 cm)
ii. Width: 400 ft
iii. Vertical Fall: 300 ft

f. Location of Start Zone: Just below ridgeline
g. Terminus: Flats below bowl with trees 
Photos
Characteristics
Number of people caught:
0
Number of partial burials:
0
Number of full burials:
0
Weather Observations
Details
Storming conditions were found in the Eddy Mountains above 5000 feet. Visibility turned poor, with short periods of partial clearing as elevation increased. Above 6000 feet, moderate precipitation rates and moderate to strong south winds were met. Wind speeds increased with blowing snow while approaching ridgeline (~7000ft).
Statistics
Cloud Cover:
100% of the sky covered by clouds
Accumulation rate:
Greater than 1 in. per hour
Air temperature:
Below Freezing
Air temperature trend:
Static
Wind Direction:
Southeast