You are here
Avalanche in Old Ski Bowl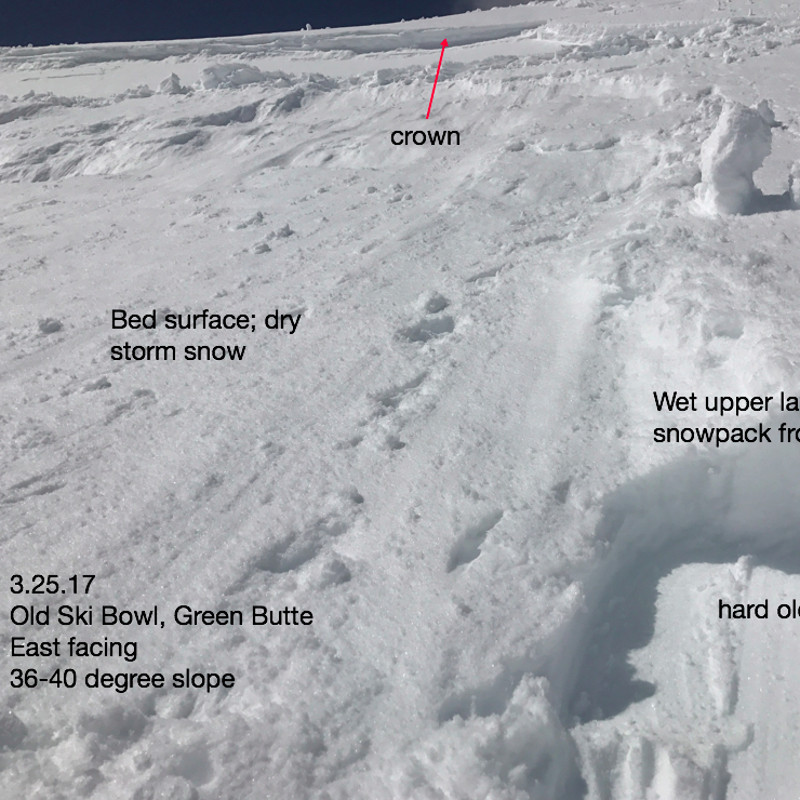 Location Name:
Avalanche in Old Ski Bowl
Date and time of avalanche (best estimate if unknown):
Sat, 03/25/2017 - 7:30pm
Observation made by:
Forecaster
Red Flags:
Recent loading by new snow, wind, or rainRapid warming
Location Map
United States
41° 21' 58.6224" N, 122° 12' 23.1012" W
US
Avalanche Observations
Details
I came across this avalanche just after it happened. This easterly aspect of Green Butte, off the shoulder of Powder Bowl, is a frequent flyer for all types of avalanches. Yesterday we noted wet storm slabs as possible and this is exactly what occurred. Our upside down snowpack layering, with heavy wet snow on top of lighter density snow, was the cause for this human triggered avalanche early in the afternoon. The top, wet layers of the new snow "greased" off and slid within the lighter density snow layers above the old snow surface. Nobody was caught or injured.
Also included in pictures was a day or two old wind slab avalanche off north aspect of Green Butte.
Photos
Characteristics
Trigger type:
Snowmobiler
Crown Height:
Less than 1 ft
Number of people caught:
0
Number of partial burials:
0
Number of full burials:
0
Weather Observations
Details
Clear, low level clouds, full sun for most of the day. Winds were light. This aspect is sheltered and gets full sun for a good portion of the day.
Statistics
Cloud Cover:
25% of the sky covered by clouds
Air temperature:
Below Freezing
Air temperature trend:
Static
Wind Direction:
Southwest