You are here
Avalanche on W aspect 8,700 feet lower Casaval Ridge (Giddy Giddy Gulch)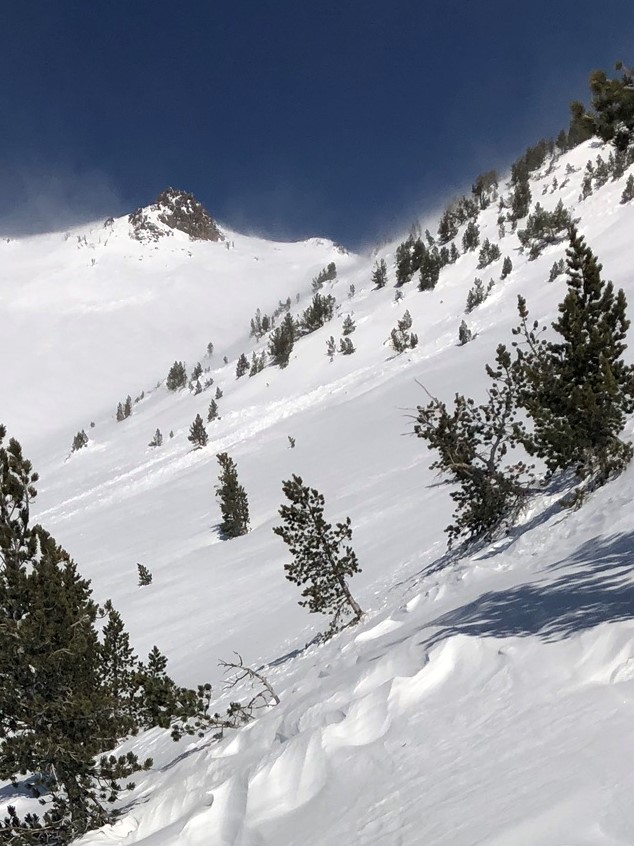 Location Name:
West facing skier's left side Giddy Giddy Gulch, lower Casaval Ridge 8,700 feet
Date and time of avalanche (best estimate if unknown):
Tue, 12/25/2018 - 8:00am
Observation made by:
Professional Observer
Red Flags:
Recent avalanche activityRecent loading by new snow, wind, or rain
Location Map
96067
Mount Shasta
,
CA
United States
41° 22' 44.5224" N, 122° 13' 36.876" W
California US
Avalanche Observations
Details
Location: Lower Casaval Ridge (Giddy Giddy Gulch), 8,700 feet W aspect
Time of Occurance: 20181225, early morning during wind event, 8 a.m.?
Path Characteristic: W aspect, crown not visible, 30 - 40 degree slope, starting zone in steep stunted trees
Event Characteristic: D1R1, Windslab, Natural. Likely ran on melt freeze crust from Dec 19th warming event or Dec 14th rain crust?  No other activity in area observed. See snowpack observation and pit profile from event here: https://www.shastaavalanche.org/snowpack-observation/strong-wind-lower-c...
Photos
Characteristics
Weak Layer:
Other - explain below
Weather Observations
Details
Skies were clear above 6,900 feet with a mix of lower clouds below. Wind out of the north were gusting down Avalanche Gulch. Large plums of blowing snow were observed above treeline.  These winds were very productive striping any exposed windward surfaces and packing low lying leeward areas. 
Statistics
Accumulation rate:
Less than 1 in. per hour
Air temperature:
Below Freezing
Air temperature trend:
Static