You are here
Avalanches on Gray Butte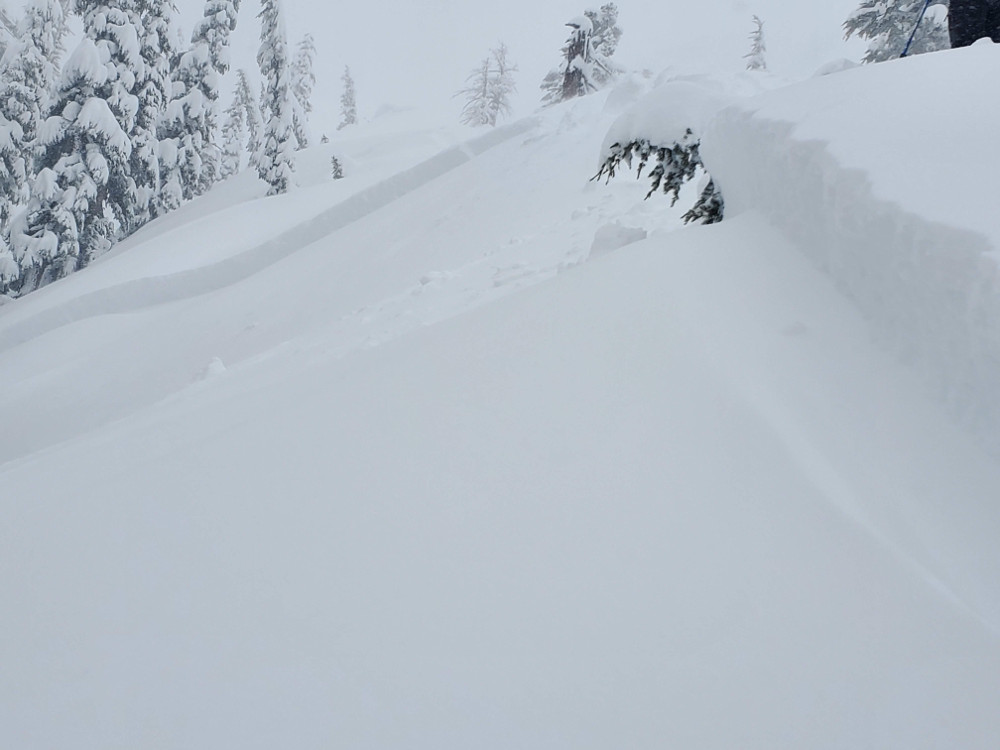 Location Name:
Gray Butte
Date and time of avalanche (best estimate if unknown):
Sun, 04/05/2020 - 1:00pm
Observation made by:
Forecaster
Red Flags:
Recent loading by new snow, wind, or rain
Obvious avalanche path
Location Map
96067
Mount Shasta
,
CA
United States
41° 21' 7.2504" N, 122° 11' 30.4332" W
California US
Avalanche Observations
Details
Two small (R1/D1.5) storm slab avalanches were skier-triggered along the knife edge ridge approaching the summit of Gray Butte.
Crown was 35-45 cm (14-18 in) in height and spanned about 40 ft. Runout length was about 120 ft, about 1/3 the distance of the slope.
One avalanche was triggered on an east facing slope with a start zone near 40 degrees. The other was on a west facing slope. Avalanches had similar characteristics.
The fist-hard slab failed within the new storm snow on a density break about 7 cm (3 in) above new/old snow interface. Height of storm snow (HST) was 45 cm (18 in). New snow sits atop a soft crust.
Avalanche Classification Code: SS-ASu-R1-D1.5-S
Photos
Characteristics
Number of similar avalanches:
1
Number of people caught:
0
Number of partial burials:
0
Number of full burials:
0
Weather Observations
Statistics
Cloud Cover:
100% of the sky covered by clouds
Accumulation rate:
Less than 1 in. per hour
Air temperature:
Below Freezing
Air temperature trend:
Static