You are here
Cornice Triggered Avalanche on Gray Butte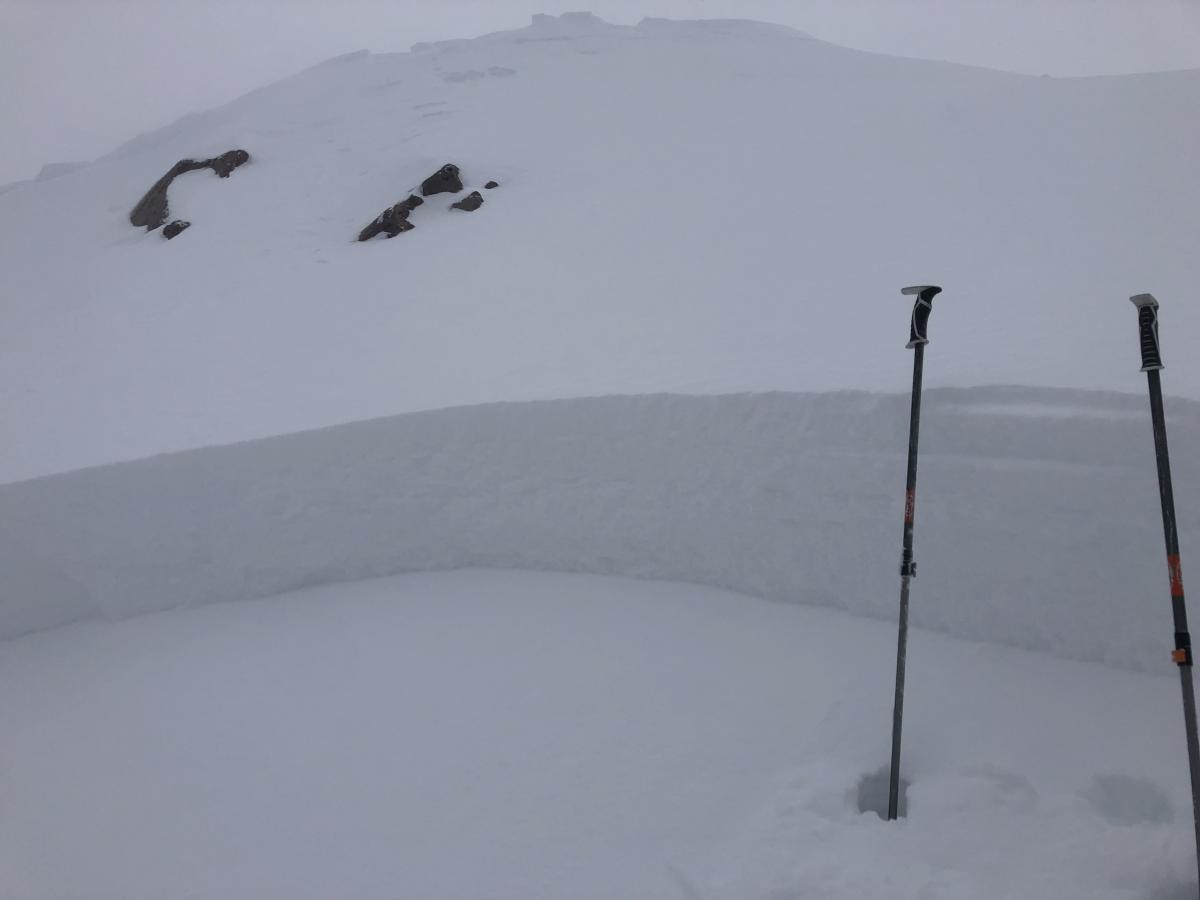 Location Name:
Gray Butte
Date and time of avalanche (best estimate if unknown):
Thu, 01/16/2020 - 2:30pm
Observation made by:
Forecaster
Red Flags:
Recent avalanche activity
Whumphing noises, shooting cracks, or collapsing
Recent loading by new snow, wind, or rain
Obvious avalanche path
Terrain Trap
Location Map
96067
Mount Shasta
,
CA
United States
41° 20' 57.7176" N, 122° 11' 34.296" W
California US
Avalanche Observations
Details
1-16-20 - Gray Butte 8,000 ft - Near Treeline - East Bowl
An intentional cornice triggered storm slab avalanche occurred today near treeline, off the top of Gray Butte, east facing. Cornices were easily triggered onto slopes below and released this avalanche, though not right away, indicating a mid-slope trigger. The crown was an average of 2 feet deep and at least 600 feet wide.  Poor visibility limited full view. The avalanche failed on several weak layers including the new snow/old snow interface as well as within the new snow. New snow totals range from 20 to 30 inches. 
Nearly all the red flags of avalanche danger were present today. Woomphing sounds were heard many times up the south side of Gray Butte. Shooting cracks were observed within fresh wind slabs near and above treeline. Ski cuts produced propagating soft storm slabs below treeline within the top 6-8 inches of new snow on small test slopes. Based on the many neon flashing signs mother nature provided, we played it very conservative with our terrain choice.
Photos
Characteristics
Trigger type:
Other - explain below
Number of people caught:
0
Number of partial burials:
0
Number of full burials:
0
Weather Observations
Statistics
Cloud Cover:
100% of the sky covered by clouds
Accumulation rate:
Less than 1 in. per hour
Air temperature:
Below Freezing
Air temperature trend:
Static
Wind Direction:
Southwest