You are here
Coyote Butte Avalanche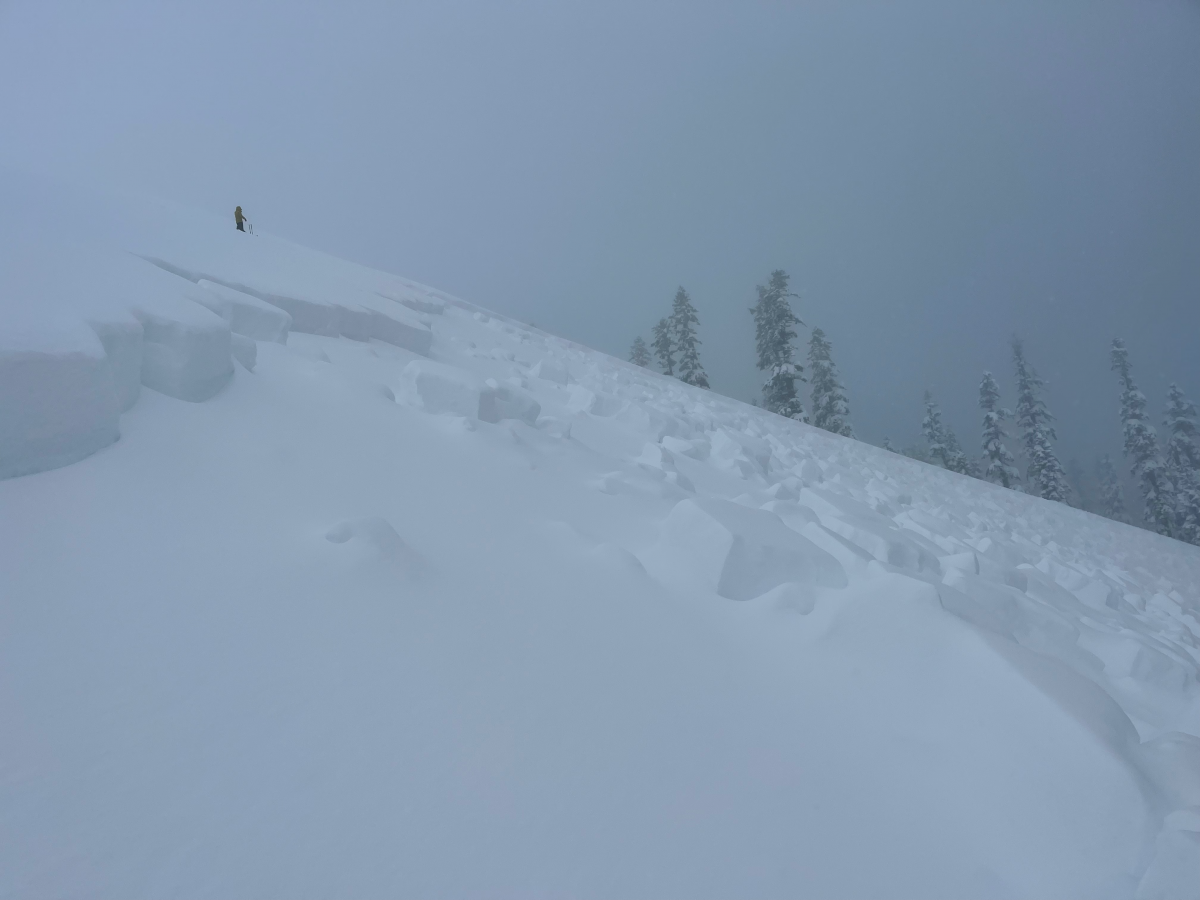 Location Name:
Coyote Butte Avalanche
Date and time of avalanche (best estimate if unknown):
Sat, 12/10/2022 - 12:20pm
Observation made by:
Forecaster
Red Flags:
Recent avalanche activity
Recent loading by new snow, wind, or rain
Obvious avalanche path
Terrain Trap
Location Map
96067
Mount Shasta
,
CA
United States
41° 20' 5.0532" N, 122° 11' 38.6556" W
California US
Avalanche Observations
Details
Avalanche Center forecasters and Mount Shasta Ski Park (MSSP) ski patrol investigated a storm slab avalanche just outside the MSSP boundary on Coyote Butte on a 38 deg NE facing slope. The crown was 2 feet deep and 150 feet wide. The avalanche was triggered naturally earlier in the day, estimated around 8:00am; No avalanche beacon signals were detected in the debris, no ski/board tracks were observed entering or exiting. The bed surface of the avalanche was a buried layer of graupel. The graupel layer fell on top of the snowpack on Friday 12/9 with relatively calm wind. Following was the whooper of a storm that brought ~2.5 feet of new snow (1.8" SWE) in a 40-hour period, beginning 2200 hours Friday night.
Avalanche Code: SS-N-R4-D2-I
DATA CODE:
1. Date: 20221210
2. Time: 0800 (1220 when discovered)
3. Observer: Michael Madden
4. Path Characteristics:

a. Observation Location: Coyote Butte (National Forest Land)
b. Aspect: NE
c. Slope Angle in Starting Zone: 38
d. Elevation: 6850

5. Event Characteristics

a. Type: SS
b. Trigger: N
c. Size: D2-R4
d. Snow Properties

i. Bed Surface: I
ii. Weak Layer: 1F, PPgp
iii. Slab: PP (DF), F-4F

e. Dimensions 

i. Slab Thickness: 60 cm (24 in)
ii. Width: 45 m (148 ft)
iii. Vertical Fall: 95 m (313 ft)
iv. Length of Run Path: 235 m (775 ft)

f. Location of Start Zone: T(C). Leeward side of steep convex roll. No anchoring in start zone, run path, or deposition zone.
g. Terminus: Located in large mature trees half-way between top of Coyote Butte ski lift and base of Gray Butte ski lift.
h. Total Deposit Dimensions: Not recorded
i. Avalanche Runout Angle: 24
Photos
Videos

pxl_20221210_203545416.mp4
Characteristics
Weather Observations
Statistics