You are here
Easily triggered cornices and avalanche on Gray Butte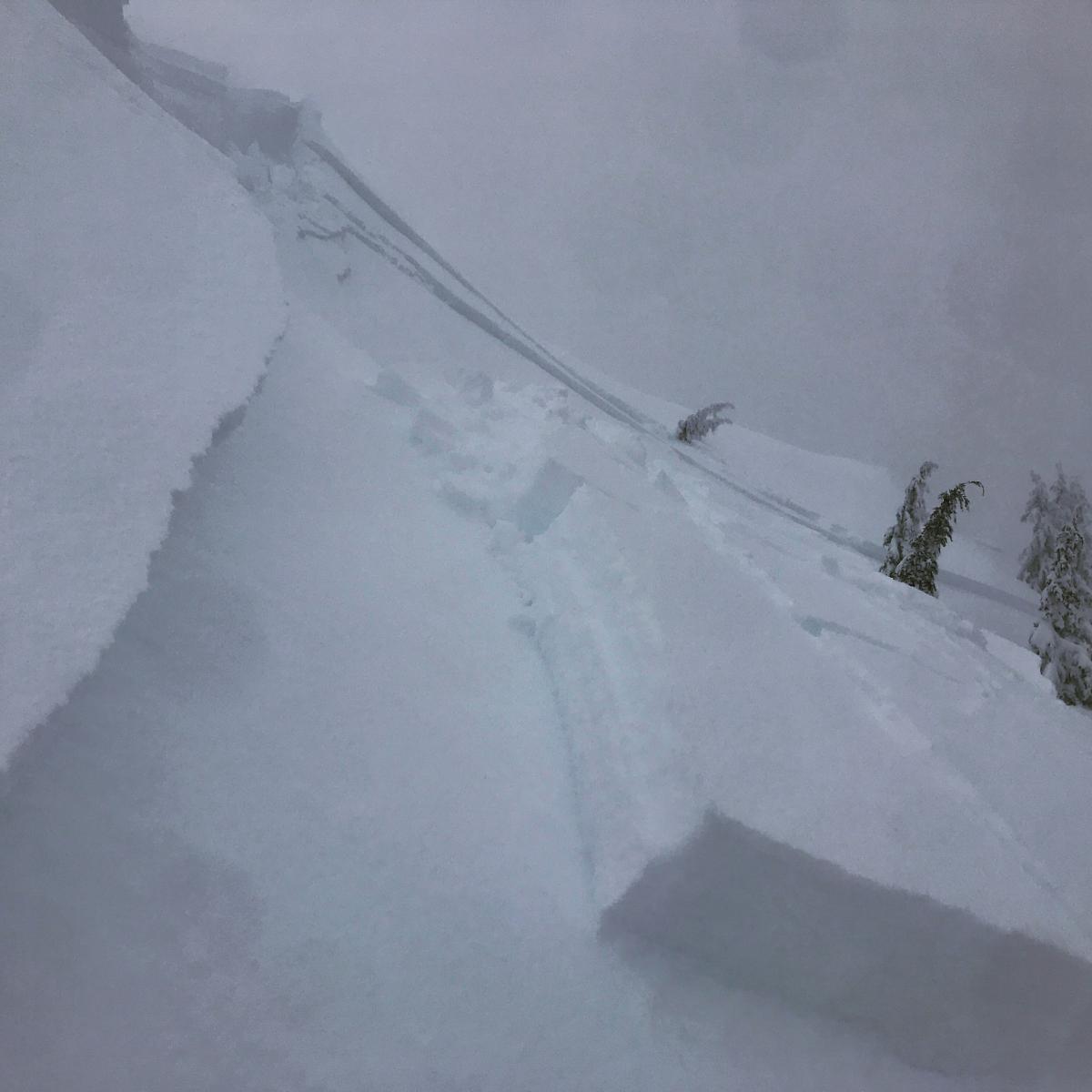 Location Name:
Gray Butte
Date and time of avalanche (best estimate if unknown):
Thu, 01/17/2019 - 3:00pm
Observation made by:
Forecaster
Red Flags:
Whumphing noises, shooting cracks, or collapsingRecent loading by new snow, wind, or rainObvious avalanche pathTerrain Trap
Location Map
96067
Mount Shasta
,
CA
United States
41° 20' 57.0012" N, 122° 11' 32.4996" W
California US
Avalanche Observations
Details
This avalanche was triggered by an intentional kick near a cornice feature. A large section of overhanging snow cracked off and landed on the slope below, triggering the avalanche. Nobody was caught. This slide was big enough to bury, injure or kill a person. The crown was 10 to 20 inches deep and ~300 feet wide, running the distance of the slope through sparse trees. The starting zone is 39 degrees and east/northeast facing. Effects of wind loading were not obvious during the tour leading up to. That said, looking at Gray Butte weather station winds over the storm period (0500 on January 15th to 1800 on January 17th), wind speeds averaged 14 mi/hr with gust average 26 mi/hr. The wind was mostly south with periods of southeast and southwest. These overall light to moderate winds along with a warm storm created for good cornice formation and cross loading of this slope and ridgeline. 

The bed surface/weak layer occurred at a 4F to 1F density change ~10 to 20 inches below the surface. Primary grain types was graupel and needles. 

Visibility was poor, wind was light and gusty out of the W/SW, precipitation was light, S-1

Height of new storm snow for the period January 15th through 17th: 32 to 36 inches / Drifts to 60 inches 

Total height of snow at location: 84 inches
Characteristics
Number of people caught:
0
Number of partial burials:
0
Number of full burials:
0
Weather Observations
Details
Light winds, albeit gusty out of the W/SW near and above treeline
Precipitation light, persistent, though little accumulation during the day
Sky obscured all day, very poor visibility.
Statistics
Cloud Cover:
100% of the sky covered by clouds
Accumulation rate:
Less than 1 in. per hour
Air temperature:
Below Freezing
Air temperature trend:
Static
Wind Direction:
Southwest