You are here
Green Butte Wind Slab Avalanche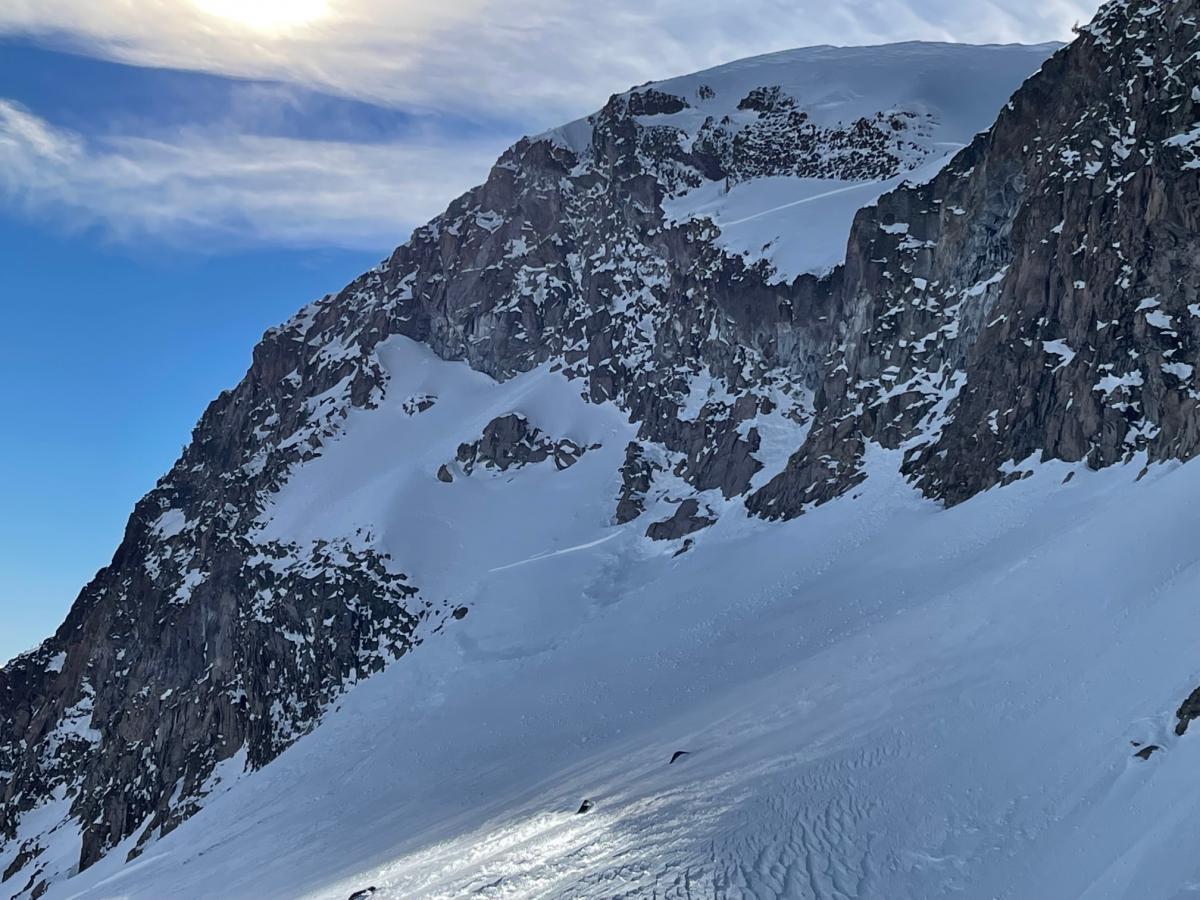 Location Name:
Green Butte
Date and time of avalanche (best estimate if unknown):
Tue, 01/04/2022 - 2:00pm
Observation made by:
Forecaster
Red Flags:
Recent loading by new snow, wind, or rain
Obvious avalanche path
Location Map
96067
Mount Shasta
,
CA
United States
41° 22' 16.41" N, 122° 12' 21.5748" W
California US
Avalanche Observations
Details
A couple wind slabs that appeared to be triggered by a cornice failure. It is unknown when it occurred, though likely before the moist warming event this week, as the debris had an icy glaze to it. This is also the avalanche that was observed yesterday by a skier, not a new avalanche. Today was the first day of good visibility this week.
DATA CODE:
1. Date: Unknown, estimated 1/3/22
2. Time: Unknown
3. Observer: N Meyers
4. Path Characteristics: Above treeline, hanging snow field, cornices above

a. Observation Location: Old SKi Bowl
b. Aspect: Easterly
c. Slope Angle in Starting Zone: ~38-40
d. Elevation: 9,000 feet

5. Event Characteristics

a. Type: Wind slab
b. Trigger: Natural, cornice
c. Size: D2
d. Snow Properties: Storm snow, NW wind

i. Bed Surface:
ii. Weak Layer:
iii. Slab:

e. Dimensions

i. Slab Thickness: 1-2 ft
ii. Width: 150-200 feet
iii. Vertical Fall: 600 feet

f. Location of Start Zone: Above treeline
g. Terminus: Above treeline
h. Total Deposit Dimensions: 400' x 400'
i. Avalanche Runout Angle: Not measured
Photos
Characteristics
Number of similar avalanches:
1
Number of people caught:
0
Number of partial burials:
0
Number of full burials:
0
Weather Observations
Details
First day with good visibility all week. Mostly clear, low clouds and fog. Westerly wind was moderate. Temps on Gray Butte (8,000 feet) maxed out at 34.5 degrees F over the past 24 hours (as of 1.6.22 at 6pm), cooling slightly since yesterday.
Statistics
Air temperature:
Above Freezing
Air temperature trend:
Cooling