You are here
Large Avalanche - Eddy Mountains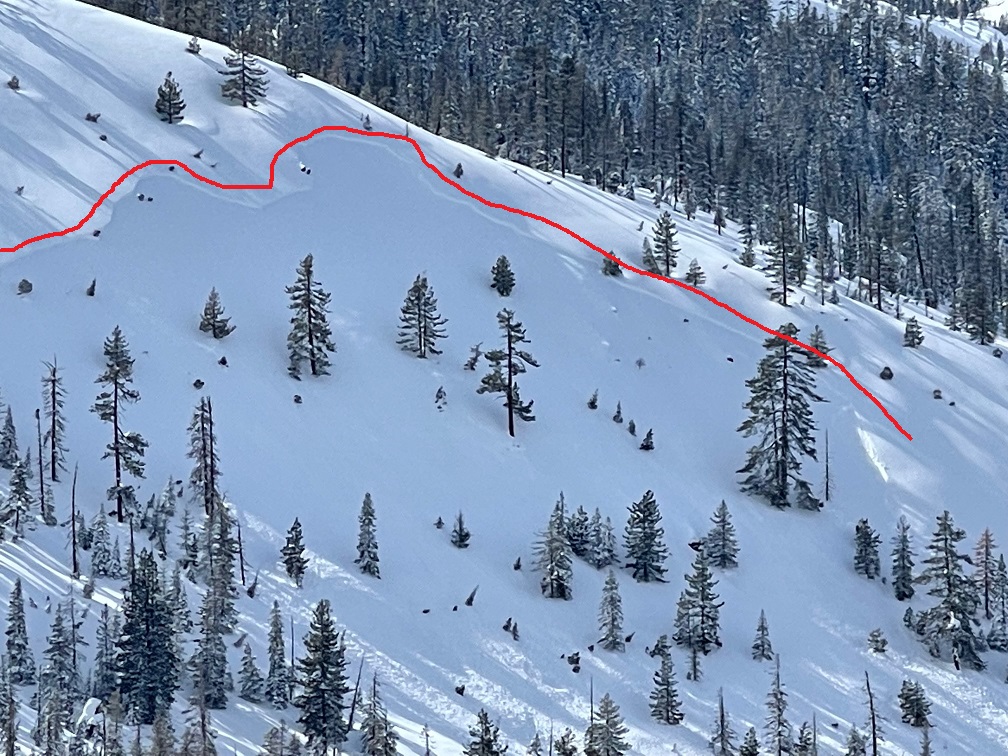 Location Name:
Parks Creek Summit Area
Date and time of avalanche (best estimate if unknown):
Wed, 03/29/2023 - 3:30pm
Observation made by:
Forecaster
Red Flags:
Recent loading by new snow, wind, or rain
Obvious avalanche path
Location Map
96067
Mount Shasta
,
CA
United States
41° 21' 48.5964" N, 122° 32' 48.6096" W
California US
Avalanche Observations
Details
A large avalanche big enough to bury or kill you was snowmobile triggered today in the Parks Creek area of the Eddy Mountains, just above the FS17 road, near Parks snow survey course. This avalanche was remotely triggered while riding the FS 17 road beneath the slope. The crown was estimated 1.5 to 3 feet deep and 600 feet wide. Debris ran over the road and several hundred feet into small trees below. Slope angle of start zone is 35–40 degrees, east and northeast facing in near treeline terrain, 6,600 feet. New snow from the past 24–36 hours, two to three feet deep, sits on a crust with a weak layer of graupel at the interface. Nobody was caught or injured.

Prior to this event, numerous small, test slopes were evaluated in the area with no red flags of danger. A test pit was dug on a similar aspect and elevation. Poor slab characteristics were observed with moderate to hard column test failures at the weak layer (old snow/new snow). Propagation was not observed in tests. 

A couple small, natural storm slabs were observed on a west/northwest aspect near 5,600 feet above Tamarack Flat.

Today hosted broken clouds with very light snow flurries for brief moments. The sun came out for periods of time. Wind was almost dead calm. A slight breeze could be felt out of the northeast over ridges. Evidence of previous wind loading was evident. Cornices and wind loaded slopes were observed. Clockwise, slopes west, north and east all observed wind loading. New snow measures anywhere from 15 to 20 inches above 5,000 feet. New snow amounts rapidly decrease below this elevation. Access/parking is still only about .75 miles up the FS 17 road from Stewart Springs. 
DATA CODE: SS-AM-D2-R3
1. Date: 3.29.23
2. Time: 1530 hours
3. Observer: N Meyers
4. Path Characteristics: Near Treeline

a. Observation Location: Parks/Eddy
b. Aspect: East and Northeast
c. Slope Angle in Starting Zone: 35-40
d. Elevation: 6,600 feet

5. Event Characteristics

a. Type: Storm slab
b. Trigger: Snowmobile
c. Size: D2/R3
d. Snow Properties

i. Bed Surface: Melt-freeze crust
ii. Weak Layer: Graupel
iii. Slab: Storm snow

e. Dimensions

i. Slab Thickness: 15 to 36 inches
ii. Width: 600 feet
iii. Vertical Fall: 800 feet

f. Location of Start Zone: 6,800 feet, NTL
g. Terminus: 6,000 feet
h. Total Deposit Dimensions: 600 x 1000 feet
i. Avalanche Runout Angle: not measured
Photos
Characteristics
Trigger type:
Snowmobiler
Avalanche Length:
1 000ft.
Number of people caught:
0
Number of partial burials:
0
Number of full burials:
0
Weather Observations
Details
Last 3 days weather data from Mount Eddy weather station, issued 3.29.23 at 06:30pm: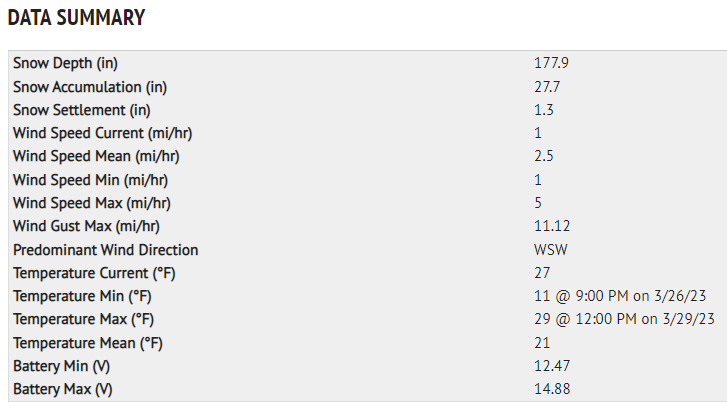 Statistics
Cloud Cover:
75% of the sky covered by clouds
Air temperature:
Below Freezing
Air temperature trend:
Static
Wind Direction:
Northeast