You are here
Natural Avalanches in Sun Bowl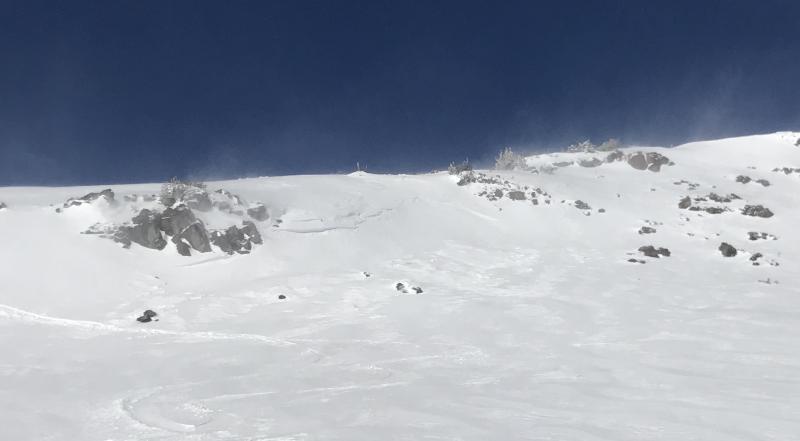 Location Name:
Natural Avalanches in Sun Bowl
Date and time of avalanche (best estimate if unknown):
Sun, 12/03/2017 - 2:00pm
Observation made by:
Forecaster
Red Flags:
Recent avalanche activityWhumphing noises, shooting cracks, or collapsingRecent loading by new snow, wind, or rainObvious avalanche path
Location Map
96067
Mount Shasta
,
CA
United States
41° 22' 6.2508" N, 122° 13' 2.82" W
California US
Avalanche Observations
Details
Three natural wind slab avalanches were observed on the south and southeast aspects of Sun Bowl today. The avalanches were all destructive size 1 – not large enough to bury, injure, or kill a person. The crown height was 1ft deep for 2 of the 3 avalanches, and these two avalanches both failed at the old snow/new snow interface. The third avalanche failed within new snow, and had a shallow crown height of 5 inches. The avalanches were 40-60ft wide and ran for 50-70ft downslope. They were naturally triggered by wind loading and occurred on convex slopes 35 degrees and steeper in above treeline terrain.
Northwest winds actively loaded leeward terrain throughout the day. The wind slab problem was observed on E-SE-S aspects near and above treeline and ranged from 1-2ft in thickness. In addition to the avalanches, shooting cracks were observed on SE aspects near treeline in Sun Bowl as well (see photo).
Ski tracks in wind exposed areas near and above treeline refilled rapidly (within minutes) due to wind transport today. The height of new snow was 6" in terrain between 7000-9000ft.
Photos
Characteristics
Number of similar avalanches:
2
Weather Observations
Details
Moderate to strong northwest winds remained steady throughout the day.
Statistics
Cloud Cover:
25% of the sky covered by clouds
Air temperature:
Below Freezing
Air temperature trend:
Static
Wind Direction:
Northwest