You are here
Saint Germain Bowl Avalanche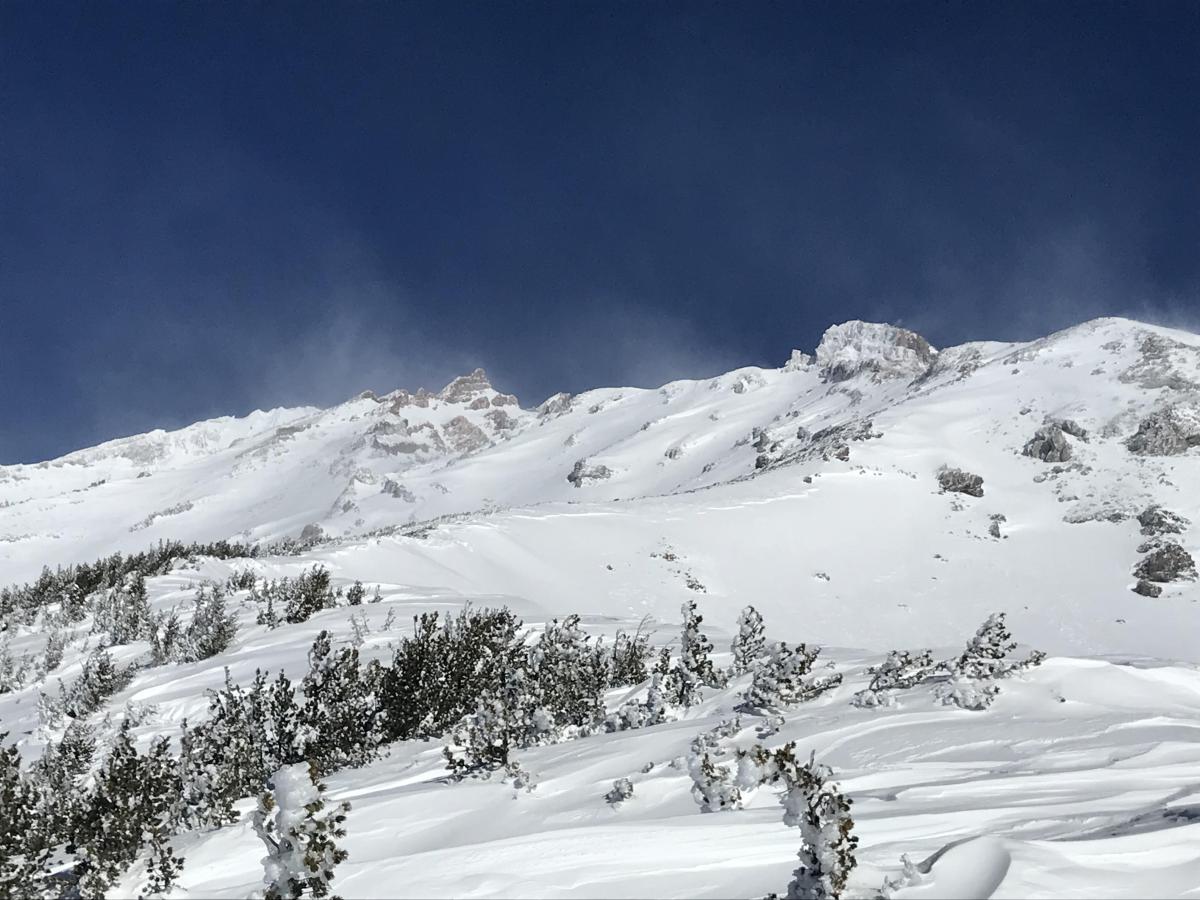 Location Name:
Saint Germain Bowl
Date and time of avalanche (best estimate if unknown):
Sun, 01/01/2023 - 10:35am
Observation made by:
Forecaster
Red Flags:
Recent avalanche activity
Whumphing noises, shooting cracks, or collapsing
Recent loading by new snow, wind, or rain
Location Map
96067
Mount Shasta
,
CA
United States
41° 22' 9.7608" N, 122° 11' 43.2024" W
California US
Avalanche Observations
Details
Date: 12.30.2022
Time: Estimated afternoon of 12/30/22 
Observers: Eric Falconer & Michael Madden 
Path: Saint Germain Bowl, Old Ski Bowl / Sargents Ridge
Latitude: 41.36937849340144
Longitude: -122.1953343135938
Aspect: East
Slope Angle: 38
Elevation: 8,735ft
Type: hard Slab (HS)
Trigger: Natural
Size: HS-NS-R4-D2-I
Bed Surface: Old snow P / PP 1mm
Weak Layer: New snow interface: 4F / DP 1mm
Slab: P-hardness / Wind packed grains 1mm
Slab Thickness: 3-5ft
Width: 2,484ft
Vertical Fall: 400ft
Start zone: T – East Ridge connecting to Sargents Ridge proper  
Terminus: Mid-slope   
Photos
Characteristics
Avalanche Width:
2 484ft.
Avalanche Length:
3 067ft.
Number of similar avalanches:
5
Number of people caught:
0
Weather Observations
Details
The mission was to do a crown profile on the Saint Germain Bowl avalanche that occurred on Dec 30th.  Ascending a ridge to the crown of the avalanche, the snowpack showed signs of instabilities. Shooting cracks and small test slopes shed easily, releasing about 10cm (5in) of wind packed snow.  I counted a total of seven individual crown lines, on steep leeward east facing slopes along Casaval Ridge, Green Butte, and Sargents Ridge. A recently triggered wind slab was observed near treeline on an east facing convex depression where snow had drifted. Above treeline, conditions were primarily hard pack with some thin ice glaze in places. In protected areas near and below treeline, soft snow exists. The day was sunny with consistent moderate winds. 
Statistics
Cloud Cover:
25% of the sky covered by clouds
Air temperature:
Below Freezing
Air temperature trend:
Warming