You are here
Small avalanche in Old Ski Bowl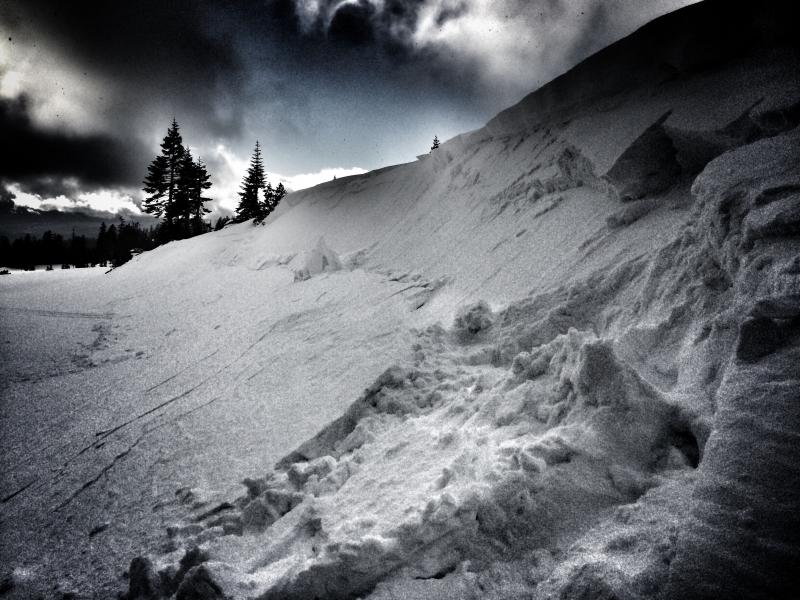 Location Name:
Small avalanche in Old Ski Bowl today
Date and time of avalanche (best estimate if unknown):
Sun, 12/03/2017 - 10:00am
Observation made by:
Forecaster
Red Flags:
Whumphing noises, shooting cracks, or collapsingRecent loading by new snow, wind, or rain
Location Map
Old Ski Bowl
96067
Mount Shasta
,
CA
United States
41° 21' 39.3588" N, 122° 12' 2.0988" W
California US
Avalanche Observations
Details
This small but notable avalanche was triggered at the base of the slope by a passing snowmobiler. The slide did not travel far as it was arrested by the concavity of the slope meeting the flat road. This south facing small slope was heavily wind loaded and while the wind slab failed within new snow layers, the depth of the wind loaded area was deeper. Crown height average was 1 foot deep, 60 feet wide and only ran a short distance. Other leeward, wind loaded areas like these could certainly be possible still near and above treeline, especially before temps begin to rise. Tomorrow morning, I would extend caution to other areas like this until things warm up later in the coming days.
Many areas are still scoured from wind down to old firm snow and ice. Wind pillows can be found in many areas above treeline with icy scabs in between. More consistent new snow coverage exists near and below treeline. Skiing was quite nice in these mid to lower elevations, though the thought of lurking obstacles just below the snow surface kept me hesitant to make any aggressive turns! About 4 to 6 inches of new snow was found above 6,900 feet. Temperatures and snow conditions remained cold throughout the day. Only a few hours of sun came out behind what was mostly low level clouds/fog. 
Photos
Characteristics
Trigger type:
Snowmobiler
Crown Height:
Less than 1 ft
Weather Observations
Details
Very chilly today and howling winds above treeline, especially along ridgetops. Most folks I spoke to did not get above 9,000 feet due to winds. Giant plumes of blowing snow were observed all day off Sargents Ridge and Green Butte. Gusty conditions were encountered in the bowls. The mountain was obscured all morning, cleared up mid-day and clouded back up in the afternoon. 
Statistics
Cloud Cover:
25% of the sky covered by clouds
Air temperature:
Below Freezing
Air temperature trend:
Static
Wind Direction:
Northwest