You are here
Snowmobile triggered wind slab in the Old Ski Bowl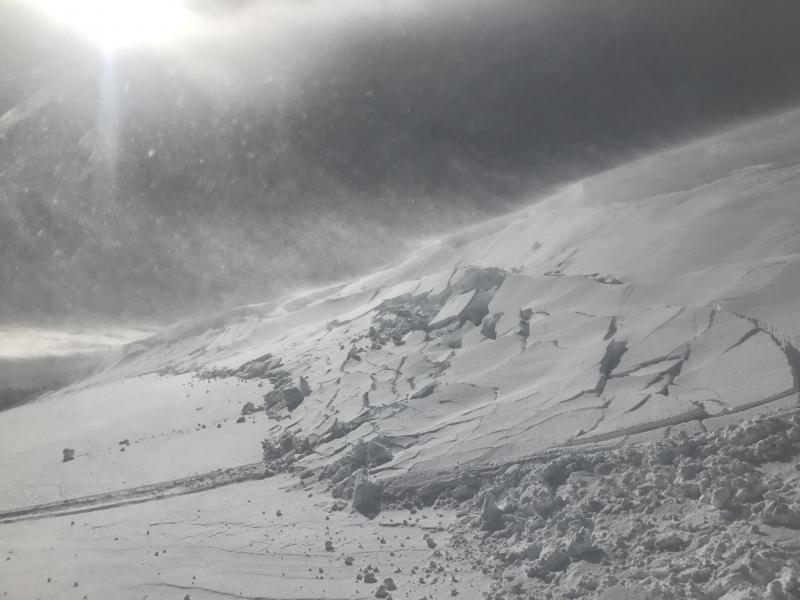 Location Name:
Old Ski Bowl
Date and time of avalanche (best estimate if unknown):
Sat, 01/27/2018 - 11:00am
Observation made by:
Forecaster
Red Flags:
Recent avalanche activityWhumphing noises, shooting cracks, or collapsingRecent loading by new snow, wind, or rainRapid warming
Location Map
96067
Mount Shasta
,
CA
United States
41° 22' 4.3968" N, 122° 11' 47.4252" W
California US
Avalanche Observations
Details
SS-AM-R4-D1-S (soft slab, artificially triggered by a snowmobile, large relative to the avalanche path, relatively harmless destructive force, bed surface within new snow)
A snowmobile triggered wind slab avalanche occurred today on an east-facing slope above treeline at 8,400ft in the Old Ski Bowl. The avalanche broke 1-3ft deep, 250ft wide, and ran 10-20ft downslope. The avalanche failed on a density break within new snow. No one was caught, buried or injured.  Westerly winds were actively loading leeward slopes and terrain features near and above treeline. Although this was a relatively harmless avalanche, the propagation was very impressive. 
Characteristics
Trigger type:
Snowmobiler
Number of similar avalanches:
1
Number of people caught:
0
Number of partial burials:
0
Number of full burials:
0
Weather Observations
Details
Strong westerly winds were steady throughout the day. In the afternoon, a brief rain event occurred up to 8,000ft. Skies were mostly obscured with short periods of sunshine.  
Statistics
Cloud Cover:
75% of the sky covered by clouds
Air temperature:
Above Freezing
Air temperature trend:
Warming