You are here
West Face Gray Butte Avalanche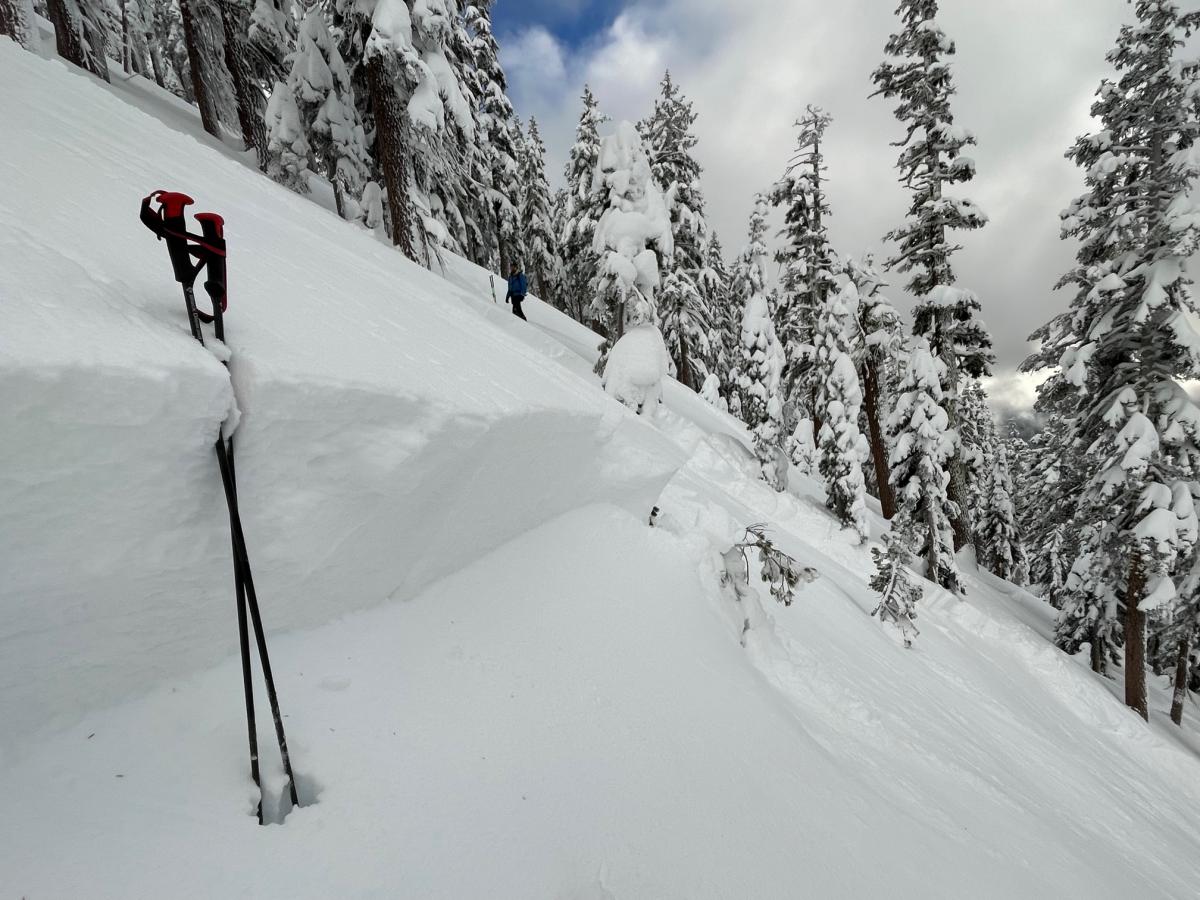 Location Name:
West Face Gray Butte Avalanche
Date and time of avalanche (best estimate if unknown):
Sun, 12/11/2022 - 2:30pm
Observation made by:
Forecaster
Red Flags:
Recent avalanche activity
Recent loading by new snow, wind, or rain
Obvious avalanche path
Terrain Trap
Location Map
96067
Mount Shasta
,
CA
United States
41° 20' 56.0508" N, 122° 11' 44.7828" W
California US
Avalanche Observations
Details
Gray Butte - West Face - Sparse trees near treeline, 7,800 feet, 38 degrees: An intentional ski cut along the convexity of this avalanche path resulted in a good size slide around 2:30pm. The crown was ~2-2.5 feet deep, 60 feet wide and ran ~500 feet into denser forest. Nobody was caught. A brief period of graupel fell on top of the snowpack Friday December 9th, just before the weekend storm. Approximately 2-2.5 feet of fresh snow fell on top of this graupel layer over a 40-hour between Saturday December 10 to Sunday December 11. The slab failed on this weak layer of graupel. This is the same layer where the avalanche on Coyote Butte yesterday morning failed, 12.10.22.
Avalanche Code: SS-ASc-R3-D2-I
DATA CODE: 
1. Date: 12.11.2022
2. Time: 1430 hours
3. Observer: Meyers/Madden
4. Path Characteristics: Trees

a. Observation Location: Crown of slide path
b. Aspect: West
c. Slope Angle in Starting Zone: 38°
d. Elevation: 7,800 feet

5. Event Characteristics

a. Type: Soft Slab Avalanche (SS)
b. Trigger: ASc, Skier (ski cut)
c. Size: D2/R3
d. Snow Properties

i. Bed Surface: Old storm snow (I)
ii. Weak Layer: Graupel (PPgp)
iii. Slab: New storm snow (PP, DF)

e. Dimensions

i. Slab Thickness: 2-2.5 feet
ii. Width: 60 feet
iii. Vertical Fall: ~300 feet

f. Location of Start Zone: Near treeline, ~7,800 feet
g. Terminus: Dispersed among large trees
h. Total Deposit Dimensions: Not measured
i. Avalanche Runout Angle: Not measured
Photos
Videos
Characteristics
Number of similar avalanches:
1
Number of people caught:
0
Number of partial burials:
0
Number of full burials:
0
Weather Observations
Details
Today was nearly precipitation free, although a few flakes fell from the sky. Old Ski Bowl recorded .09" of SWE with a trace of accumulation. Low clouds and fog came and went. The sun broke through at times. Wind calm.
Statistics
Cloud Cover:
25% of the sky covered by clouds
Air temperature:
Above Freezing
Air temperature trend:
Cooling