You are here
Wet Slabs above Road Cut below Bunny Flat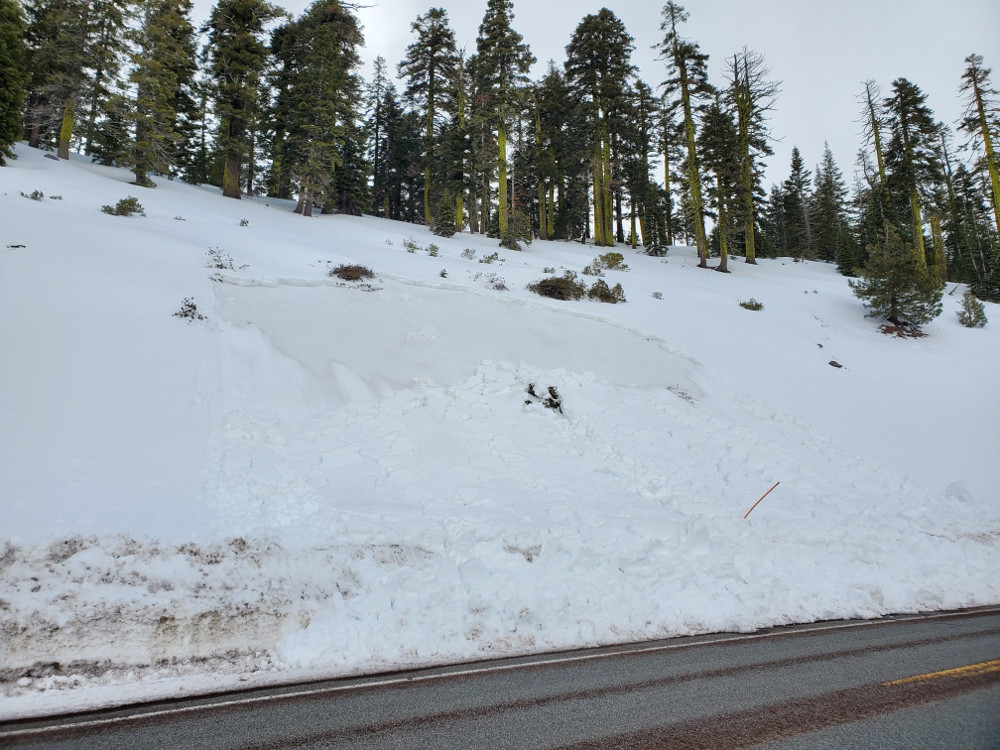 Location Name:
Road below Bunny Flat 6,800 feet
Date and time of avalanche (best estimate if unknown):
Sun, 01/26/2020 - 2:00am
Observation made by:
Forecaster
Red Flags:
Recent loading by new snow, wind, or rain
Rapid warming
Location Map
United States
41° 21' 12.9096" N, 122° 14' 3.9228" W
US
Avalanche Observations
Details
Though these slides tend to happen every year because of the unsupported nature of the road cuts just below the Bunny Flat parking lot, they are still good events to learn from. A couple of small (R1 / D1) natural wet slab avalanches occurred in this area sometime between 10:30 a.m. and 1:30 p.m. A combination of rain on snow and solar radiation saturated most of the snowpack down to the ground. Newer snow (F - 4F hardness) broke on a slush layer of saturated angular grains just below a razor thin crust about 14 inches down. The bed surface was a density change to 1F snow near the ground.
While taking data for this observation, a crack appeared, widened, and propagated down the road about 50 meters. It is likely more of these small avalanches occurred throughout the afternoon.
Our snowpack is not typical for a maritime climate. It is shallow, with steep temperature gradients, and multiple crusts. We have experienced prolonged cold temperatures. Weak, sugary layers still persist between thin crusts below the upper snowpack. Below treeline, these layers are shallow. Above, they are much deeper. It is something to keep in eye on for future snow / rain / warming events.
A scout of Castle Lake, an area often showing a similar snowpack configuration to Bunny Flat, did not display any similar events. The snowpack, though still showing signs of buried crusts interspersed with weak layers, was not saturated. No recent signs of avalanches were seen.
Photos
Characteristics
Number of similar avalanches:
1
Weather Observations
Details
Wet conditions have prevailed over the last three days. Over the last 48 hours, 3/4 inches of rain was received. Temperatures at Sand Flat have been above freezing for the last two days. Partly cloudy conditions today exposed the snowpack to some solar radiation.
Statistics
Cloud Cover:
50% of the sky covered by clouds
Air temperature:
Above Freezing
Air temperature trend:
Static