You are here
Wind Slab Avalanche in Sun Bowl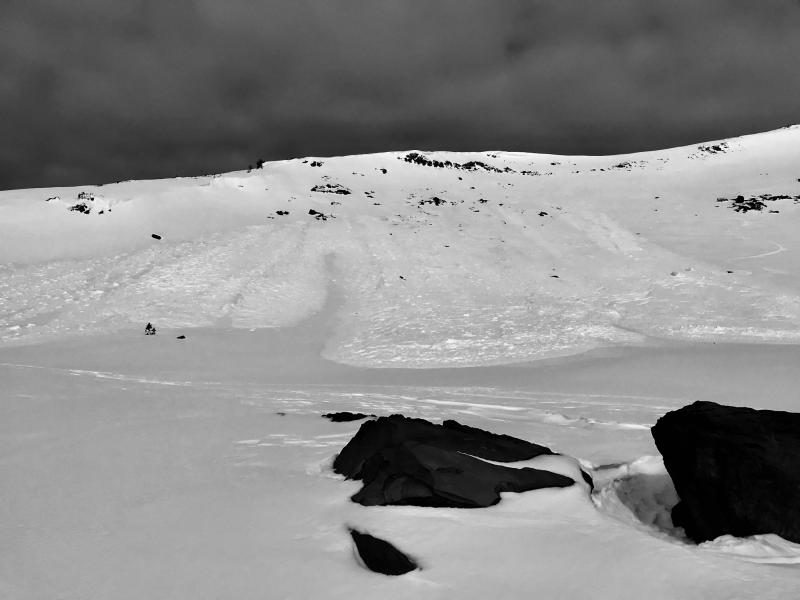 Date and time of avalanche (best estimate if unknown):
Tue, 01/30/2018 - 6:15pm
Observation made by:
Public
Red Flags:
Recent loading by new snow, wind, or rainObvious avalanche path
Location Map
96067
Mount Shasta
,
CA
United States
41° 22' 11.8416" N, 122° 12' 55.6524" W
California US
Avalanche Observations
Details
Recent wind slab activity in Sun Bowl, 8,700 ft, SE facing - 38-40 degree slope on Tuesday, January 30th at 10:15am. HS-N-D1.5 to D2 observed. Debris piles up to 3-4 ft+ deep. Ran approximately 400-500 vertical feet. Some cornice triggering and/or involvement likely. 
Photos
Characteristics
Number of similar avalanches:
2
Number of people caught:
0
Number of partial burials:
0
Number of full burials:
0
Weather Observations
Details
Major wind loading observed in the alpine yesterday with moderate loading continuing today. Unknown if the warm temps yesterday was a causal or contributing factor.  Debris looked dry, so likely occurred during cooler temps. 
Statistics
Cloud Cover:
50% of the sky covered by clouds
Air temperature:
Below Freezing
Air temperature trend:
Static
Wind Direction:
Northwest