You are here
Around the mountain tour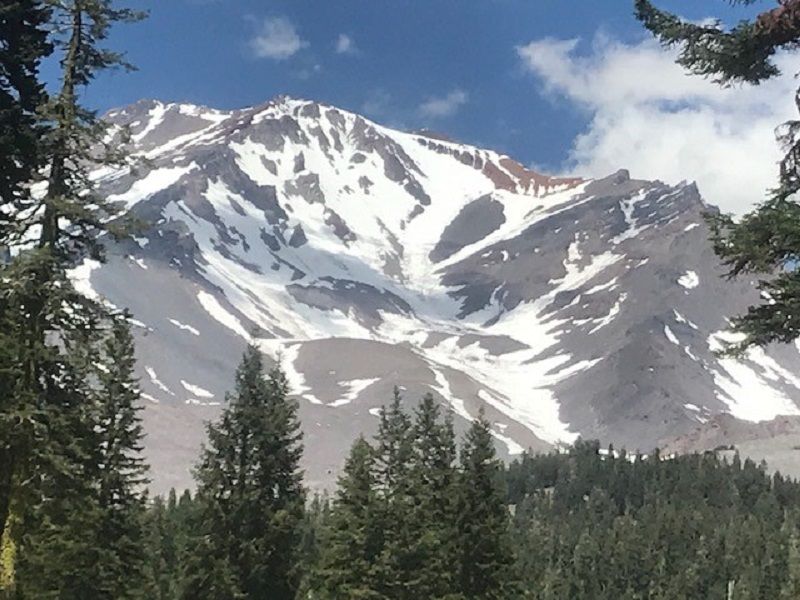 Climbing Route(s):
Avalanche Gulch, Casaval Ridge, West Face, Cascade Gulch, Whitney Glacier, Bolam/Whitney Ridge, Bolam Glacier, Hotlum/Bolam Ridge, Hotlum Glacier, Hotlum/Wintun Snowfield, Wintun Glacier, Wintun Ridge, Clear Creek, Sargents Ridge, Green Butte Ridge
Trailhead(s):
Brewer Creek, Bunny Flat, Clear Creek, Northgate, Sand Flat, Ski Bowl
Date/Time of Observation:
Thursday, July 9, 2020 - 9:45am
Position:
Climbing Ranger
General Conditions
A clockwise tour around Mount Shasta depicting current snow conditions (photos taken July 1st). July always marks the "hump" of the season and this year is no exception, especially with the poor winter snowpack the area received. Conditions have deteriorated rapidly on the south and west aspects. Outfitter guide operations have ceased trips on all routes on south and west faces. Rockfall is a serious concern. Remaining snow fields terminate into rock strewn boulder fields. A slip and fall on snow will likely result in a slide for life into rocks. This slip/fall/rock hazard is no joke and has resulted in past fatalities. In fact, just recently a climber was seriously injured in this exact scenario on the West Face. Northside routes are not for novice climbers. A few routes via the Brewer Creek trailhead are still in decent shape (Hotlum/Wintun Ridge route). A couple skiers are making turns over there via the Brewer TH, but not for the faint of heart. Expect to walk 2 to 3 miles to get to snow. The Clear Creek route is a good late season route for novice climbers, but don't take this route lightly. Route finding is an essential skill. Carry navigation tools. There is NO TRAIL TO THE SUMMIT. The route is almost completely free of snow. The low angle nature of the route does not promote rockfall and many do not bring ice axe/crampons. That said, near the top snow and ice may be encountered and mountaineering tools could be desired for less experienced climbers. A good compromise is a set of trekking poles and crampons, but no ice axe. This is a recommendation, but not the rule...know your own skills and ability and plan accordingly. The picture below of the Clear Creek route gives you a good idea of snow cover. 
Don't feel like climbing to the top? A day hike on Mount Shasta is a completely reasonable endevour. Most serious hazards on the mountain are above 10,000 feet in elevation. Give us a call (530) 926-9614 to discuss route recommendations, equipment, access, etc. We're happy to help plan your trip and help ensure your safety and enjoyment of the Mt Shasta Wilderness. Please note that DOGS are NOT ALLOWED in the MT SHASTA WILDERNESS.
A few great day hikes on the mountain include: Horse Camp, Helen Lake, Hidden Valley, Clear Creek Springs, Whitney Falls, Northgate High Camp, South Gate Meadows, Gray Butte, Panther Meadows. Call for details! 530-926-9614
California Corona Virus information can be found HERE