You are here
Avalanche Gulch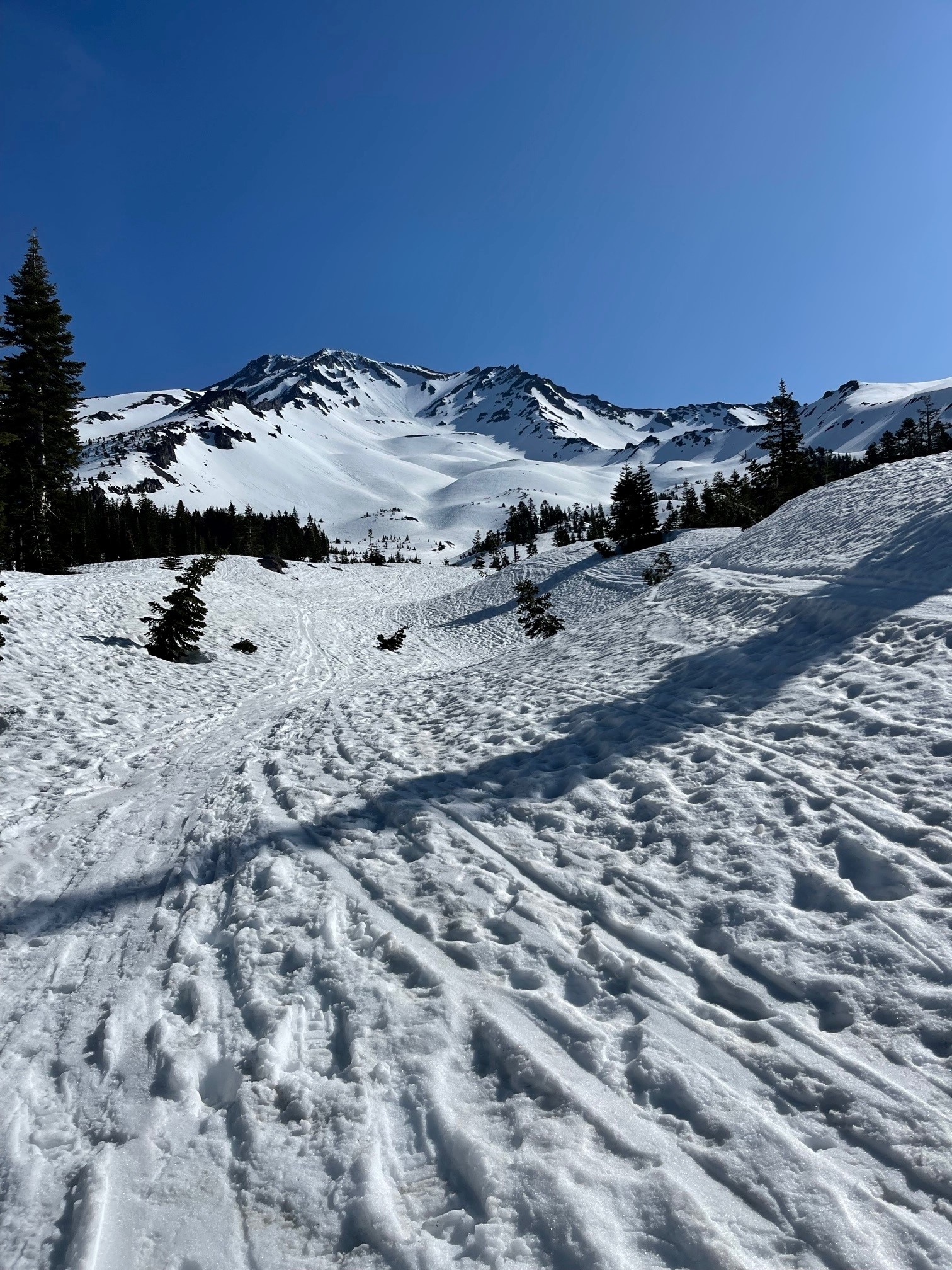 Climbing Route(s):
Avalanche Gulch
Trailhead(s):
Bunny Flat, Sand Flat, Ski Bowl
Date/Time of Observation:
Thursday, May 25, 2023 - 8:00am
Position:
Climbing Ranger
General Conditions
Photos (Katie Wry) from the week of May 22nd. Snow coverage on Mount Shasta is still good and snow exists all the way to Bunny Flat. That said, snow surfaces and general conditions have made a marked transition to early summer and deteriorated in the past couple weeks. Boot and ski tracks, old avalanche debris and mini sun cups are widespread. Rockfall is starting to become a thing. Ridge routes are thin and/or melted out. Good skiing is becoming harder to find. Bunny Flat remains the only fully accessible trailhead at this time. Your summit pass, wilderness permit and wag bags can be attained at the trailhead, day or night, self issue, cash or check only. 

Bunny Flat to Helen Lake is straightforward and hosts very little risk aside from a massive sunburn from the solar oven. Cover up! A good bootpack exists and snowshoes have been getting left behind by most. Helen Lake to Redbanks is where most accidents happen on the Avalanche Gulch route. Be careful though here. Redbanks is getting thin. The snow chutes up and through the Redbanks formation are still passable, but be careful not to knock rocks down onto climbers below. If you do, yell, "ROCK!" to give warning. Misery Hill is mostly free of snow. The Summit Plateau is covered in snow and the Summit Pinnacle is patchy snow and rock. 

Do not climb into a whiteout. Be very cautious if climbing above Redbanks. Redbanks, 12,500 feet, is not "almost the top". Use Redbanks as a good check in: How am I feeling, how is the group feeling, what time is it and what is the weather doing?". While you might climb under stars and blue sky in the morning, clouds can build rapidly and obscure visibility on the upper mountain in the afternoon. Every year, climbers become lost during this type of weather. Furthermore, being on a 14k foot peak in electrical activity is no good. Climb early and set yourself a turnaround time of about noon or earlier. Carry navigation tools. Do not glissade through Redbanks. Down climb below, assess snow conditions and if soft, take off your crampons and begin your SLOW and controlled decent.

While skiing conditions are no longer excellent, climbing conditions will continue to be good. Watch for rockfall and pay attention to the weather. Be prepared for slips and falls with solid self-arrest technique. Self-arrest is something that needs to happen quickly. Once up to speed on smooth, firm snow, it is very difficult to stop. 

Be safe, have fun, and keep a clean camp please!