You are here
Avalanche Gulch - Upper Mountain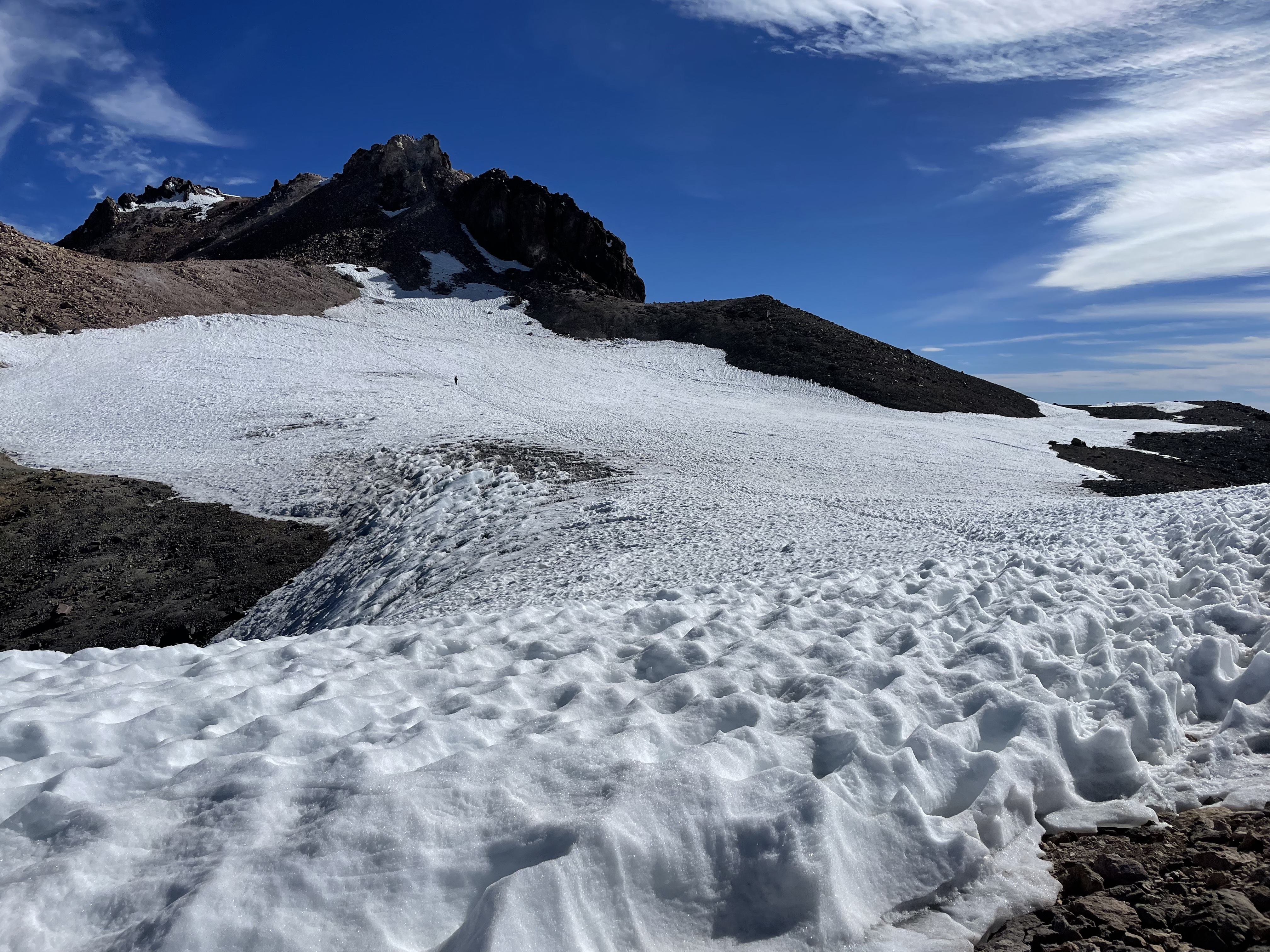 Climbing Route(s):
Avalanche Gulch
Date/Time of Observation:
Sunday, July 23, 2023 - 10:00am
Position:
Climbing Ranger
General Conditions
Conditions update of Avalanche Gulch and the upper mountain from the weekend of July 22-23...

The climbing season is quieting down Avalanche Gulch, and for good reason. From Bunny Flat, expect to hike on dirt untill just shy of Lake Helen. The trail is well-defined to about 9,500 feet. Lake Helen has been beaten down from a busy season of climbing. The snow has 12-18 inch deep sun cups, with old camp sights leaving deep holes in the snow. For camping, your best bet is to use one of the dirt sites. Surface snow is quite dirty. For drinking water, grab snow a couple hundred feet uphill from camp.

Leaving Lake Helen, you will travel on snow to about 12,500 feet. At this point in the season, climbers are having a hard time choosing a safe, efficient route through the Red Banks. Here are your options:

1. Go the standard route, right of the Heart, up to the Thumb area.

Climber Rangers DO NOT RECOMMEND this route. Snow does not reach the saddle, making you walk on loose rock for ~500 feet. At the top of the saddle, climbers will need to pull a short, fifth class climbing move (~5.7) to get on top of the Red Banks.  

2. Go left of the Heart, following the snow under the Red Banks all the way to 13,000 feet. 

This is a decent option. However, this is a slightly longer route, with sustained steep snow to Misery Hill. 

3. Go right of the Heart, and ascend the first chute through the Red Banks. There is a small strip of snow you can climb through and above the Red Banks.

This is an okay option, however, the risk of kicking rocks onto climbers below is very high, and the strip of snow is becoming very thin and will melt out soon. Once you get on top of the chute, climbers will need to navigate loose rock for a few hundred feet before reaching Short Hill. As mentioned, the snow strip will likely melt quickly in the coming weeks. 

If you're thinking "Wow, there isn't really any good options to get through the Red Banks", you're correct. The area around the Red Banks is getting pretty dicey to navigate. There are other routes on the mountain that are climbing better. If you climb Avalanche Gulch, prepare for rockfall, loose rock, some moderate scrambling, and elevated hazard due to other climbers.

Above the Red Banks, The route is dry and obvious. The only snow you will encounter is on the Summit Plateau.