You are here
General Mountain Conditions and Casaval Ridge Update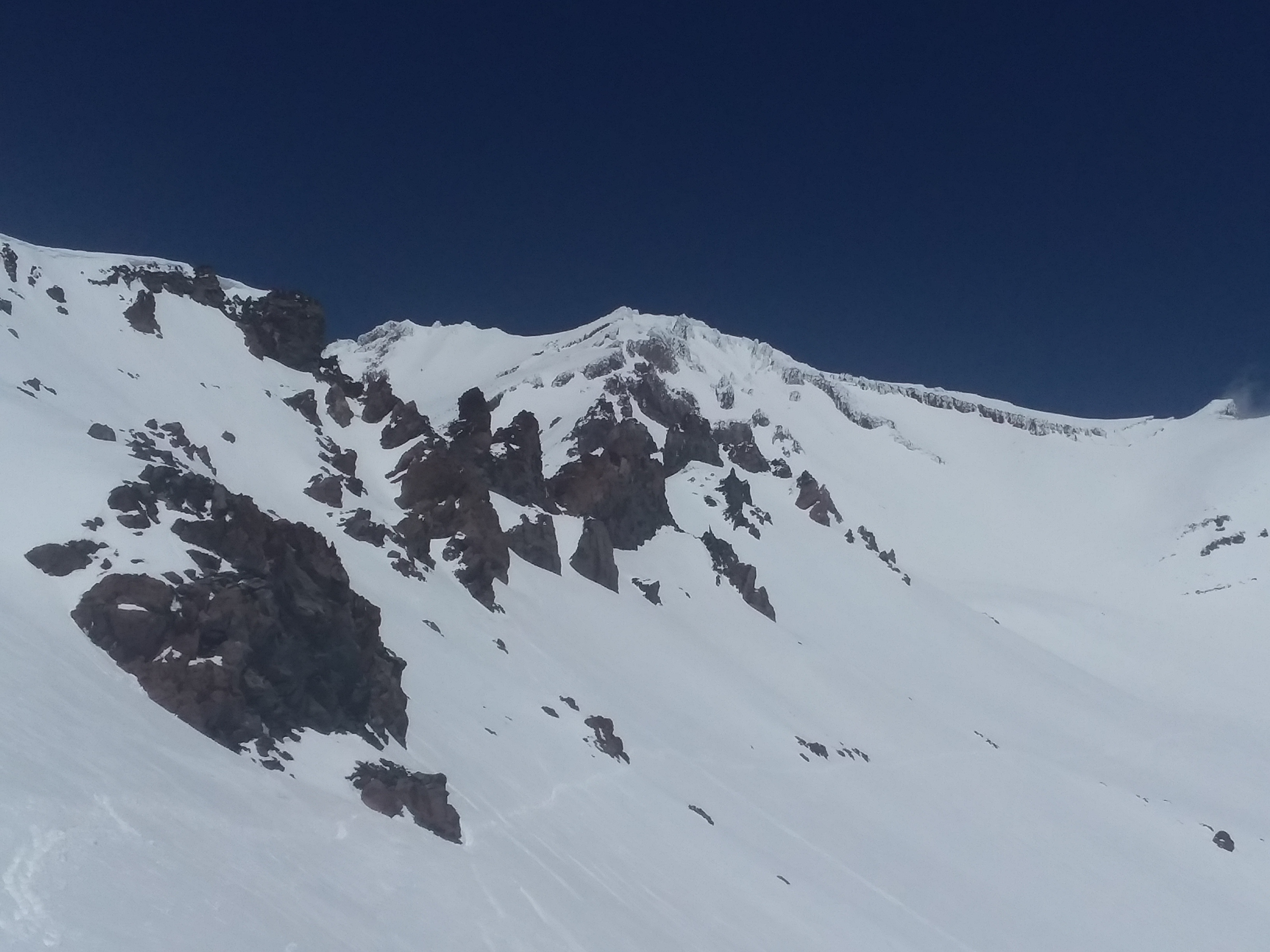 Climbing Route(s):
Casaval Ridge
Date/Time of Observation:
Sunday, April 22, 2018 - 1:30pm
Position:
Climbing Ranger
General Conditions on Apr 23, 2018
Conditions:
Sunday was another beautiful, sunny day on Mt. Shasta. One can ski out of the parking lot but the snow at Bunny is melting fast.  Climbers will not need snowshoes if they get an early start while the snow is firm, but as it heats up one may find that they come in handy to avoid post holing in wet, soft snow.  Around noon, some clouds rolled in to offer a brief respite from the hot sun but it was short lived as sunny skies prevailed.  As a reminder, do not forget your sunscreen and sunglasses and cover up as much as you can. The suns rays reflecting off the snow and the thinner atmosphere at higher altitude combine to nearly double a person's UV exposure which can lead to intense sunburns and snow blindness if unprepared.   
On warm, sunny days like this the snow soften ups quickly on south and east facing aspects which makes for good skiing until is gets too soft and sticky. I'd plan on dropping from ~10,000' between 11am-12pm to get some good corn turns and avoid too much glop. If skiing from the upper mountain, good skiing was reported below the Red Banks(~12,600') at 2pm but firm above from the summit to the Red Banks.  A fresh coat of wax will help for the lower slopes for summit skiers because it will be soupy by the time you get down there.  As a reminder for climbers, do not glissade in firm snow conditions, do not glissade above/through the Red Banks and always take off your crampons when glissading and have your axe in hand, ready and know how to use it. 
During the day the winds were calm with a nice cool, intermittent breeze.  Reports from descending clients stated winds in the morning (6-8am) on Misery Hill (~13,000) were fierce... up 40 mph gusts .  Some parties decided to turn while others pressed on to the summit.  Parties summitting a few hours later reported no problem with high winds.  Always be prepared for high winds on Mt. Shasta, at any time.   
I ascending Giddy Giddy gulch and talked to 3 parties who climbed the Casaval Ridge Route and camped at the top of Giddy Giddy at 9,800'.  The two parties that summitted opted to traverse onto the West Face to avoid the Catwalk. One party did cross the Catwalk and reported it was "spicy and exposed" but turned back before the summit later due to fatigue and high winds.   Both summitting parties reported that the Casaval Ridge route is in good shape with snow the entire way and a nice boot pack most of the way.  Refer to the Casaval Ridge link on this website for more route information.