You are here
Green Butte Ridge, Helen Lake, Upper Mountain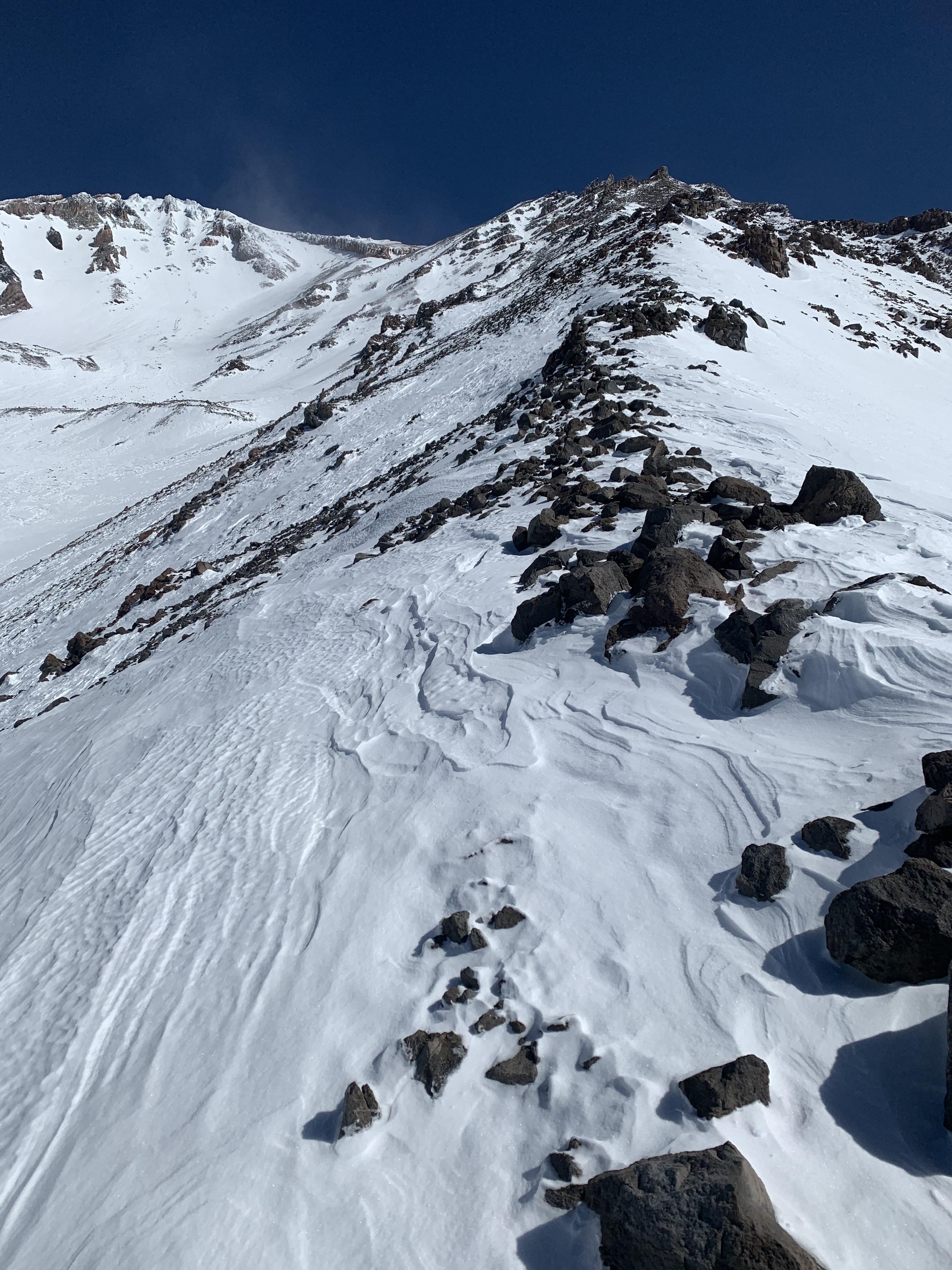 Climbing Route(s):
Avalanche Gulch, Sargents Ridge, Green Butte Ridge
Trailhead(s):
Bunny Flat, Sand Flat, Ski Bowl
Date/Time of Observation:
Friday, March 26, 2021 - 10:00am
Position:
Climbing Ranger
General Conditions
It pains me to say that it's a sad state of affairs on the mountain right now. While yes, there will be some good climbing and skiing days ahead, the amount of bare, exposed rock showing already at this time of year is disheartening. Mt. Shasta always gets some rockfall in the spring, but I anticipate higher risk than normal this season. It doesn't mean don't go, but I would certainly wear a helmet, keep your head up as often as possible and be ready to play dodgeball. Stay on snow and be careful not to knock rocks down onto others while climbing. "Ideal" conditions will be earlier than normal, so plan accordingly. April and May are typically good, June will be on the fence and July is likely not recommended. Glacier routes are always an option for less rockfall, but lack of winter snow has left large, exposed patches of ice. Slips and falls on this terrain can be deadly due to the inabilty to self-arrest, even for the most seasoned pro. One must understand the risk and potentially use ropes and appropriate protection if choosing to climb these routes. 
Avalanche wise, despite a lot of wind and spin drift coming off the ridges today, only very thin and scabby wind slabs were encountered. The danger was low and there was nothing to speak of in the avalanche department.
Snow surfaces are...you guessed it, variable. Breakable crust, supportable crust, hot powder, moist chalk, wind sculpted sastrugi, smooth butter...you name it, it's probably out there. The deep snow from fairly recent storms is either blowing away or continuing to settle and work itself into a melt-freeze state. Some slopes are in better spring shred shape than others. You know the game: aspect, elevation, wind, clouds and time of day are the factors. You can just roll the dice and go when you have a babysitter or time it out for the perfect turn on perfect snow.
Green Butte Ridge held supportable snow for the most part, with about 6 inches of boot penetration in what snow was held on the ridge. As you can see from the photos, the ridge is largely bare, but one can stick to the east side of it on snow for some distance.
Helen Lake is bare and dry camping is available. Above Helen Lake, the coverage might look decent, but the snowpack is shallow. Rocks protrude through the snow and I cringe at the sight already. Above Redbanks is devoid of snow and the chutes will be bare soon enough, though a thin strip does exist at this time. 
The top of the West Face is scoured hardcore. You'll see it when you drive up from town. Ouch. The West Face gully is filled in, barely. Rockfall is not typical on this route, but might be more so this season.
Video below from today 3.26.21, northerly winds chugging right along, strong gusts and down drafts on the south side.




Weather conditions over the last 24 hours: