You are here
Green Butte - Sargents Ridge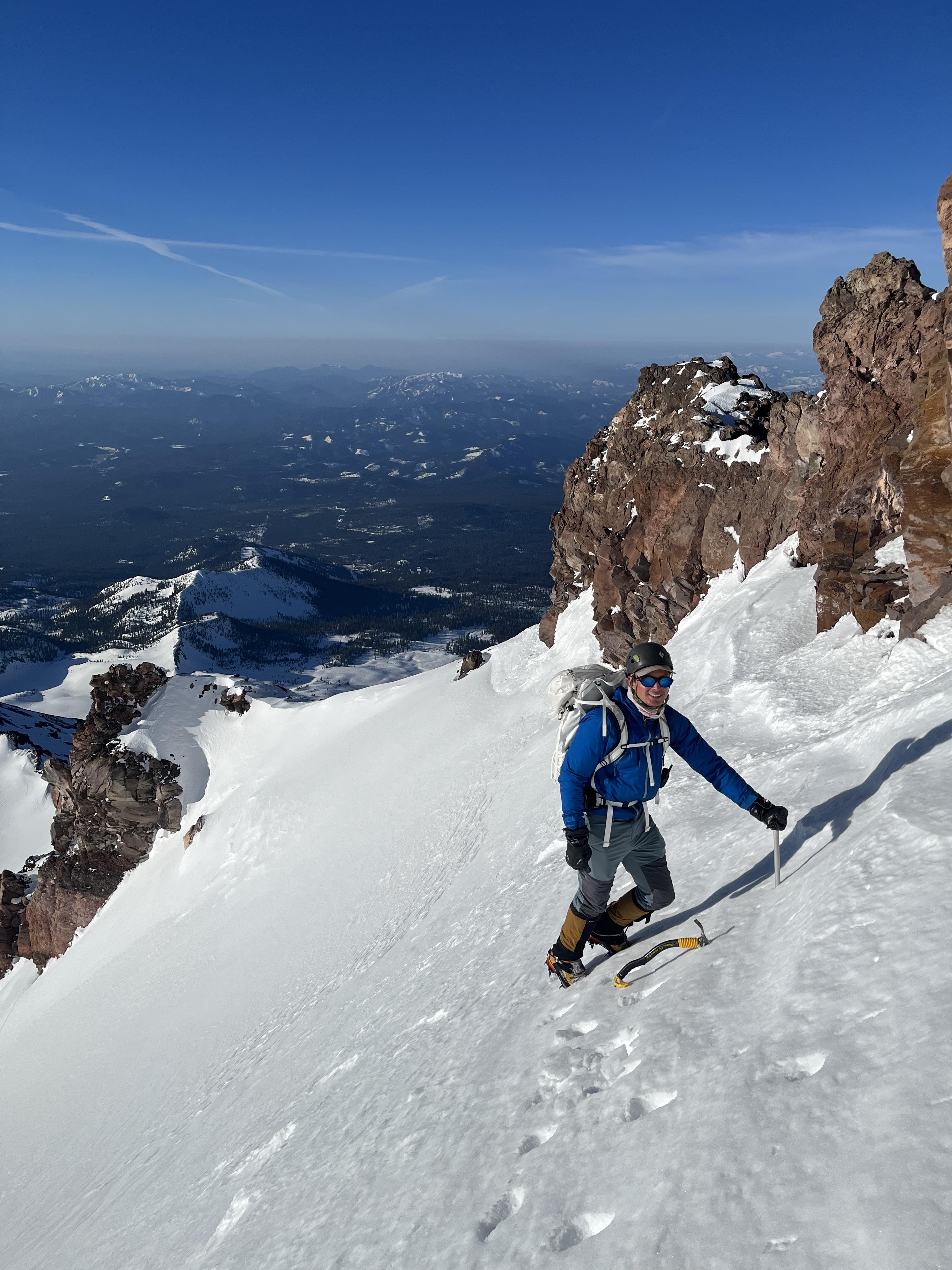 Climbing Route(s):
Sargents Ridge, Green Butte Ridge
Date/Time of Observation:
Saturday, April 15, 2023 - 8:00am
General Conditions
Started up Green Butte Ridge from the Bunny Flat parking lot at 0130 hours.  Snow coverage was abundant from the parking lot.  Skinned up the ridge before coming to a small rock band at 9,200 feet.  From here, skis, shovel, probe, and ski boots were left on the ridge.  Continued skinning without transitioning to hiking mode, even with ski crampons, would have been difficult beyond this point.  

Hiked up Green Butte Ridge until the ridge merged with Sargents ridge at approximately 11,800 feet.  Stayed on the ridge for the majority of this ascent, moving slightly to the climber's right when encountering large rock bands.  Snow coverage was excellent.  

At the confluence of the two ridges, we moved to climber's right of the ridge.  We traversed directly below the rock bands for between 1.5 - 2 hours.  The traverse involved steep snow (greater than 40 degrees).  The snow coverage for the traverse was ample and soft.  Ice tools provided minimal protection because of this softness.  Digging out good foot placements provided the best traction and stability.  Plunging the shaft of an ice axe into the snow resulted in better anchoring as well.  As our party of two carried two ice axes and two technical tools, use of one tool and one axe each was ideal for the traverse.  At around 12,500 feet we regained the ridge and turned climber's left (around the base of Thumb Rock and towards now in sight, Misery Hill).  

We continued up the rightmost side of the Red Banks to the base of Misery Hill.  Misery Hill was wind scoured. We continued up and at the top, made the short remaining push to the summit block.  Summited at 1230 hours.

Descended via the climber's right side of Avalanche Gulch until just above Helen Lake.  Traversed climber's right until we regained a low notch in Green Butte Ridge.  Followed the ridge back to our skis and skied out to the Bunny Flat parking lot.  

This was an excellent route and in good condition; particularly the crux section between approximately 11,800 feet and 12,500 feet.  The exposure felt more exposed and sustained than the comparable Casaval Ridge route. 
- T. Balboni