You are here
Hotlum/Wintun Ridge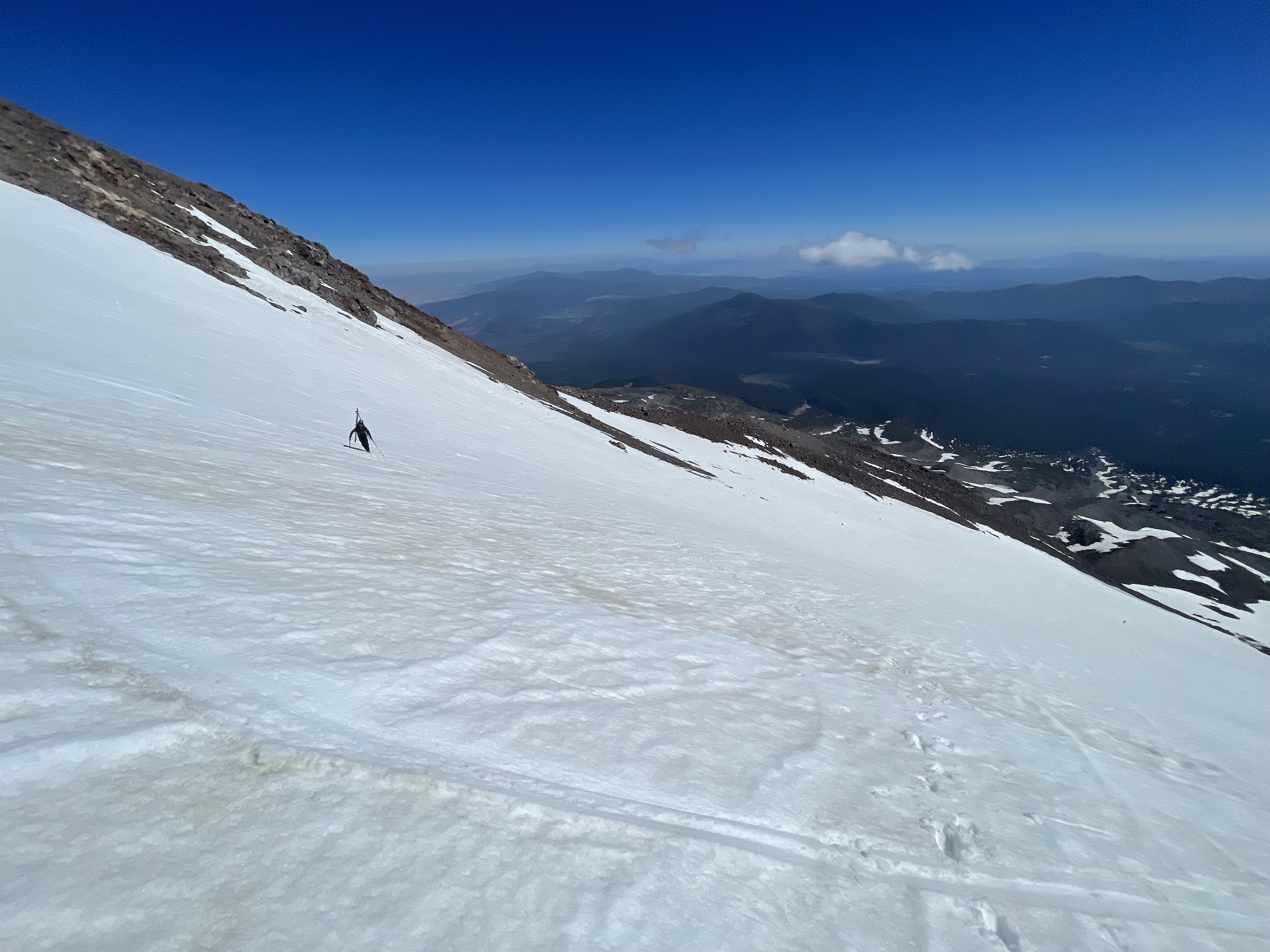 Climbing Route(s):
Hotlum Glacier, Hotlum/Wintun Snowfield, Wintun Glacier, Wintun Ridge
Trailhead(s):
Brewer Creek, Clear Creek
Date/Time of Observation:
Sunday, July 9, 2023 - 11:00am
Position:
Climbing Ranger
General Conditions
On 07.09.2023 myself and ranger Clairmont climbed and skied the Hotlum/Wintun route. Rockfall, managing warming snow surfaces and slips/trips/falls in steep terrain are the main hazards one must be mindful of when climbing. Epic views, stable weather and water along the route made for a great day on Shasta. This route will continue to be a good mission for skiers and climbers as long as snow remains to the summit. 

The climb begins at the Brewer Creek trailhead. Overland dirt travel (foot walking) is required until ~7,500 feet, where patchy snow can be negotiated on skis. At sunrise, the snow surface near treeline was frozen solid and a sea of sun cups. This made for tricky skinning conditions. Ski crampons are recommended. The higher we climbed, the better the snow surface became. Once at 10,300 feet, water was found flowing from the base of the large snowfield separating the Hotlum and Wintun glaciers. This snowfield offered decent boot/skin purchases for climbing. At 12,800 feet, a section of loose rock must be navigated when crossing over to the base of the Wintun chute.

Once in the chute, soft but supportable snow was present for the last couple thousand vertical feet to the summit. Overhead hazard exists for this portion of the climb. Several baseball sized rocks were spotted tumbling down. This section of the route is near 40 degree slope angle.  Further, two very large wet-loose avalanches were observed adjacent to the chute on the Wintun face that slid a couple of thousand feet. These slides looked to be triggered by rock fall from earlier in the week at the start of the heat wave. The last 200 feet of the route beneath the summit hosted rotten snow with shallow areas and hidden rocks. This section hosted the least amount of snow and is melting out quickly. At 1300 hours. corn snow was at its prime from the summit to treeline.   

Be mindful returning to your camp/car. Many climbers become lost during thier decent below treeline.