You are here
Mt. Shasta via Avalanche Gulch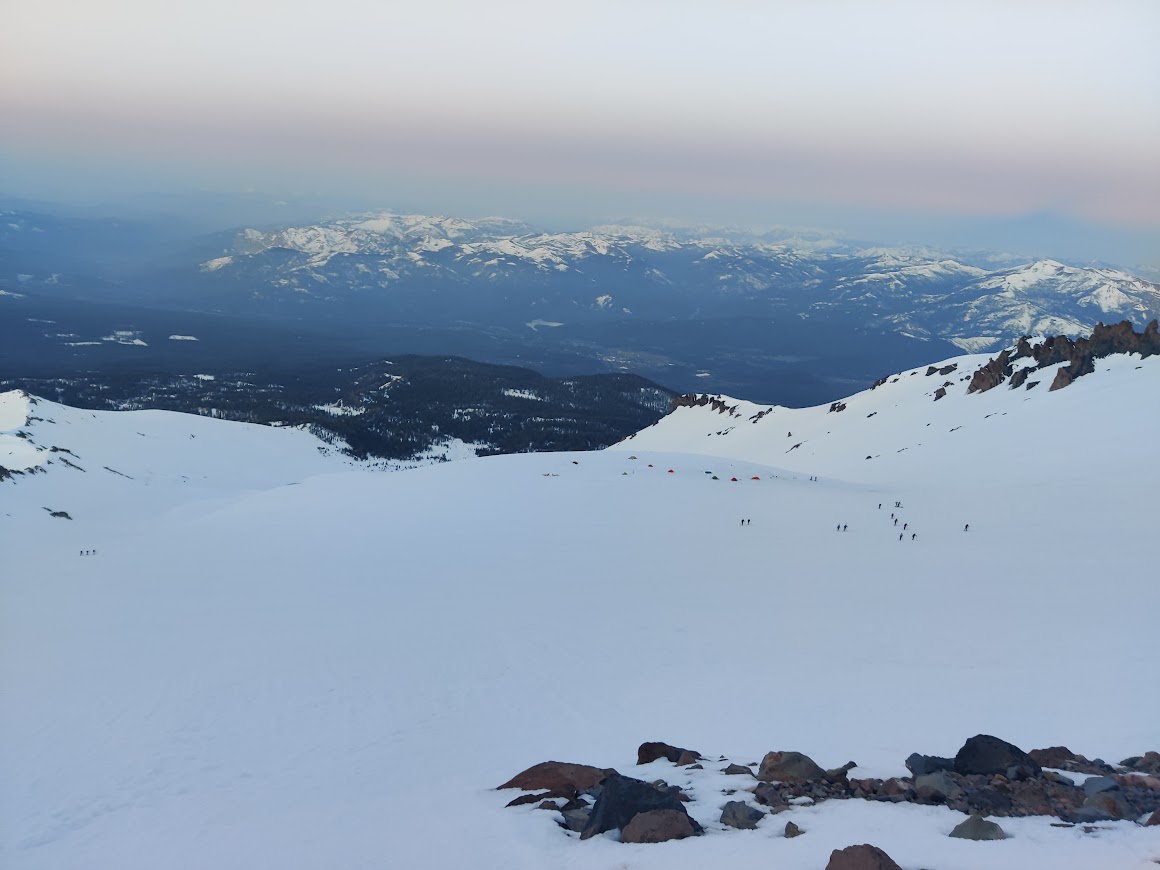 Climbing Route(s):
Avalanche Gulch
Date/Time of Observation:
Saturday, April 29, 2023 - 8:00am
General Conditions
Single day ski from Bunny Flat via Avalanche Gulch to summit and back (2am start, 2pm finish)
Ascent: Limited parking but good snow at the trailhead. Getting to Helen Lake (and slightly above it) doable on skins, though we put on ski crampons for steeper sections starting just below Helen Lake as snow was firm with a light frozen crust around ~5am. Transitioned to crampons around 11,000 ft, saw one bowling ball-sized rock falling down Avalanche Gulch and of rocks that have fallen recently - later in the day would likely be more rocks in the bowling alley! Also, signs of smaller wet loose avalanches on sides of Avalanche Gulch (see picture). Got up through a chute on climber's right of Red Banks and walked to summit. 
Descent: It is possible to ski almost from summit though the descent from the summit block was steep, icy, and with a lot of rocks sticking out in the snow. We walked down to the area with the fumaroles but saw plenty of people skiing/side-slipping down. From there, marginal snow cover going down Misery Hill which was pretty wind-scoured -- you can ski about 2/3 of it dodging rocky patches, likely less if the melt continues. Overall looking back, it would have been reasonable to leave skiis at the Red Banks. Then, walked a short distance to the Thumb (snow bridge by the Thumb getting narrow and somewhat sketchy, be careful!) and skied down from the Red Banks to trailhead. At 11am to noon, snow still firm at the top of the Red Banks, becoming perfect corn around 12,000 feet. Around 8000 feet (1pm) snow becoming slushy mashed potatoes. Some trees with larger melted out areas vs. tree wells around them, be careful once below tree line. Also getting very warm especially in the sun (carried just over 2L of water per person which was just barely enough). Imagine that going down after about 1-2pm would have been less pleasant (higher risk of rock fall, mashed potato snow,  very hot).  Also if rapid melt continues, not sure how much longer snow will hold above the Banks and below Helen Lake.