You are here
Snow Free Clear Creek Climb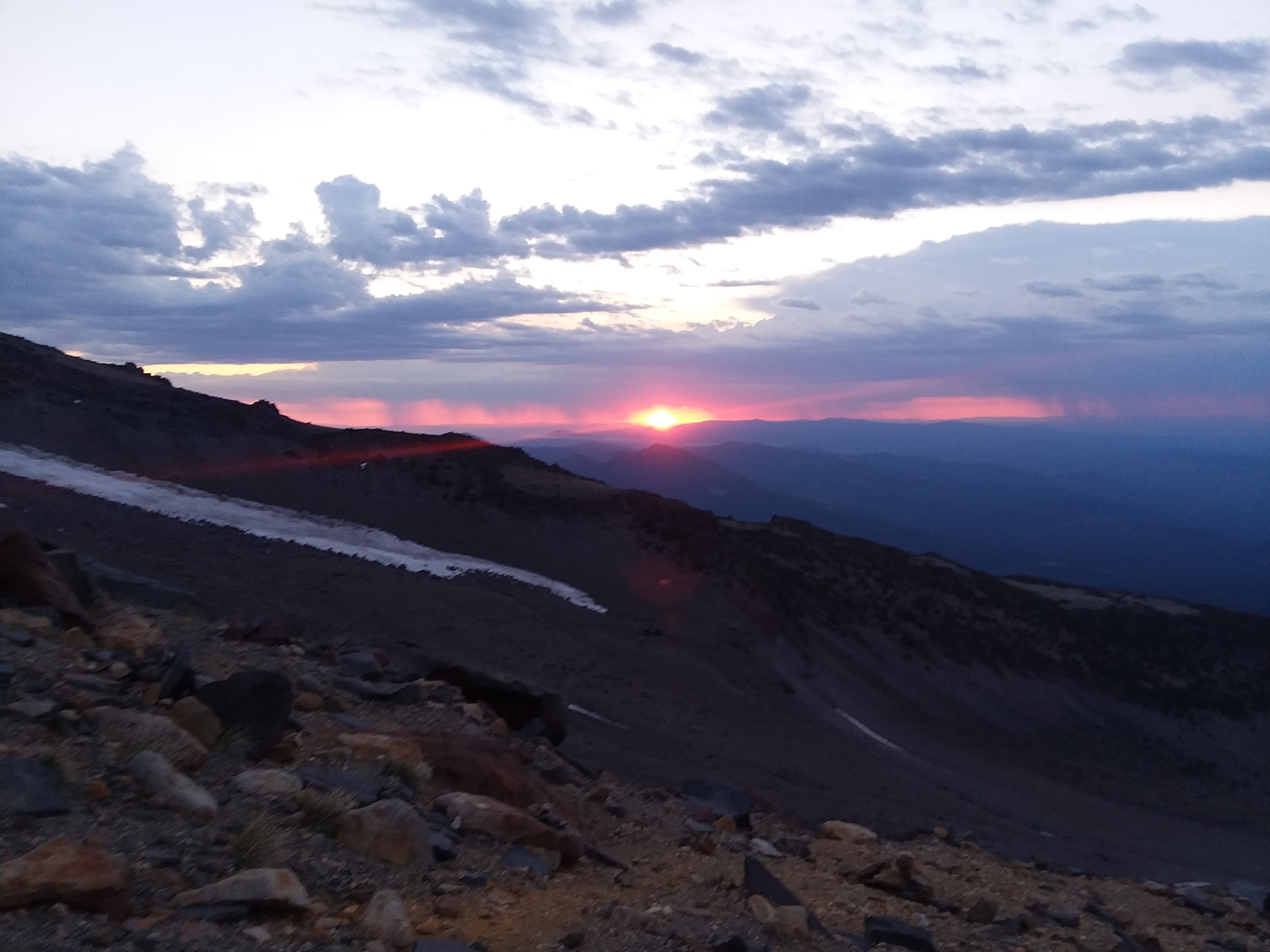 Climbing Route(s):
Clear Creek
Trailhead(s):
Clear Creek
Date/Time of Observation:
Sunday, July 15, 2018 - 9:00am
General Conditions on Jul 16, 2018
Conditions:
No crampons, no ice axe? No problem! That is if you decide to climb Mount Shasta via the Clear Creek Route. The route in its current state is snow free. A helmet is still advised. For all other routes on Mount Shasta, an ice axe, helmet and crampons are imperative.
First off...getting there.  The road to Clear Creek TH is rough, rutted and very dusty. A high clearance 4x4 vehicle is recommended but 2-wheel drive sedans have been observed in the parking area. Other low clearance vehicles have opted to park a mile below the trailhead with climbers and hikers walking in the last portion of the rough road.  I have included one photo of a deep rutted section of the road.
The climb...at the trailhead (6500') grab your summit pass ($25), wilderness permit (free) and human-waste packout bag and hit the trail! It is in great shape. Two-thousand vertical feet and a few miles later you will reach the spring at 8500'.  Great camp spots abound but please adhere to "Leave No Trace" principles. Do not camp right next to the spring, do not trample the fragile grasses and DO NOT HAVE A FIRE. There are no fires permitted in the Mount Shasta Wilderness.
The advantages of this camp are running water, some wind protection and its beauty but at only 8500', you will have a big summit day. Leave early! 2:00am is a good bet and make sure to hit the summit no later than 12:00pm, especially with this hot weather we have been experiencing afternoon thunderstorms. Be aware and exercise caution. At 9,800' and 11,000', there are high camps in the rocks where you will have to walk to snow patches to melt your water.  See photos.
The trail itself is well defined but is a combination of dust, dirt, sand, and scree. In parts you take one step up and a half step back. Some choose to wear a stout trail runner but remember temps on the upper mountain can still drop below freezing in summer.  I recommend a light boot. It will protect your feet on the descent through loose scree and rocks with less debris entering your shoes. Light gaiters may also be a good idea especially if you choose to wear trail runners. Trekking poles are also helpful.
The crux of the route is near 13,000' where you reach a rocky headwall. I have included some photos. Here the climbers' trail braids. The angle increases and the trails are very loose.  I found going left to be easier. This is the most hazardous section of the route. Helmets on! Do your best not to knock rocks on climbers below. Communicate "ROCK!" if you see rockfall. Third class scrambling on the large boulders at times may save you some misery from the loose trail. After about 500' of climbing the angle lessons and the trail improves. Follow it to the summit plateau and then to the summit pinnacle. Enjoy the view and descend the route safely. Please check our climbing tab and route descriptions for more information on the Clear Creek Route. Happy climbing!