You are here
Above Treeline, Mt Shasta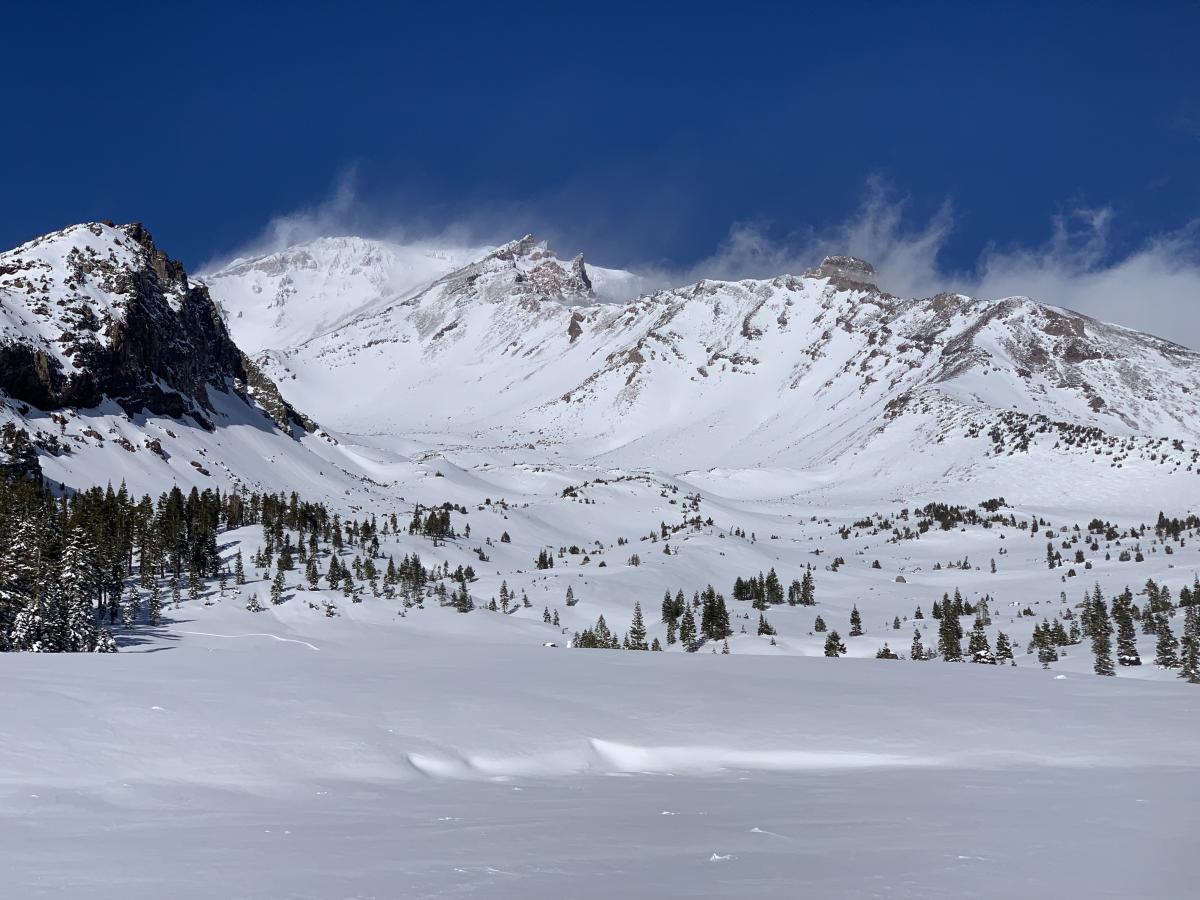 Location Name:
Old Ski Bowl
Date and time of observation:
Fri, 01/08/2021 - 2:30pm
Observation made by:
Forecaster
Red Flags:
Recent loading by new snow, wind, or rain
Location Map
96067
Mount Shasta
,
CA
United States
41° 23' 2.5476" N, 122° 12' 20.6748" W
California US
Snowpack Observations
Details
A mostly clear day on the mountain with low clouds in the valleys. Most notable was the northwest wind on the upper mountain. Late last night, a quick hitting storm left behind 5 to 7 inches of fresh snow above 6,500 feet. Northwesterly wind kicked in today and blew much of it away above 11,000 feet. That said, to our surprise, there were numerous areas above treeline that were not wind affected.  Still, windward SW/W/NW ridges and moraines are scoured, rocky and the snow is thin. Gullies have the deepest snow. Leeward S/SE/E/NE low angle moraines have decent coverage.
Observation Location: Old Ski Bowl
Elevation: Treeline to 10,000 feet
Date: 20210108
Time: Afternoon hours
Observer: N Meyers
Sky Conditions: Clear (CLR) with valley clouds 
Current Precipitation: NO 
Air Temperature: 25 °F
Surface Penetration: Boot penetration (PF) = 10-15 in / 25 - 38 cm
Total Snow Depth (HS): 47 in / 120 cm
24-hour New Snow Depth (HN24): 5-7 in / 12-17 cm
24-hour New Snow Water Equivalent (HN24W):  0.55 in / 14mm
Wind Direction: NW 
Wind Speed: Strong over ridges, above 9,000 feet. Calm to light near/below treeline.
Today, I took a wide-ranging tour of the Old Ski Bowl hunting for wind slab instability and to look at conditions above treeline. From town and on the way to Bunny Flat, blowing snow could be seen on the upper mountain. Gray Butte anemometer was recording strong northwesterlies.  As I snowmobiled into the Old Ski Bowl, my first impression was, "Where is the wind?" Snow surfaces were smooth, mostly unaffected and the wind light. "Maybe up higher", I thought. I was able to slowly work my way up through the thin and rocky snowpack in the bowl to an elevation of 10,000 feet. Still, very little wind. Looking up along Green Butte and Sargents Ridge, spin drift continued to extend horizontally off the ridges and I could hear it blowing.

Today was a perfect example of the crazy wind effects Mount Shasta can create due to huge topographic relief. While above treeline, I experienced nearly calm conditions in one area and windy in another. I witnessed southeast wind blowing up the flank of Green Butte Ridge toward the northwest....the completely opposite direction of the predominant wind direction. Very funky indeed. 

With all the snow blowing around today, you'd think somebody would trigger a wind slab. That said, all that was observed was minor cracking and blocking within small, new wind slabs.  I would not rule out an isolated wind slab out there of more consequential size, but we didn't find it and nor did anyone else. In some areas that experienced the highest wind speeds, new snow was completely blown away. 

While I was able to ride to the top of the Old Ski Bowl, I would not recommend it. Save your money, time and equipment.
Photos
Weather Observations
Details
See details above. Clear, windy, temps in the mid 20's F.
Statistics
Air temperature:
Below Freezing
Air temperature trend:
Static
Wind Direction:
Northwest