You are here
Above Treeline on Mt Shasta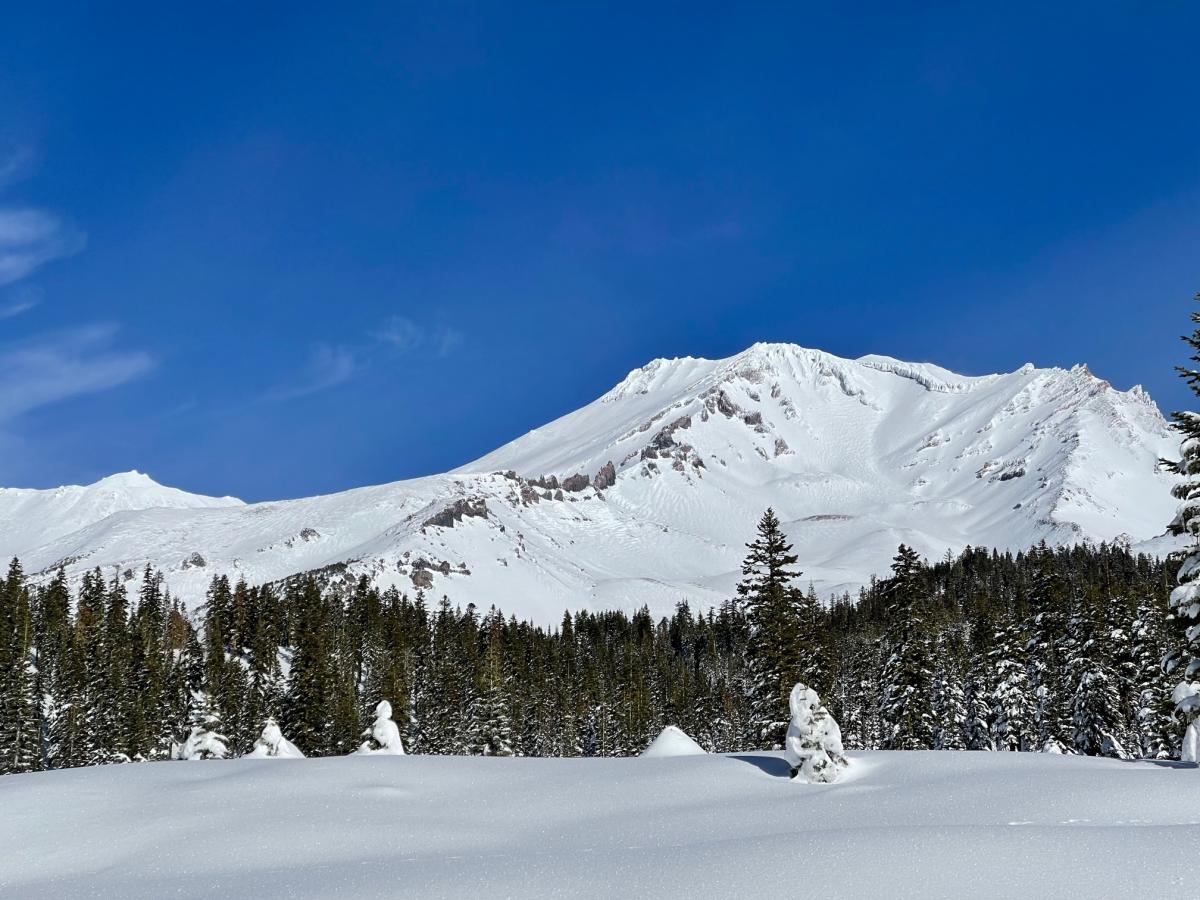 Location Name:
Mount Shasta
Date and time of observation:
Fri, 12/17/2021 - 11:30am
Observation made by:
Forecaster
Location Map
96067
Mount Shasta
,
CA
United States
41° 22' 6.852" N, 122° 11' 40.5996" W
California US
Snowpack Observations
Details
A blue bird day in the mountains, with morning and evening valley fog and clouds. Wind was light out of the SW-W. Took a tour up to Bunny Flat via snowmobiles to clear out the trailhead and prep for the highway opening, as well as assess the wind slab avalanche hazard above treeline. County road crews were working on the Everitt Memorial Highway today with a grader, a plow truck and a rotary blower. They estimated the road to be open by Sunday, but this is not set in stone. 
No recent avalanches or signs of danger was observed today. The 4 feet of storm snow from this past week experienced a good day of settlement with full sun on the horizon. Assessing the wind slab avalanche problem mentioned in the forecast today, we dug into a thick, solid wind slab for some testing. Our pit site was a E-SE facing slope, 31 degrees at 8,500 feet. We were unable to get any failures on any sort of weak layer. We found soft to hard wind slabs throughout above treeline terrain, some very deep and hollow, but unreactive to trigger. Most steep terrain, like the ridgelines above, were wind scoured with some rocks showing. The most notable wind slabs existed on low angle, non-avalanche terrain. Many scabby wind features were observed doting the landscape.
Significant surface hoar was observed this morning around Bunny Flat. It is important to keep track of surface hoar formation, especially if preserved and buried by a storm. Surface hoar are those feathery crystals you sometimes see on the surface of the snow, and they are excellent weak layers with a slab on top.
Observation Location: Above Treeline - Mt Shasta
Elevation: 8,500 ft
Date: 20211217
Time: 1245 hrs
Observer: Meyers / Lazzeri
Sky Conditions: Clear (CLR) 
Current Precipitation: Type - NO 
Air Temperature: 32 °F
Surface Penetration: Boot penetration (PF) = .5 in on hard wind slab
Total Snow Depth (HS): 83 in / 212 cm
24-hour New Snow Depth (HN24): None
24-hour New Snow Water Equivalent (HN24W): None
Wind Direction: SW | W 
Wind Speed: Light (L), 1-16 mi/hr, twigs in motion

Column & Block Tests:

Slope Angle & Aspect 31º - SE 
ECTX
CTN
Photos
Weather Observations
Statistics
Air temperature:
Below Freezing
Air temperature trend:
Static