You are here
Ash Creek Butte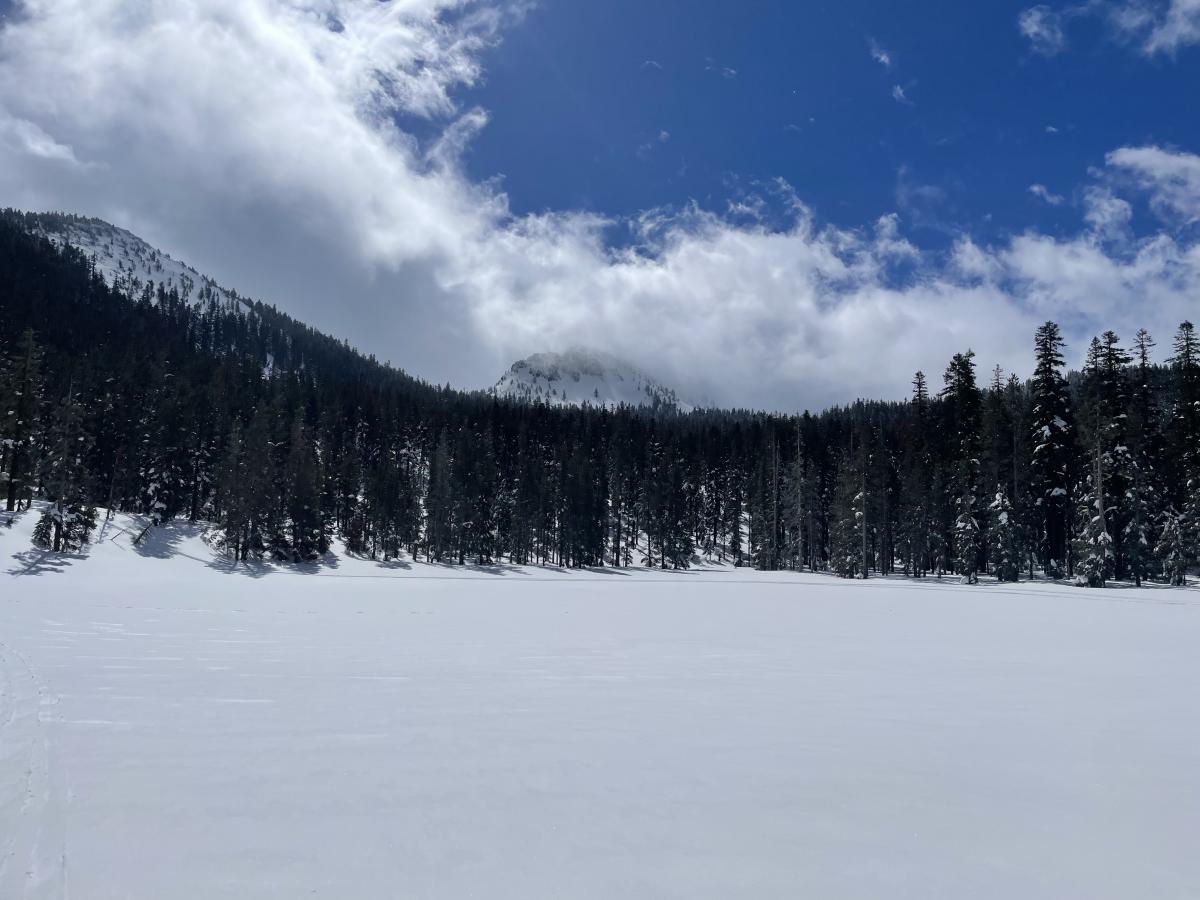 Location Name:
Ash Creek Butte
Region:
East of Mt Shasta
Date and time of observation:
Sun, 04/02/2023 - 2:00pm
Observation made by:
Forecaster
Location Map
96067
Mount Shasta
,
CA
United States
41° 27' 17.6544" N, 122° 2' 48.4944" W
California US
Snowpack Observations
Details
Observations from the Ash Creek Butte area

Weather trends:
Temperatures remained below freezing throughout the day. Skies remained around 75% obscured by clouds. Short moments brought clear visibility with bright sunlight, but most of the time was intermittent snow and wind. Around one to two inches of new snow fell during the day.
Winds remained light to moderate in the observed terrain (up to 7,300 feet), however, strong winds could be seen transporting snow onto leeward aspects near and above treeline. Wave clouds could be seen behind Mount Shasta and Ash Creek Butte, indicating very strong westerly winds up high.
On the way out, falling snowflakes changed to graupel.
Surface conditions:
In lower terrain, a widespread, firm yet breakable surface crust blanketed all aspects. Very firm surface conditions were encountered around 6,500 feet.
Soft snow became more prevalent above 6,500 feet. At upper elevations, snow is remaining cold and light. 
A 2 cm surface crust was still prevalent on solar aspects up to 7,300 feet. 
Snowpack observations:
An avalanche was spotted below the ridge on a northeast aspect of Ash Creek Butte. This avalanche was natural, likely triggered by cornice collapse, and probably occurred within the last 24 hours. The starting zone was around 7,700 feet.
A pit was dug at 7,300 feet on an east facing open slope. Overall, the snowpack in this area is defined by decaying snow and old surface/solar crusts stacked on top of each other. The snowpack appears relatively right side up. On a compression test and shovel shear test, failure did occur on an old melt-freeze crust 34 cm down, just below the recent new snow. 
Observation Location: Ash Creek Butte
Elevation: 7,300 feet
Date: 20230402
Time: 1400
Observer: S. Clairmont, E. Falconer
Sky Conditions: Broken (BKN)
Current Precipitation: Type - SN and GR, Rate - S-1
Air Temperature: 22 °F
24-hour New Snow Depth (HN24): 3 in (7 cm)
Wind Direction: W
Wind Speed: Light [(L), 1-16 mi/hr] to moderate [(M), 17-25 mi/hr]
Column & Block Tests:

Slope Angle & Aspect (22º, E)
CT[15] [RP] ↓ 14 in (34.5 cm)
Photos
Weather Observations
Statistics
Cloud Cover:
75% of the sky covered by clouds
Accumulation rate:
Less than 1 in. per hour
Air temperature:
Below Freezing
Air temperature trend:
Cooling