You are here
Ash Creek Butte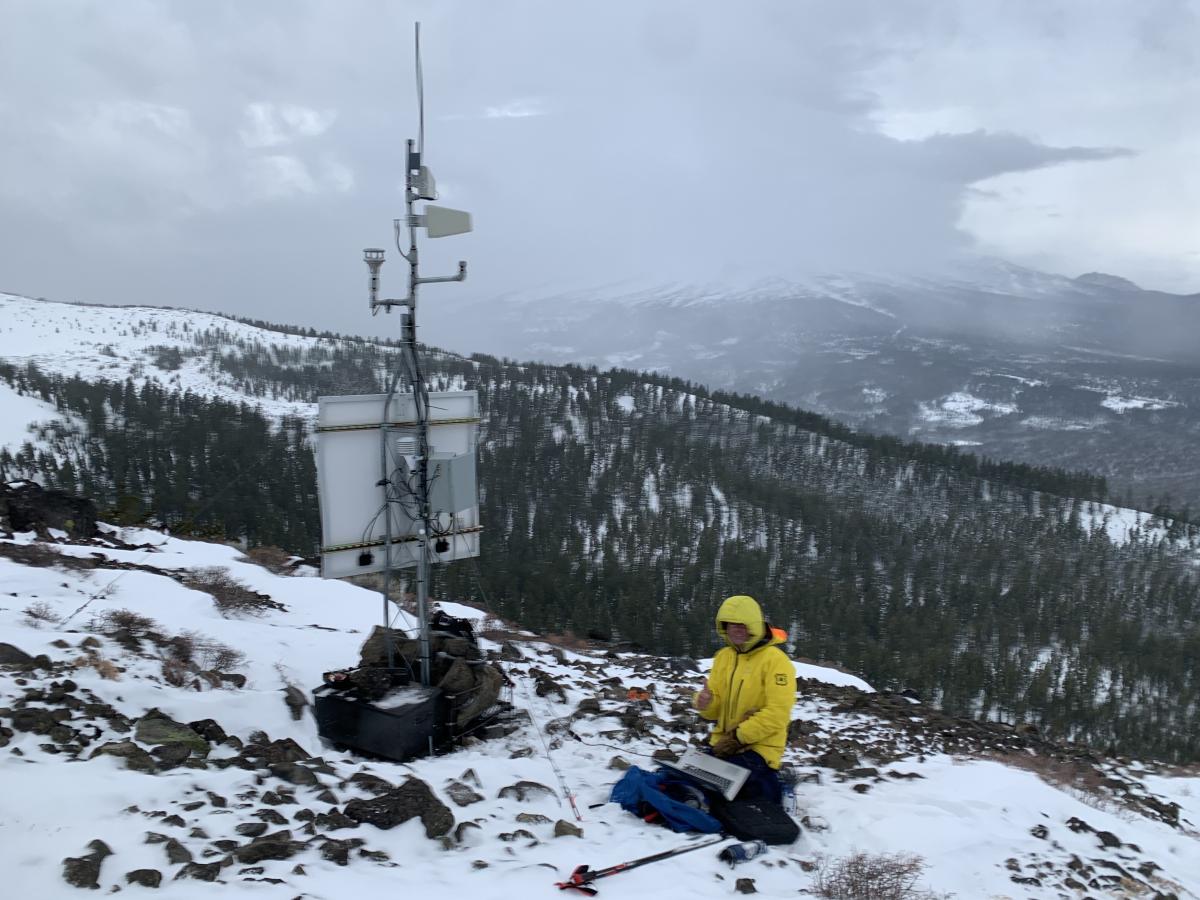 Location Name:
Ash Creek Butte
Region:
East of Mt Shasta
Date and time of observation:
Wed, 12/30/2020 - 2:30pm
Observation made by:
Forecaster
Location Map
96067
Mount Shasta
,
CA
United States
41° 27' 32.8572" N, 122° 2' 47.1876" W
California US
Snowpack Observations
Details
Today, Aaron and I went out to Ash Creek Butte to install an anemometer (wind sensor) on the ridge station and to update the operating systems for the data loggers on both the ridge and bowl stations. We approached via the Cramer Springs road (43) off Pilgrim Ck road, (see photo illustration). The Pilgrim Creek Sno-Park has snow on the ground, but logging operations have roads plowed past the park. Variable road conditions and unknown plowing regimes make for your best guess on truck and trailer approaches. All part of the adventure, eh?
Observation Location: Ash Creek Butte
Elevation: 7,800 feet
Date: 20201230
Time: 1330
Observer: Meyers
Sky Conditions: Overcast (OVC) 
Current Precipitation:  SN / S-1, Snow flurries at times, very light.
Air Temperature: 29° F
Surface Penetration: PF (foot pen): 30 cm / 12 in
Total Snow Depth (HS): 70 cm
24-hour New Snow Depth (HN24): 0
24-hour New Snow Water Equivalent (HN24W): 0
Wind Direction: Southerly
Wind Speed:  Light (L), 1-16 mi/hr, twigs in motion to Moderate (M), 17-25 mi/hr, small trees sway. Gusty. 
Mostly clear skies started the day, but tonight's incoming storm began to blow in around the noon hour. The afternoon included very light snow flurries (no accumulation), gusty winds out of the south and gradually increasing clouds. Snow conditions remain variable. Soft, powder snow can still be found below and near treeline on wind protected, colder aspects (E-NE-N-NW) and other warmer aspects shaded by large trees.  Above treeline is more scoured and hosts less snow. One will find wind packed powder, variable sastrugi and icy crusts. Tree wells are showing in many areas at all elevations. A number of rocks were hit with skis. Tree stumps were nudged by snowmobiles. It's recommended to still tread lightly out there with all recreational snow equipment!

Along the northeast crest on cold northerly aspects, a persistent weak layer continues to be found. Today, we found it first dig on an E/NE facing slope at 7,800 feet near treeline. This layer is 45-50 cm deep and consists of a 3-5 cm thick layer of weak, sugary, faceted snow. A propagation saw test - PST 30/100 (End) down 45 cm -  illustrated unstable conditions for this layer and a propensity to propagate. The question is if this persistent weak layer is widespread enough on an avalanche prone slope to become a problem with our next big storm. A couple inches tonight will not awake this layer. However, it will be important to monitor this layer and remember it upon our next big dump.

Overall, a bit of blowing snow was observed from southerly winds today, but no wind slab formation.

Oh, and by the way, both the bowl and ridge weather stations are functioning. Access the data via our weather tab on the site!
Photos
Weather Observations
Statistics
Cloud Cover:
75% of the sky covered by clouds
Accumulation rate:
Less than 1 in. per hour
Air temperature:
Below Freezing
Air temperature trend:
Cooling