You are here
Ash Creek Butte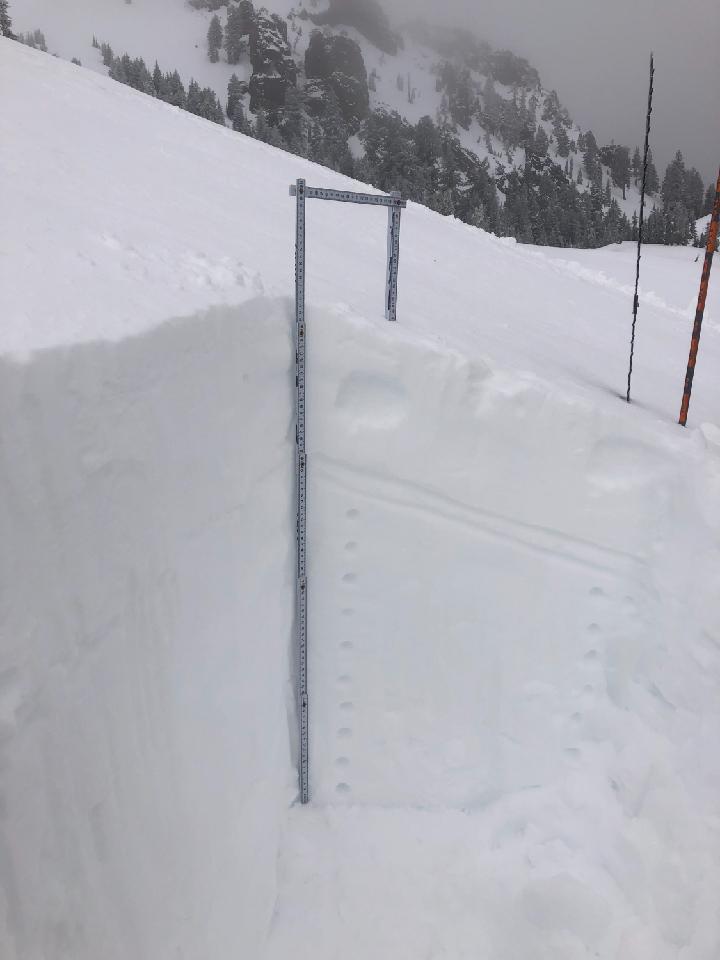 Location Name:
Ash Creek Butte
Region:
East of Mt Shasta
Date and time of observation:
Tue, 02/16/2021 - 12:00pm
Observation made by:
Forecaster
Red Flags:
Recent loading by new snow, wind, or rain
Location Map
96067
Mount Shasta
,
CA
United States
41° 26' 57.1452" N, 122° 2' 35.538" W
California US
Snowpack Observations
Details
A trip over to Ash Creek Butte saw wintry conditions persisting. Plenty of snow was being transported by moderate north winds and wind slabs were forming on southerly slopes. Four to six inch slabs were reactive to ski trigger on leeward, low angle, test slopes. Blocking snow was observed. New snow in windward areas were becoming more chalky and some small sastrugis were seen.
New snow sat atop a soft crust.  We thought that any weakness would be above or below this layer. On a north facing slope we were able to get one moderate CT failure within the new snow at a slight density change, but we did not consider this notable.  Shovel shear tests yielded hard failures at the crust and ECT tests did not propagate. Shovel tilt tests got no results.
Snowpack under the soft crust was finger hard and well consolidated.
Observation Location: Ash Creek Butte
Elevation: 7,400 ft
Date: 20210216
Time: 1200
Observer: Aaron Beverly
Sky Conditions: Overcast (OVC)
Current Precipitation: Type - NO
Air Temperature: 18 °F
Surface Penetration: Ski penetration (PS) = 4 in (10 cm), boot penetration (PF) =  10 in (26 cm)
Total Snow Depth (HS): 75 in (190 cm)
New Snow Depth (HN24): 10 in (25 cm)
Wind Direction: NE
Wind Speed: Moderate (M), 17-25 mi/hr
Column & Block Tests:

Slope Angle & Aspect: 28º, NE
ECTX
CT11 SC ↓  6 in (15 cm)
STH
Photos
Weather Observations
Statistics
Cloud Cover:
100% of the sky covered by clouds
Air temperature trend:
Static
Wind Direction:
Northwest