You are here
Avalanche Gulch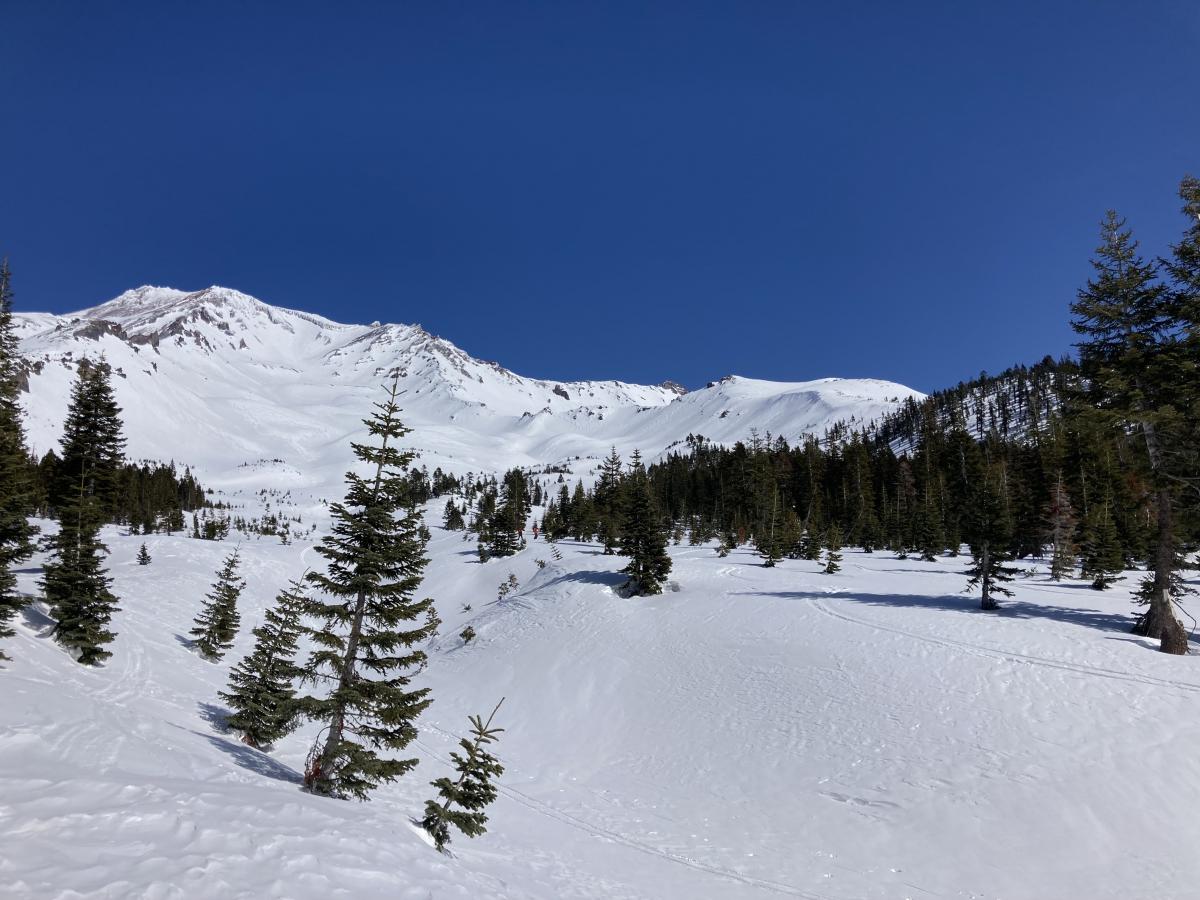 Location Name:
Avalanche Gulch
Date and time of observation:
Fri, 02/17/2023 - 1:00pm
Observation made by:
Forecaster
Location Map
96067
Mount Shasta
,
CA
United States
41° 22' 40.7208" N, 122° 12' 57.1284" W
California US
Snowpack Observations
Details
Observations from Avalanche Gulch up to 9,000 feet.
Below treeline, soft snow can still be found in shaded and wind sheltered areas. Exposed areas have a sun crust at the surface. Winds remained calm, temps rose above freezing, and the snow surface became saturated later in the day.
Near treeline, snow surface conditions began to turn variable, with large patches of ice and soft snow. 
Above treeline, wind effect is more prominent on the surface. Large areas of hollow wind slab followed by scoured ice pellet snow can be found on all aspects. Soft, wind blown snow has settled in gully features, providing the best option for pleasant skiing. Temps above treeline stayed just below freezing, with light winds out of the southeast. 
Overall, climbing conditions were decent, with the firm surface providing good purchase. No signs of avalanche activity were observed.
Observation Location: Avalanche Gulch
Elevation: 9,000 feet
Date: 20230217
Time: 1300
Observer: S. Clairmont
Sky Conditions: Clear (CLR)
Current Precipitation: Type - NO
Air Temperature: 30 °F
Total Snow Depth (HS): 124 in (315 cm)
24-hour New Snow Depth (HN24): 0 in (0 cm)
Wind Direction: SE
Wind Speed: Light (L), 1-16 mi/hr, twigs in motion
Photos
Weather Observations
Statistics
Air temperature:
Above Freezing
Air temperature trend:
Static
Wind Direction:
Southeast