You are here
Avalanche Gulch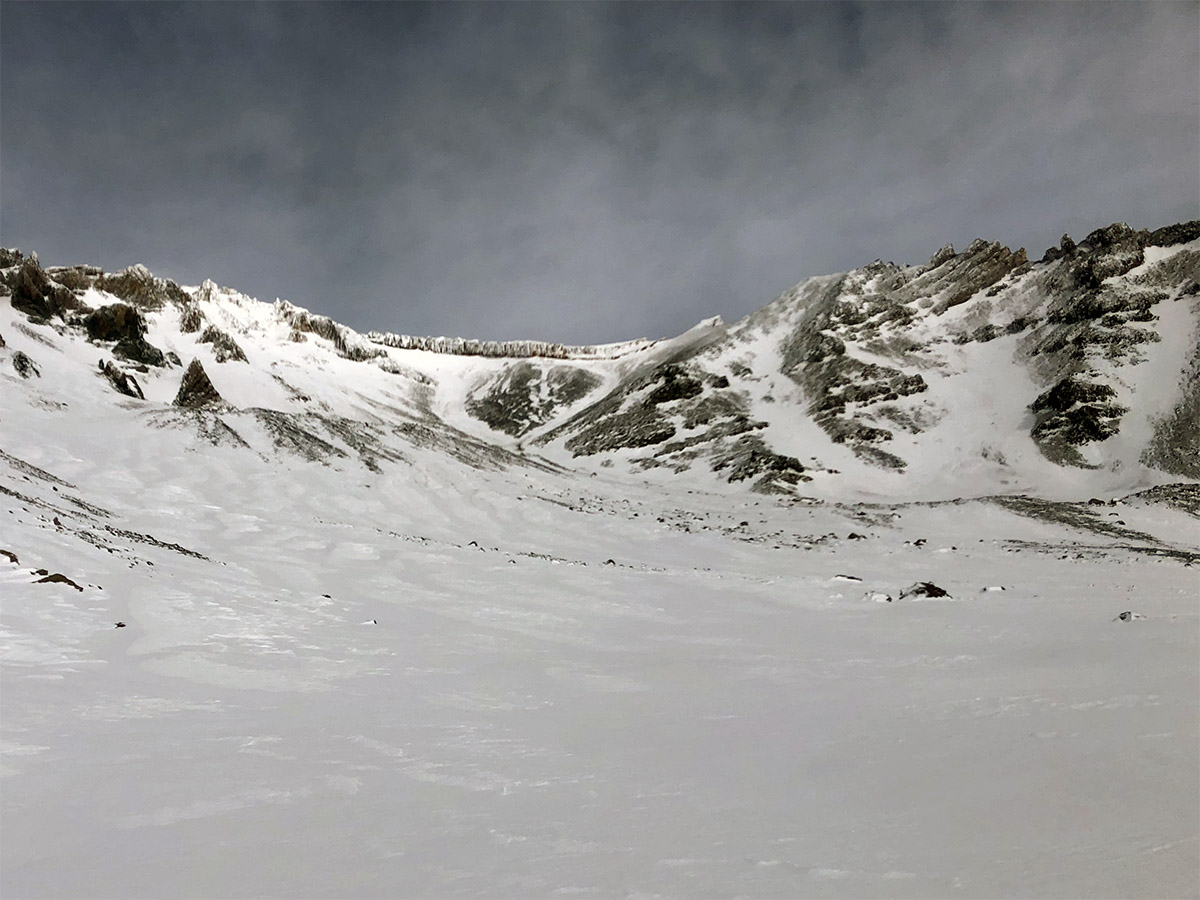 Location Name:
Mount Shasta
Date and time of observation:
Sun, 01/10/2021 - 11:30am
Observation made by:
Forecaster
Red Flags:
Recent loading by new snow, wind, or rain
Location Map
96067
Mount Shasta
,
CA
United States
41° 23' 21.498" N, 122° 12' 37.3608" W
California US
Snowpack Observations
Details
Observation Location: Avalanche Gulch
Elevation: 6,900 to 10,500 feet
Date: 20210110
Time: 1000 to 1500 hour
Observer: R Sorenson
Sky Conditions: Few (FEW) clouds on the upper mountain, Valley Fog 6000 to 7500 feet. 
Current Precipitation: None
Surface Penetration: Ski penetration (SP) = 0-4 in / 0- 10 cm above treeline
Total Snow Depth (HS): 30 in / 75 cm near treeline 
24-hour New Snow Depth (HN24): 0.5 -1 in / 1-2 cm
24-hour New Snow Water Equivalent (HN24W):  0.02 in / 0.5mm
Wind Direction: Variable 
Wind Speed: Light to moderate, gusty 
A mostly clear day on the mountain. Low clouds hung in the valleys with cloud tops varying from 6,000 to 7,000 feet and bottoms around 5,000 feet.  This burned off at 1:30 p.m. Winds were light with occasional moderate gusts and variable in direction.  A small snow shower last night left a skiff of new snow.  Minimal wind effect was observed below and near treeline. Above treeline, the fresh snow was blown into small windrows or deposited into gullied. The windrows were orientated across the slope, indicating previous downsloping (easterly) winds. A few tiny ( ~ 3 inches thick) wind slabs popped out when skinning across these windrows.  West and northwestern aspects of ridges and moraines are scoured, rocky and thin from days of punishing northwesterly winds. The snow remaining above 9,000 feet is hard, and wind pressed. A breakable melt-freeze crust has formed on most aspects below 9,000 feet. 
Photos
Weather Observations
Details
Statistics
Cloud Cover:
25% of the sky covered by clouds
Air temperature:
Below Freezing
Air temperature trend:
Warming