You are here
Avalanche Gulch and Old Ski Bowl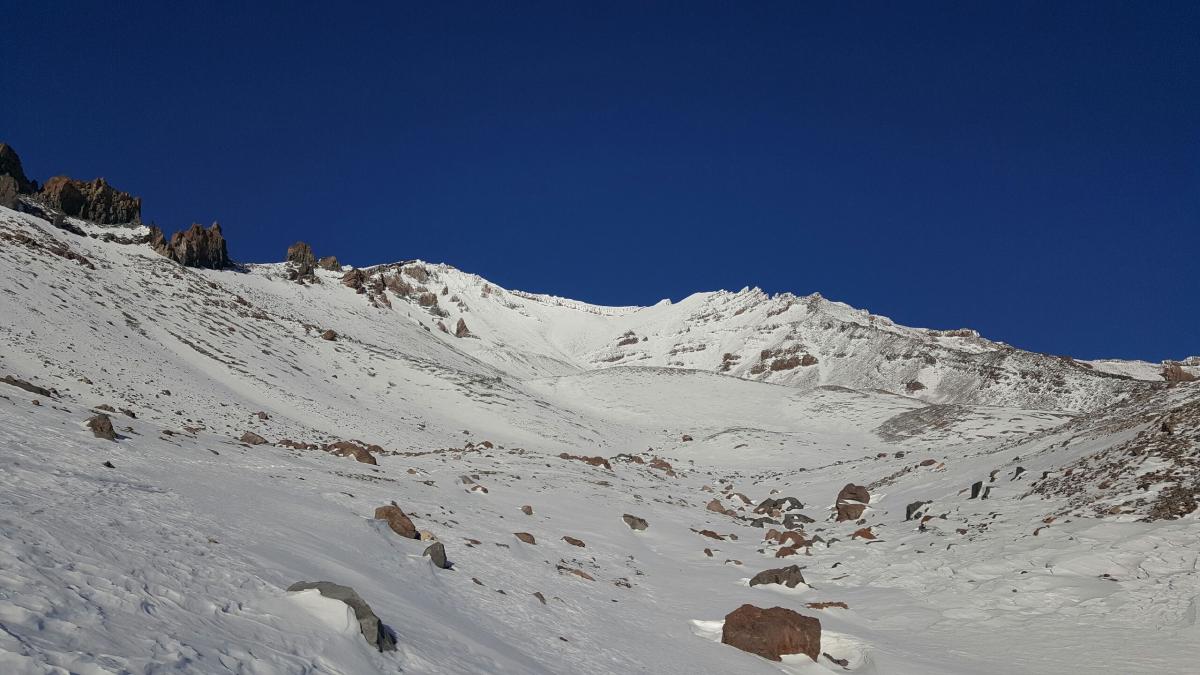 Location Name:
Mount Shasta
Date and time of observation:
Sat, 11/28/2020 - 1:00pm
Observation made by:
Forecaster
Location Map
96067
Mount Shasta
,
CA
United States
41° 21' 32.454" N, 122° 12' 22.3452" W
California US
Snowpack Observations
Details
November 28, 2020 (20200428) - Avalanche Gulch and Old Ski Bowl  - R. Sorenson

TIME: All day

SKY: Mostly clear

PRECIP: None

WIND: Calm, Little to no snow is avalable for transport near and below treeline. Some evidence of previous winds out of the west is visible on the upper mountain. 

BLOWING SNOW: No

AIR TEMP: Max 44 F at 8,000 feet 

SURF PEN: 10 inches (29 cm) 

HS: 16 inches (41 centimeters)

HN: 0

NOTES: A series of storms blanketed Mount Shasta in the middle of November. Since then dry weather has persisted. Temperatures have fluctuated from the lower 20s to highs in the lower 40s. A strong inversion has been developing most days with cooler temperatures lingering throughout the Shasta Valley. The snow pack consists of fist hard snow with various crusts down 1 inch and 10 inches from the surface. It is possible to find smooth unaffected patches to ski or ride on near treeline. Above treeline is peppered with protruding rocks. Beware as the snowpack is shallow and many obstacles remain. 
Photos
Weather Observations
Statistics
Air temperature:
Above Freezing
Air temperature trend:
Warming