You are here
Avalanche Gulch - Bunny Flat to Lake Helen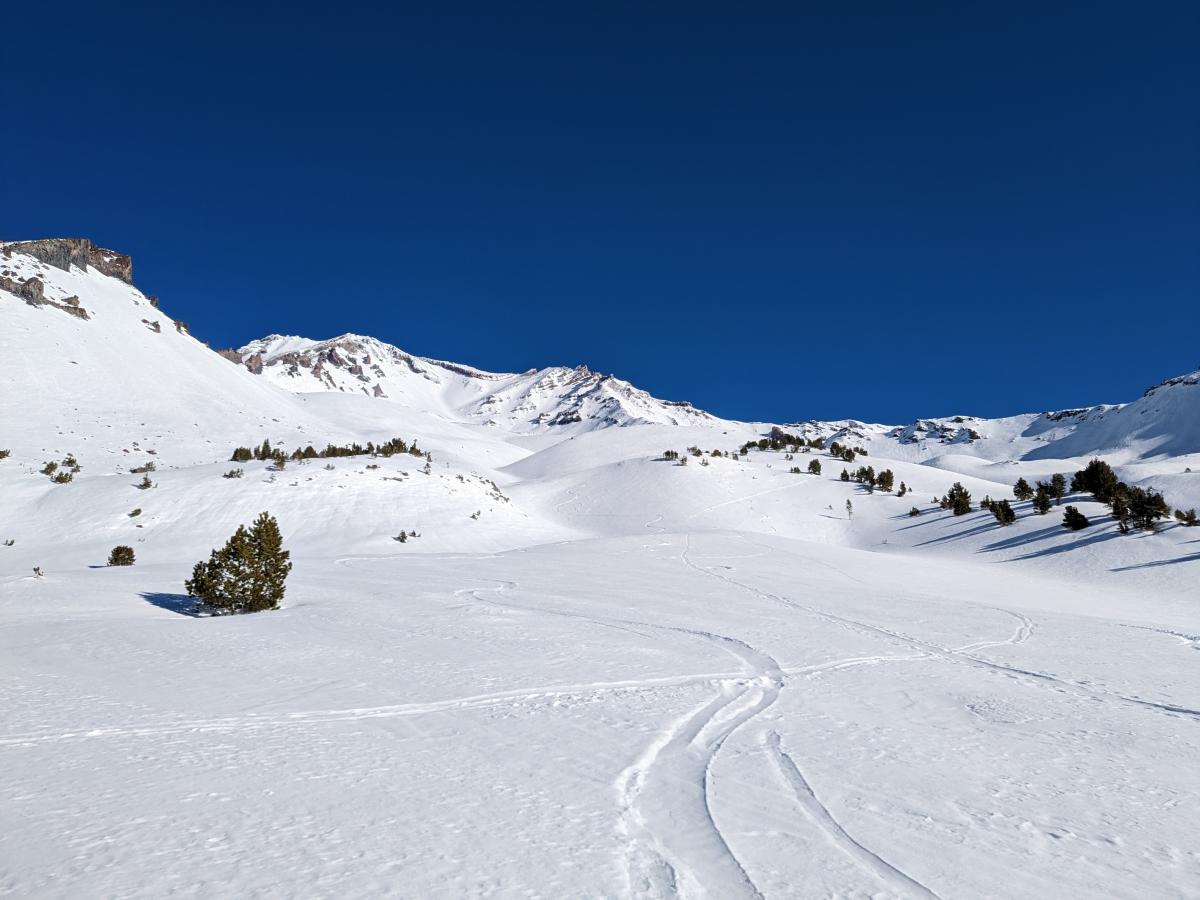 Location Name:
Avalanche Gulch - Bunny Flat to Lake Helen
Date and time of observation:
Sat, 12/17/2022 - 11:00am
Observation made by:
Forecaster
Location Map
96067
Mount Shasta
,
CA
United States
41° 22' 33.9384" N, 122° 13' 13.7496" W
California US
Snowpack Observations
Details
With the pleasant weather today,  forecasters headed up Avalanche Gulch to near Lake Helen The objective was to monitor snow surface conditions at all elevation bands. The weather was absolutely fantastic with sunny skies, mild temperatures, and calm winds. The biggest weather concern was sunburn and led to plenty of sunscreen being used. We left Bunny Flat about 09:15am and arrived near Lake Helen around 12:30pm. Only two groups of two were encountered on the ascent. Skinning conditions were a mixed bag. There is a well-defined skin track from Bunny Flat to several hundred feet above Spring Hill. Above that, wind has scoured away the clearly-defined track. Southerly aspects near and above treeline were firm, crusty, and made for difficult skinning on rising traverses. Ski/splitboard crampons might be advised if you are still perfecting your skinning technique or have dull edges. Best skinning conditions were on the W-NW-N-NE-E aspects of small terrain features where pockets of dry low-density snow still lingered. 
Snow conditions on the descent were varied:
Above treeline: Significant wind scouring and sastrugi abound. A thin sun crust easily broken while skiing/splitboarding was also present. Wind-affected snow surfaces was the dominant theme.
Near treeline: Stout 2-inch crust on south-facing aspects (see photo). Areas without consistent, direct sun exposure harbored dry low-density snow (see video) and made for good splitboarding . This was interspersed with mild wind-affect in exposed areas.
Below treeline: Soft, low-density snow in shaded spots and wet crusty snow in sun-exposed spots. Shaded west-facing aspects below treeline had the best snow.
On the descent, forecasters made contact with about 40 people, mostly at or below spring hill. Without flotation aids, travel on foot would have been a nightmare as the various snow conditions would have made for unpredictable and frustrating post-holing
Observation Location: Avalanche Gulch
Elevation: 8500
Date: 20221217
Time: 1100
Observer: Michael Madden
Sky Conditions: Clear (CLR)
Current Precipitation: Type - NO
Air Temperature: 35 °F
Surface Penetration: Ski penetration (PS) = 1-2 in, boot penetration (PF) = 18 in
Total Snow Depth (HS): 40 in (100 cm)
24-hour New Snow Depth (HN24): 0 in
24-hour New Snow Water Equivalent (HN24W): 0 in
Wind Direction: N/A
Wind Speed: Calm (C), 0 mi/hr
Photos
Videos

soft_dry_snow_still_lurks_out_there.mp4
Weather Observations
Statistics