You are here
Avalanche Gulch Christmas Storm Report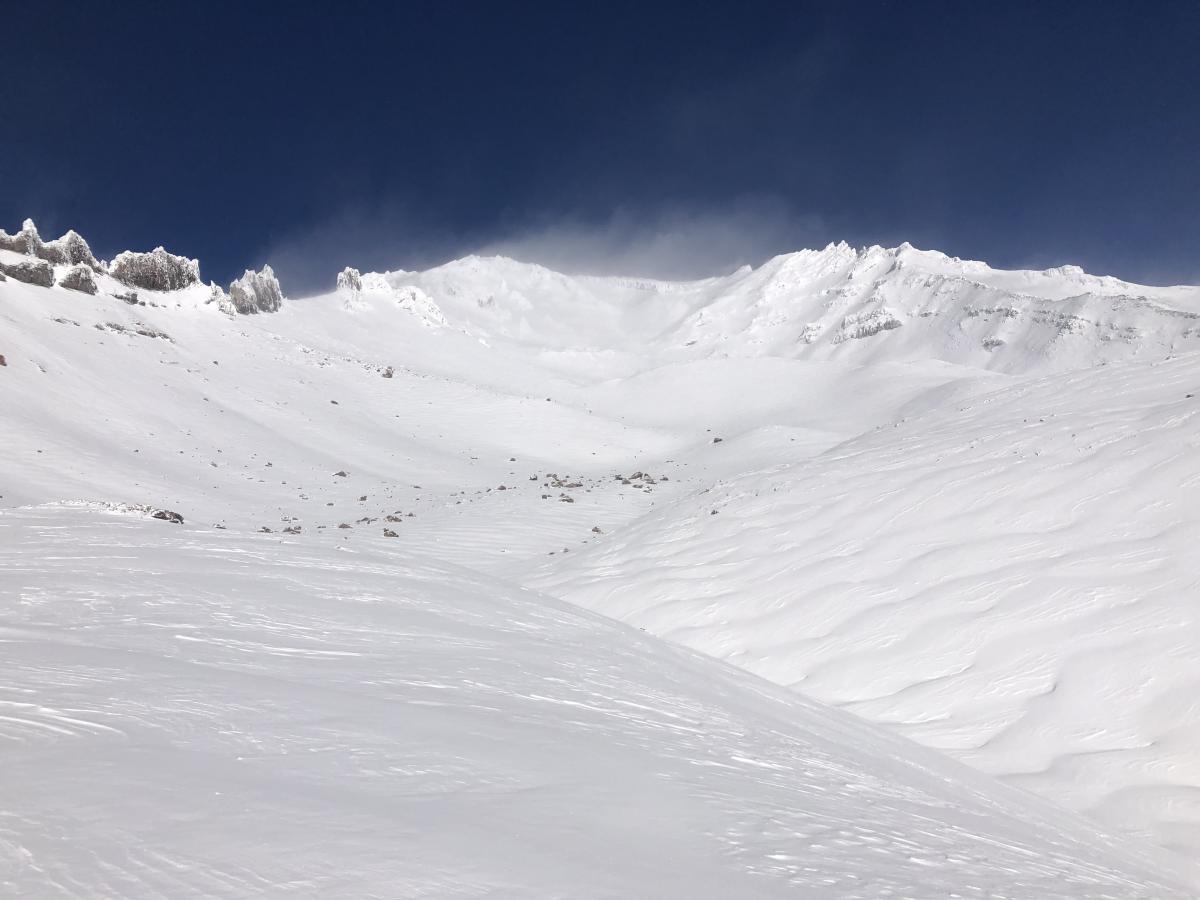 Location Name:
Mount Shasta
Date and time of observation:
Sat, 12/26/2020 - 2:30pm
Observation made by:
Forecaster
Location Map
96067
Mount Shasta
,
CA
United States
41° 21' 24.714" N, 122° 12' 20.646" W
California US
Snowpack Observations
Details
Observation Location: Bunny Flat / Avalanche Gulch/ West Aspect Green Butte Ridge
Elevation: 6,950 feet to 9,500 feet
Date:  20201226
Time:  1030 - 1430
Observer: R Sorenson
Sky Conditions

: Scattered (SCT) - Cloud level near 5,000 feet. 

Current Precipitation: Type -  SN, Rate - S-1 - Very snow showers moved in and out until 1100
Air Temperature:24 - 28 F at 7,600 feet. 
Surface Penetration: 4-8 inches / 10-20 cm
Total Snow Depth (HS): 41 inches / 106 cm near treeline on GB ridge - 25 inches / 65 cm average in Avalanche Gulch
24-hour New Snow Depth (HN24): 14.5 inches / 36 cm
24-hour New Snow Water Equivalent (HN24W): .97 inches H20
Wind Direction: West
Wind Speed: Light to Moderate winds - Calmer afternoon. 
We had a wonderful day touring up Avalanche Gulch to 50/50 flat. The foot or more fresh snow was cold and light with mostly smooth surface textures below 9,000 feet.  Looking up towards elevation above 9,000 feet, one could make out small drifts forming windrows from previous crosswinds.  The morning was cloudy, with spirits of snow squalls moving in and out until 11 a.m. Winds calmed down as the storm dissipated.  A pit dug near treeline on a west-facing aspect had planer results on sugary grains sandwiched between crusts within the old snow. This is of little concern now but is something to continue to monitor as we get more snow this week. No other signs of instabilities were observed. The snowpack is still shallow, and many rocks and logs are barely hidden. 
The five inches of snow that fell in town was wet and melting this morning, causing a slick drive up the Everitt Memorial Highway.  The road was still slick when I drove down around 3 p.m. It was a busy post-Christmas Day. I witnessed many fender benders and cars in the ditch. Use caution if you choose to park on the side of steep corners.
Photos
Weather Observations
Details
Statistics
Cloud Cover:
50% of the sky covered by clouds
Accumulation rate:
Less than 1 in. per hour
Air temperature:
Below Freezing
Air temperature trend:
Warming