You are here
Avalanche Gulch Climbing and Overall Conditions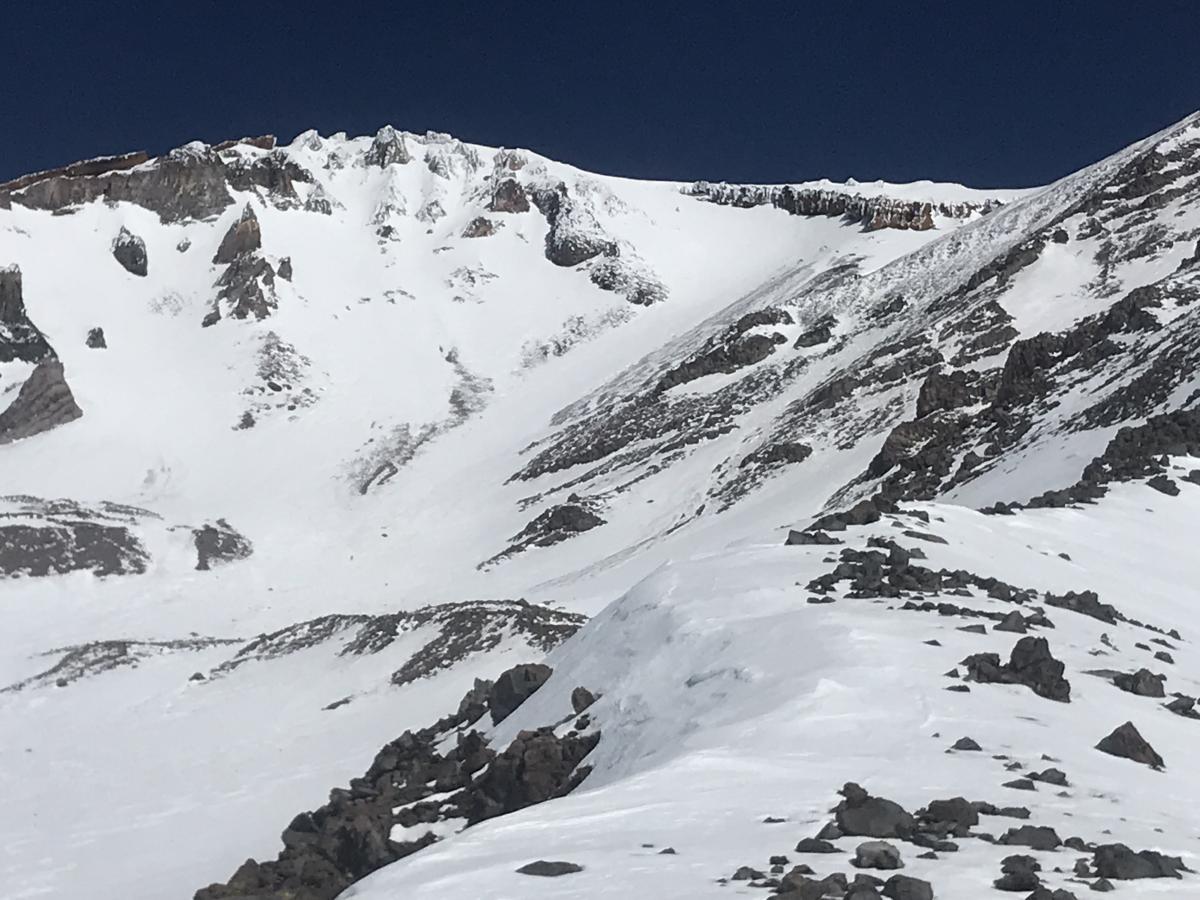 Location Name:
Mount Shasta
Date and time of observation:
Thu, 03/12/2020 - 1:30pm
Observation made by:
Forecaster
Location Map
96067
Mount Shasta
,
CA
United States
41° 22' 56.9532" N, 122° 12' 30.8412" W
California US
Snowpack Observations
Details
A nice day on the mountain and mellow scene at Bunny Flat trailhead. One can still ski and launch a sled from Bunny Flat. Approximately 2-3 feet (91 cm) of snow still exists at Bunny, but tree wells are melted out. Most snow surfaces softened today, but as is this time of year, one must begin to play the aspect, elevation and time of day game to get the goods. Smooth snow does exist out there, but is not widespread or continuous. Look around on your way up the mountain, pay attention to aspect and your timing and you may be rewarded. No heat related instabilities have been observed and what snow is on the mountain is about as stable as it gets. Rockfall is the name of the risk game. Don't worry about it too much on the lower mountain. Head up above Helen Lake and you'd better have a helmet on. Getting tagged by a rock is a likely possibility. Spoke to a couple climbers who climbed this morning...said they encountered good climbing conditions with only minor post-holing within "recent" new snow, but could chase firmer sections of snow by visual clues. The climbers mentioned they did see some rockfall during their climb and heard it during the night at their Helen Lake camp. Snow condions are spring corn-like, but still variable. The best route through Redbanks is through the right side of the formation, through the narrow snow gullies that extend up and through the red rock, pumice formation. Descend the same way. DO NOT glissade through Redbanks. Remember the three rules of glissading (fancy word for sliding on your a$$): 1-take off your crampons. 2-make sure the snow is soft. 3-control your speed. WALK down through Redbanks before assessing the glissade potential. Carry navigation tools. Remember that batteries die easily in cold temps. With a change in the weather this weekend, remember that it's very easy to become surrounded by clouds and suddenly caught in a whiteout on Mount Shasta. If this happens on the upper mountain, descending the wrong side of the mountain is a real possibility. Won't happen to you? It occurs every year to the most unsuspecting, experienced climbers. All in all, decent skiing conditions still exist, climbing conditions are also decent considering high rockfall potential and a change in the weather is on the way. Stay posted to our website for all the latest!
Photos
Weather Observations
Statistics
Air temperature:
Above Freezing
Air temperature trend:
Cooling