You are here
Avalanche Gulch - Lower Casaval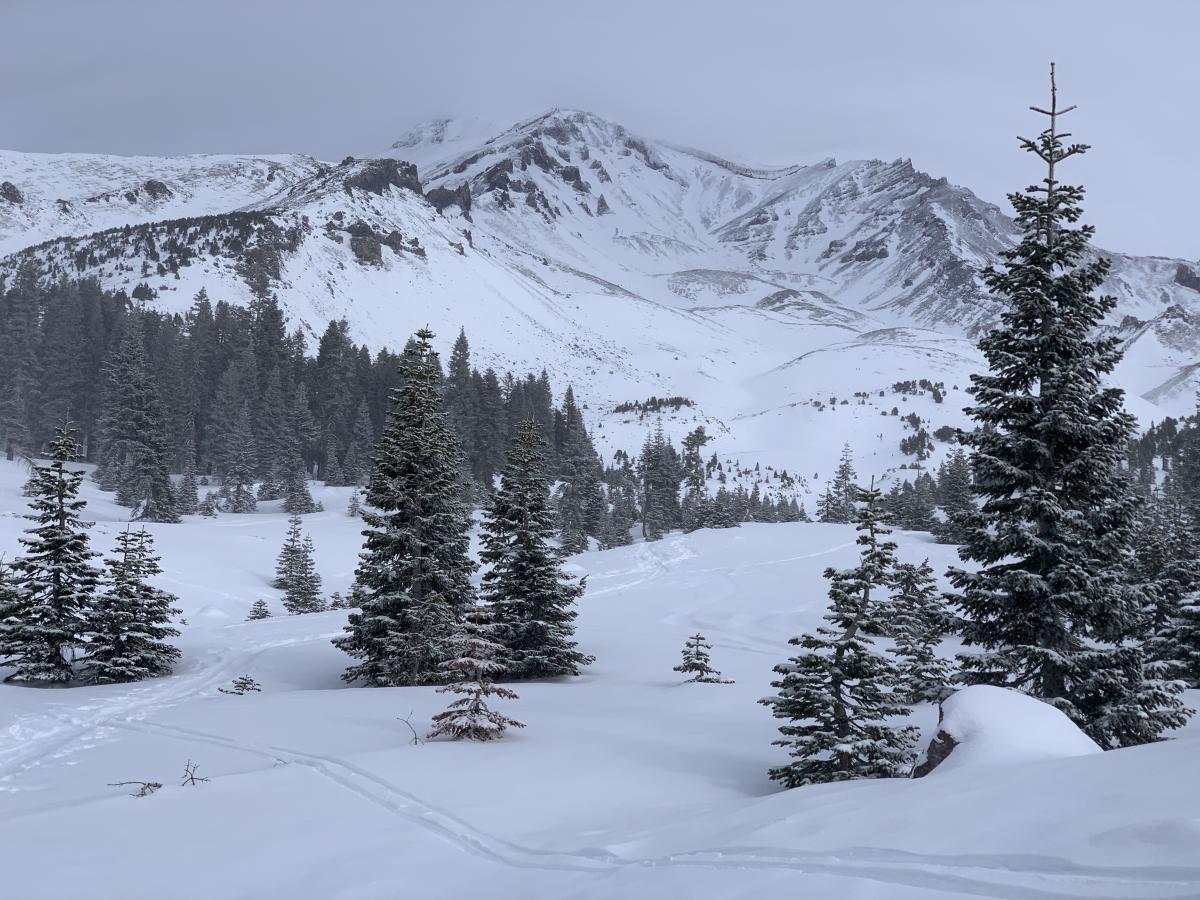 Location Name:
Mount Shasta
Date and time of observation:
Sat, 01/02/2021 - 11:30am
Observation made by:
Forecaster
Location Map
96067
Mount Shasta
,
CA
United States
41° 22' 27.1092" N, 122° 13' 44.5476" W
California US
Snowpack Observations
Details
Overcast skies, obscured at times today. No sun. Fog, mist, clouds, very light and brief moments of snow with filtered light, temps near 32 F at 8,000 feet. Toured up to Horse Camp and Lower Casaval Ridge with intention of investigating winds and wind slabs. 
Observation Location: Lower Casaval Ridge
Elevation: 7,980 feet
Date: 20210102
Time: 1245
Observer: Meyers / Koball
Sky Conditions: Overcast (OVC) | Obscured (X)
Current Precipitation: NO 
Air Temperature: 32 °F
Surface Penetration: Ski penetration (PS) = 6 in / 15 cm), boot penetration (PF) = 8 in / 20 cm)
Total Snow Depth (HS): 29.5 in / 75 cm
24-hour New Snow Depth (HN24): 1-2 in /2.5-5 cm
24-hour New Snow Water Equivalent (HN24W):  .1 in/ 2.5 cm
Wind Direction: W
Wind Speed: Calm to light
Column & Block Tests: (2) CT23,Q3@57cm from ground / ECTX
Last night (Jan. 1), 1-2 inches of new snow fell (.1" SWE). The new snow fell on top of a zipper crust formed by a warm day and subsequent nighttime freezing. Below the crust, nearly a foot of fist (F) to four finger (4F) hardness snow exists, resting on several old crusts to the ground. Total snow height was 29.5 inches. We dug a pit on the southeast flank of Casaval Ridge, near treeline. A weak layer of snow was found 18 in / 45 cm down from the surface. This 4F layer was stubborn to unreactive during compression and extended column tests.

While Gray Butte weather station (8,000 feet) reported moderate westerly winds all day, it was surprisingly calm at our location, perhaps because we were in the lee of the ridge, down lower in Avalanche Gulch. A few folks above us made it higher and also reported mellow winds. 
Photos
Weather Observations
Statistics
Cloud Cover:
100% of the sky covered by clouds
Accumulation rate:
Less than 1 in. per hour
Air temperature:
Below Freezing
Air temperature trend:
Cooling