You are here
Avalanche Gulch - Lower Casaval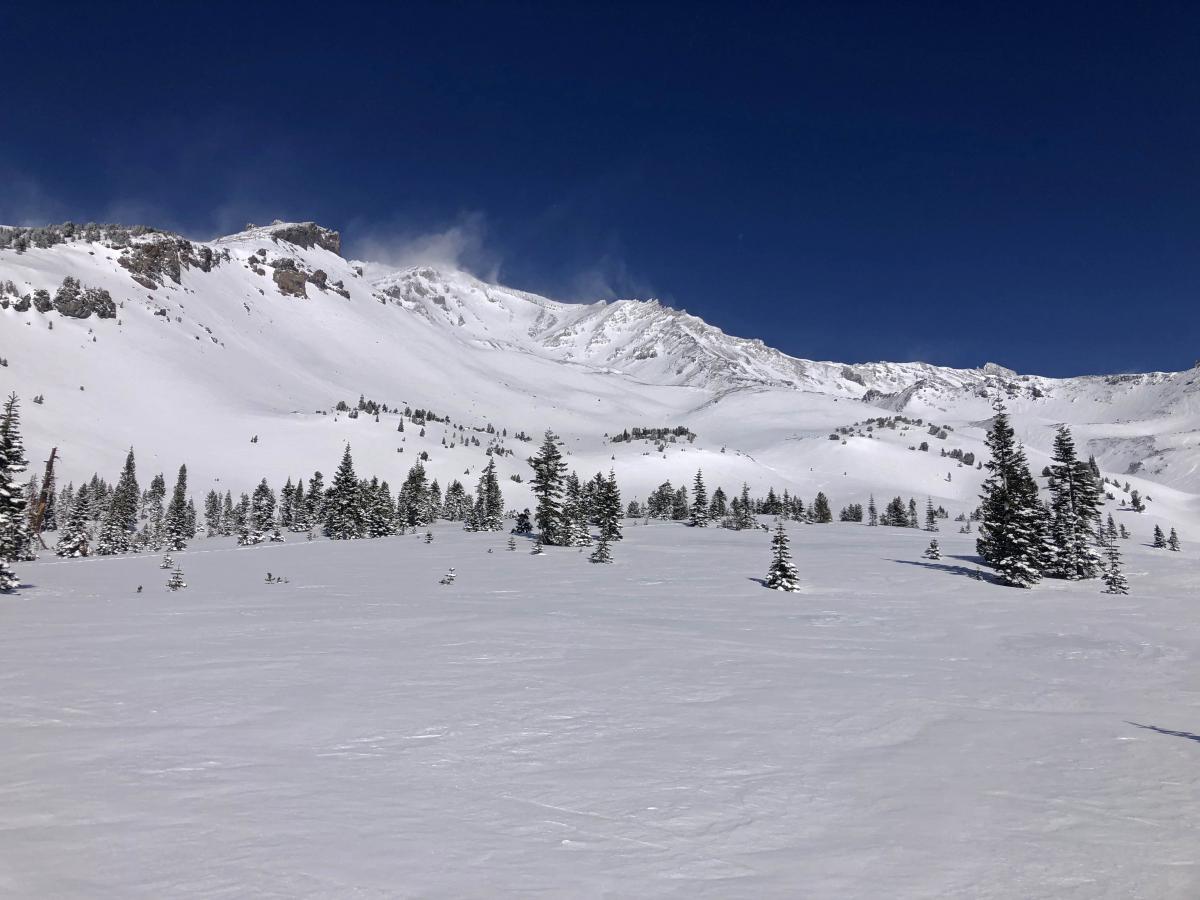 Location Name:
Mount Shasta
Date and time of observation:
Sat, 02/20/2021 - 11:30am
Observation made by:
Forecaster
Red Flags:
Whumphing noises, shooting cracks, or collapsing
Location Map
96067
Mount Shasta
,
CA
United States
41° 22' 55.1748" N, 122° 13' 39.2808" W
California US
Snowpack Observations
Details
The storm broke early this morning and gave way to an exquisite day. Lingering misty clouds did little to block the bright blue sky. There was some notable wind, especially above the treeline. Light winds were observed up to 9,000 on Lower Casival Ridge. The pesky northwesterly wind was visible at higher elevations for most of the day.  Blowing snow was actively loading easterly slopes. The wind was funneling down the gullies causing variable wind directions and speeds for lower elevations.
Observation Location: Lower Casaval- Mt. Shasta
Elevation: 6,950 to 9,000 feet.
Date: 20210220
Time: Late morning to afternoon
Observer: R Sorenson
Sky Conditions: Few
Current Precipitation: NO
Air Temperature: 26.5°F high temp at 1300 hours
Surface Penetration: Boot penetration (PF) = 10-12 in (25-30 cm). Ski penetration (PS) = 6 in (15 cm)
Total Snow Depth (HS): 66 in (170 cm)
24-hour New Snow Depth (HN24): 3 in (7 cm)
24-hour New Snow Water Equivalent (HN24W): 0.23 in
Wind Direction: SE 
Wind Speed: Variable, Light limited and localized blowing and drifting snow. Gusts to moderate with blowing snow transported by saltation and turbulent suspension. 
Column & Block Tests:

Slope Angle & Aspect 20º, SE
CT9 ↓ 15 cm Q1 SC
CT16 ↓ 60 cm Q1 SP
ECTN11 ↓ 6 in (15 cm) 
We dug a pit on the southeast flank of Casaval Ridge, near treeline. Eight inches (20 cm) of fist hard snow from the series of storms on Thursday and Friday (2/18 and 2/19). This sits atop an inch thick (5 cm) crust. All of which is above 15 inches of fist to 4 finger hard snow sitting on a hard melt-freeze crust from January. Column tests produced planar results with moderate force within the new snow and on a density change down 23 inches (60 cm) but did not propagate in extended column tests. Snow surfaces were soft and smooth below and near treeline, but a transition to slightly wind-affected surfaces was noted above treeline. Some cracking and blocking were seen on the skin track as we traversed a southeast aspect above treeline. 
Photos
Weather Observations
Details
Statistics
Cloud Cover:
25% of the sky covered by clouds
Air temperature:
Below Freezing
Air temperature trend:
Warming
Wind Direction:
Southeast