You are here
Avalanche Gulch, Near Treeline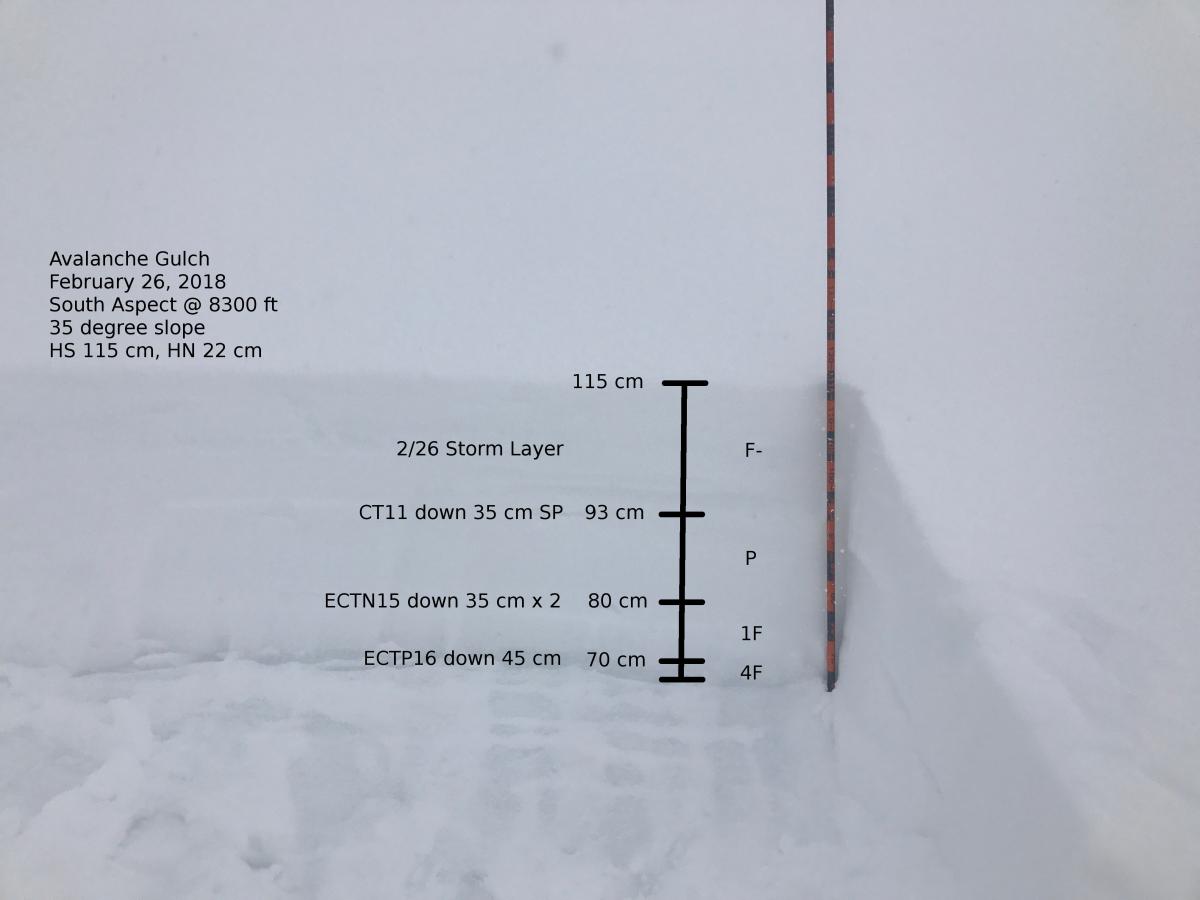 Location Name:
Avalanche Gulch
Date and time of observation:
Mon, 02/26/2018 - 8:00pm
Observation made by:
Professional Observer
Red Flags:
Recent loading by new snow, wind, or rain
Location Map
96067
Mount Shasta
,
CA
United States
41° 22' 27.0048" N, 122° 13' 16.2624" W
California US
Snowpack Observations
Details
Height of new snow (HN): 3-6 in, 7000 - 8500 ft, low density with no signs of slab formation. Precipitation intensity ranged from 2 to 4 cm per hour (S2-S4) between the time of 10:30 and 14:00.
Westerly winds were calm to light. Alhough visibility was limited to about 100 m above treeline, little wind affect was observed on new snow. No fresh wind slabs were encountered or seen. Some snow transport was observed above 9500 ft on Casaval Ridge. Upper mountain was mostly obscured.
No avalanches or signs of instability were observed.
A test pit was dug in a previously wind loaded area at 8300 ft on a south aspect in Avalanche Gulch. The height of new snow was 115 cm. Forty-five centimeters of recently wind loaded snow sits atop the old firm snow surface.  There were two layers of concern within the recent snow that were reactive in stability tests. One down 35 cm was a density break and one down 45 cm at the old snow / new snow interface. Areas where these upper snowpack characteristics exist are isolated (S/SE/E aspects, 7500-9000 ft). Results are as follows:
CT11 ↓ 45 cm SP (Sudden Planar)
ECTN17 ↓ 35 cm x 2
ECTP16 ↓ 45 cm
Photos
Weather Observations
Statistics
Cloud Cover:
100% of the sky covered by clouds
Accumulation rate:
Greater than 1 in. per hour
Air temperature:
Below Freezing
Air temperature trend:
Static